With the vivo V27e, vivo has released another remarkable camera in a flagship phone. Does it live up to its claim of being the #Aura Portrait Master?
Design: 4.5/5
vivo may have outdone itself on this one, as the V27e is the prettiest and most charming phone design I have ever handled so far. Compared to the rest of the vivo V-series, this one is special.
While retaining the overall box-type structure of the V-series, the V27e is distinct. In particular, the lavender purple color sets off a clean and fresh vibe. The creative fluid design of the back cover turns into chromatic colors when light hits it. With its slim flat 7.69mm frame, the overall look of this phone is very eye-catching. I'm not kidding when I say that people steal a look whenever I bring it out.
The back cover is made of composite plastic sheets that secures the overall fluid design of the vivo V27e, while also preventing scratches and fingerprint smudges. I just have one concern: the texture is so smooth it could easily slide down from your grip.
vivo probably anticipated this, as the V27e is durable against drops of up to one meter high, and is also resistant to dust and water. Additionally, the frame itself is a different texture that's less slippery and easier to grip. vivo has also throughtfully included a transparent jelly case for added protection while still allowing you to flex the phone's new fluid design.
I used the V27e to take photos and shoot videos for extended periods, and weighing only 186g, it is comfortable to hold.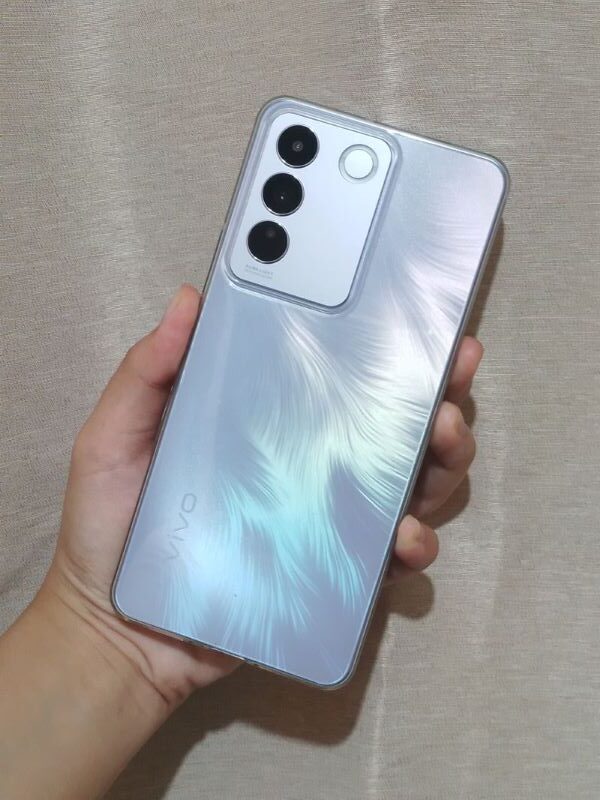 The nano SIM and micro-SD card slot is located at the bottom edge, alongside the USB-C port and speakers. The sub-mic is on the top edge; the volume and power button on the right. The phone does not have a jack for wired earphones.
The main camera is located at the back together with the aura light that looks like a small ring light. The front camera is positioned at the top center of the AMOLED screen display.
Hardware: 4.5/5
The vivo V27e is powered by a MediaTek Helio G99 processor, with 8GB dynamic memory (expandable to 12GB) and 256GB of storage, running on the Android 13 operating system.
Geekbench scores were 708 for single core and 1,814 for multi-core, pointing to smooth performance for work and play settings. Its GPU score is 1321, capable of resolutions up to 120Hz.
The rear and front cameras of the V27e are supported by an aura light portrait system. A small ring light at the back of the phone lights up and brightens the subject to release the colors even at night. Similarly, the front camera has its own light portrait system that automatically activates in dark settings. This feature upgrade elevates mobile photography, as the aura light helps capture better quality images. Still, even without the aura light portrait system, photo quality from V27e is outstanding.
For video mode, vivo added an OIS + EIS dual-ultra stabilization in the V27e, ensure smooth video capture even while walking or despite shaky hands.
Packing a 4600mAh battery, the V27e has enough juice to last the whole day. And if playing heavy games drains your power, its 66W fast-charging system can quickly restore the battery to full in just a few minutes.
User Experience: 4.5/5
I can definitely proclaim the vivo V27e is as a legit "Aura Portrait Master," and I am in awe of its camera performance. I have fallen in love with the aura portrait light system that helps me take night photos without needing to adjust brightness levels, thanks to the built-in ring light.
As for the videos, the V27e is good enough for shooting a short commercial or a school project. The stabilization system helps me shoot footage from different angles. The overall color output for both photos and videos are well-balanced and natural, making the subjects come alive. A vlog movie feature adds built-in effects and animations so you can quickly post to your social media accounts.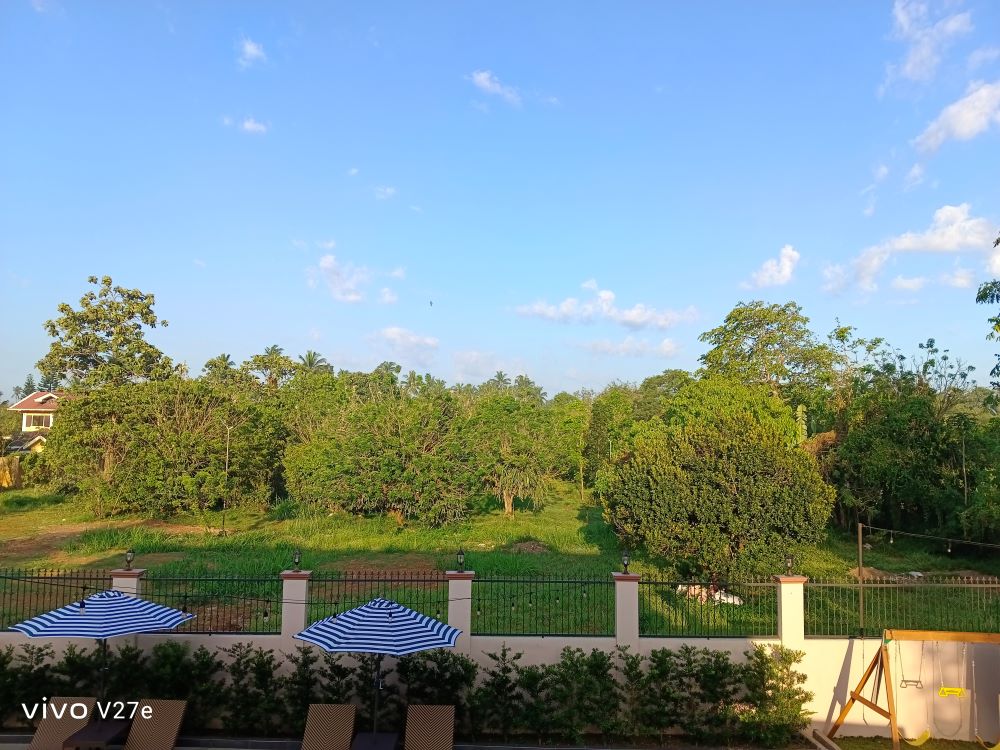 The V27e is not just a great camera phone. It is also a practical choice as it can be used for work and for entertainment. Despite just having a single speaker, audio quality is good with all-around audio enhancement.
A game boost setting allows you to play heavy games on the V27e.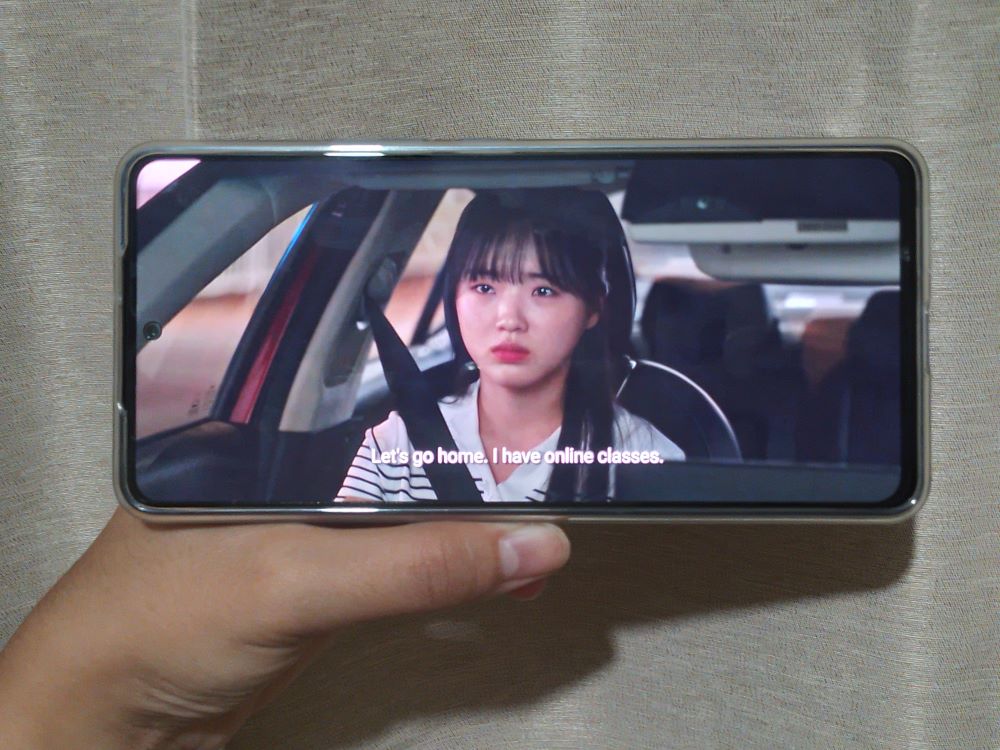 For example, on Genshin Impact, I was able to smoothly beat some hilichurls and large monsters. I also watched some cutscenes, although the quality can only be set on the low or lowest mode. Call of Duty also runs smoothly, but only in medium graphic setting and frame rate. Mobile Legends can be played at high graphics with high refresh rate settings. Note that the phone gets a little warm playing a heavy game for too long.
Value: 5/5
The vivo V27e retails at PHP16,999, a fair price for this particular camera phone with new features, upgraded systems, and overall appearance.
Specifications:
Dimensions: 6.62" Screen Display, 7.4mm curve screen
Processor: MediaTek Helio G99
OS: Android 13
RAM & ROM: 8GB + 256 GB
Camera: Front: 50MP; Rear: 64GWS OIS +2 +2
Battery: 4600mAh, 66W fast charging
Connectivity: WiFi 2.4G & 5G, Bluetooth 5.2, USB type-C, GPS & OTG supported
Dimensions: 162.3 x 74.3 x 7.7 mm (6.39 x 2.93 x 0.30 in)
Weight: 185g (Glory Black), 186g (Lavender Purple)
Colors: Lavender Purple and Glory Black
*The new fluid design is only available in Lavender Purple.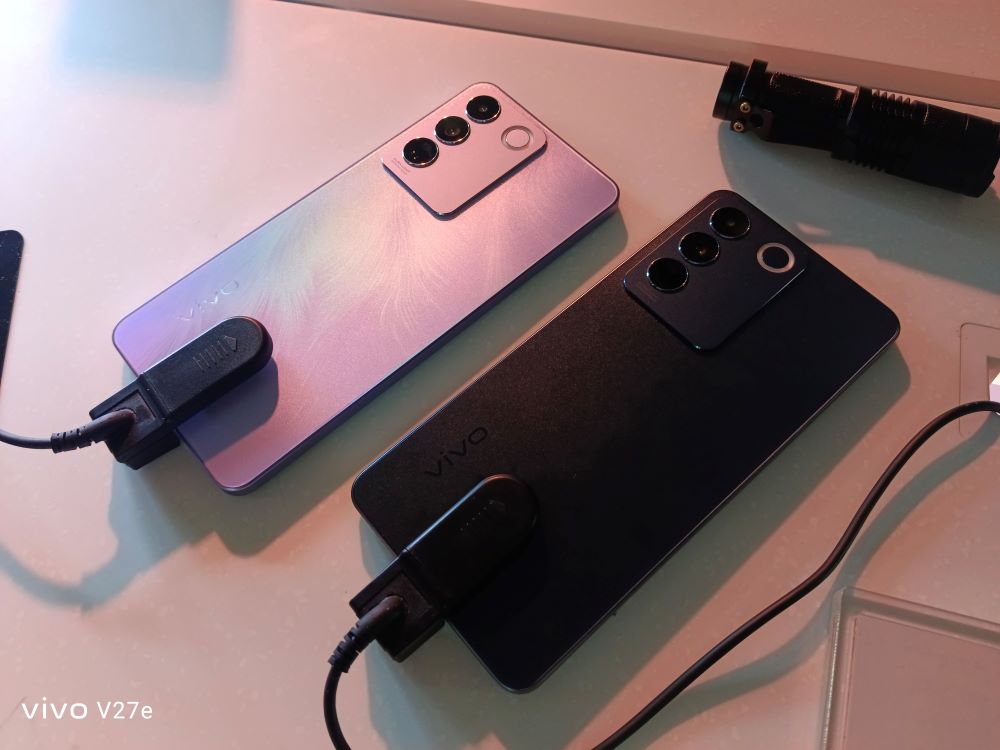 What's Hot:
Front and Rear Camera Quality
Aura Portrait Light System
OIS + EIS dual-ultra stabilization
Fluid Design in Lavender Purple
66W fast charging
What's Not:
Single speaker.
It warms up when heavy games are played for too long.
Doesn't have a dongle for wired earphones.
Bottomline:
The vivo V27e is a studio in your pocket.
Reviewed by Alyssa Joji Silva. Also published in GADGETS Magazine April 2023.