Acer has announced the specs of the 2020 refresh of the Acer Nitro 7, the Acer Predator Helios 300, Helios 700, and Predator Triton 300. The updates bring Intel's 10th gen Core processors to the laptops as well as Nvidia's RTX 2070 Super and RTX 2080 Super GPUs.
Nitro 7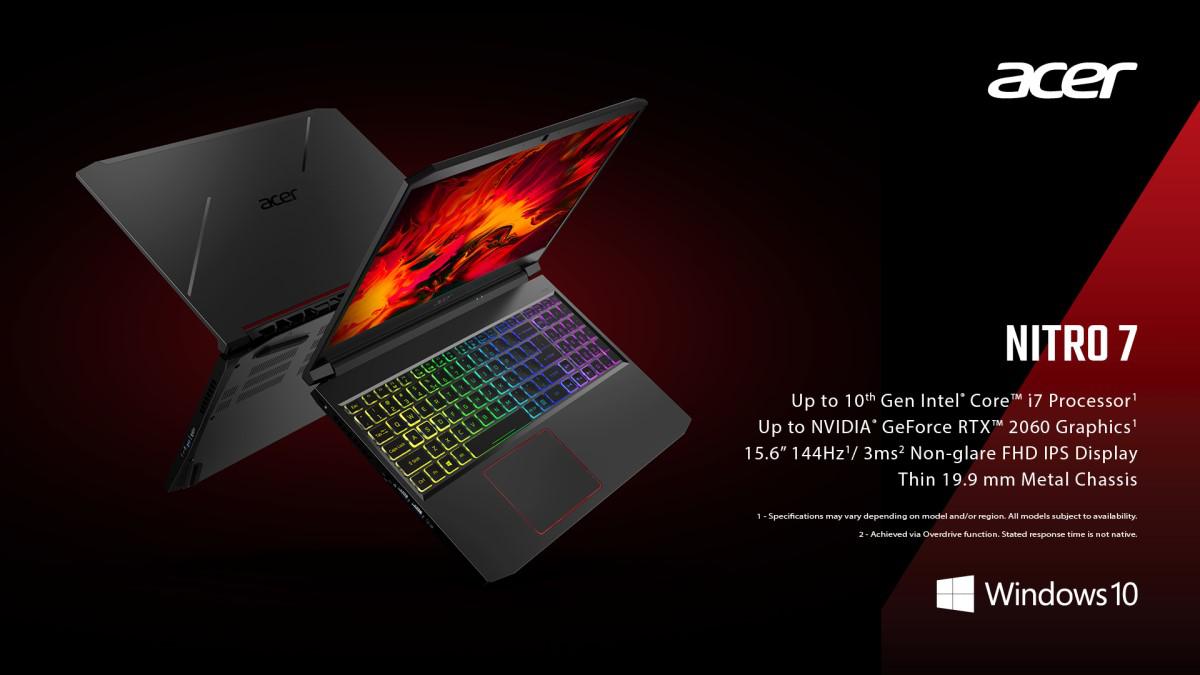 The Nitro series has been one of the standards for a portable yet powerful gaming laptop, and the new Nitro 7 will continue to deliver the power and performance the series is known for. The new Nitro 7 is fitted with a 10th gen Intel Core H processor and up to an Nvidia RTX 2060 GPU.
The Nitro 7 has three M.2 SSD slots with up to 1TB in RAID 0 configuration and up to 32GB of DDR4 2933 MHz memory. The Nitro 7 also has Killer Ethernet E2600 and Intel Wi-Fi 6 for faster and more consistent internet speeds. To keep the Nitro 7 cool, it has dual fans, quad exhaust port design, and Acer's CoolBoost technology that can be enabled in NitroSense to increase fan speed by up to 10 percent and CPU/GPU cooling by up to 9 percent compared to auto-mode.
As for the display, the Nitro 7 sports a 15.6-inch non-glare FHD IPS display with a 144Hz refresh rate and 3ms response time. Acer announced that the Nitro 7 will have a retail price of USD 999.99 and will be available in the US starting October.
Helios 300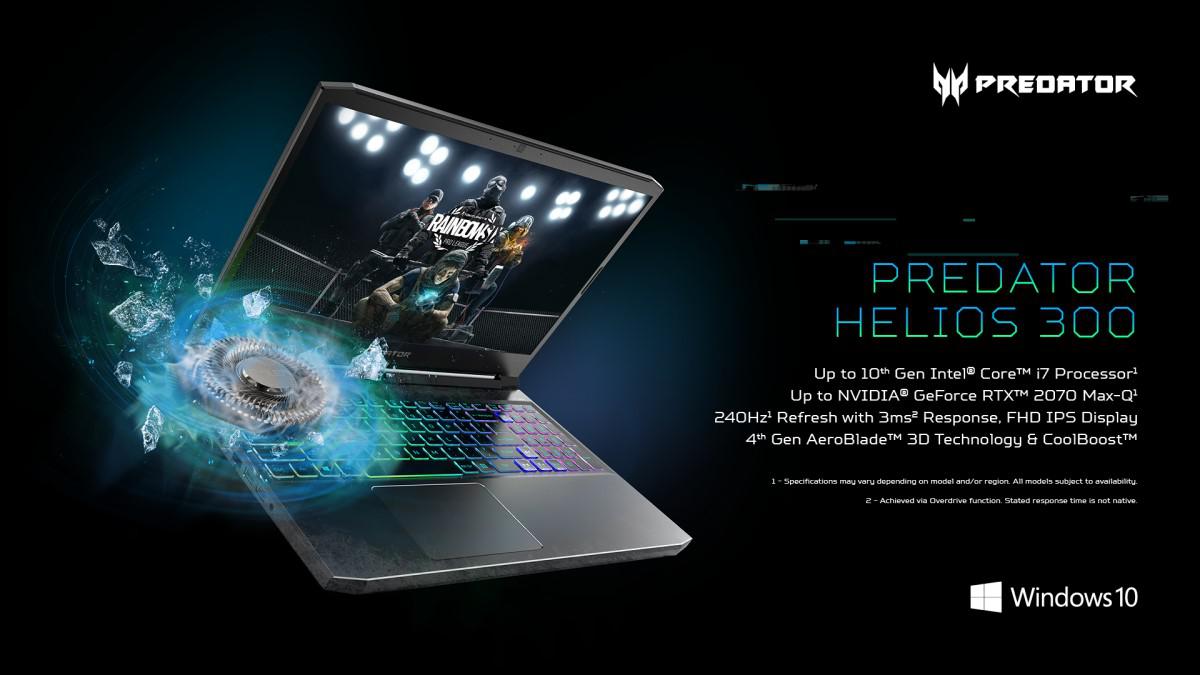 The Acer Predator Helios 300 has been one of the most popular gaming laptops due to its price to performance ratio, and the new model hopes to continue the legacy with its upgraded processor and GPU. The refreshed Helios 300 now has a 10th Gen Intel Core H-series processor, an overclockable Nvidia RTX 2070 Max-Q, and a 15.6-inch FHD IPS monitor with 240Hz refresh rate and 3ms response time.
Acer's custom-engineered cooling technology ensures that the device runs at an optimal temperature. The Predator Helios 300 features dual fans, one of which is the newly designed 4th gen AeroBlade 3D fan that reduces noise while increasing airflow. It also has Acer CoolBoost which allows manual adjustments of the fans to ensure that critical areas receive continuous cooling. The laptop's intake and exhaust vents are strategically placed to ensure proper airflow for the components.
Memory-wise, it has up to 32GB of 2933MHz DDR4 RAM, two PCIe NVMe SSDs in RAID 0 config, and up to a 2TB hard drive. To further enhance the gaming experience, Acer equipped the Helios 300 with DTS:X Ultra Audio for 360-degree surround sound and an authentic audio experience optimized for any game genre.
The Predator Helios 300 will be available in the US from July 2020. Prices start at USD 1,199.99.
Helios 700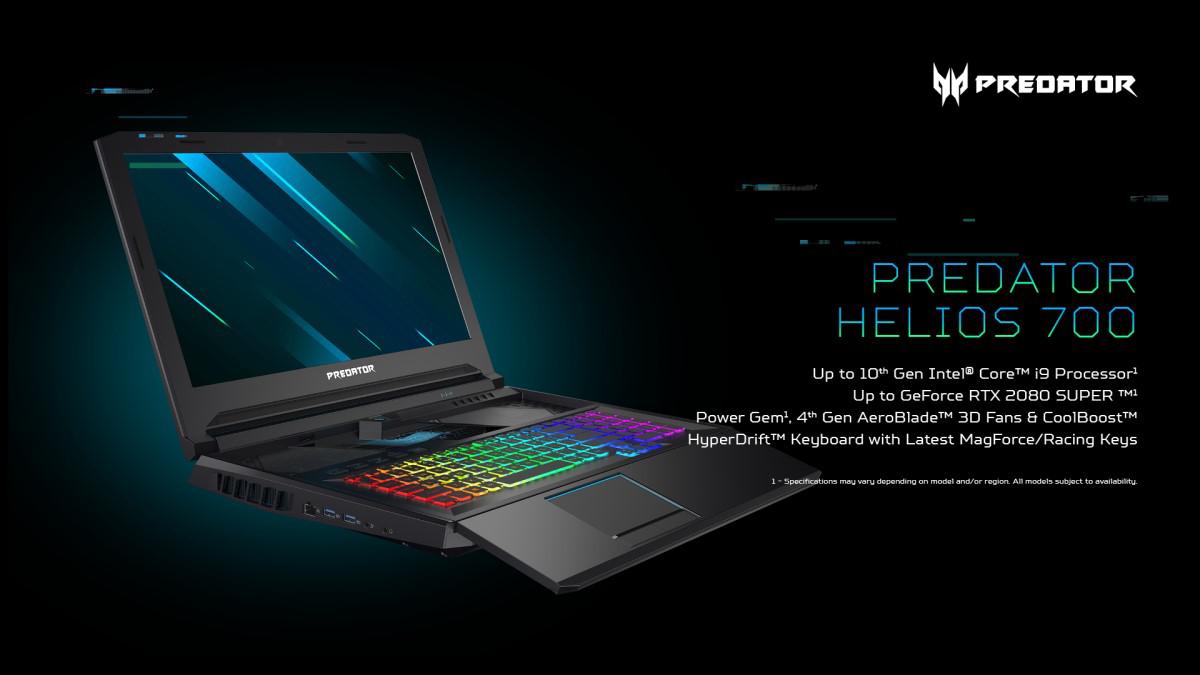 The Helios 700 has captured a lot of attention with its unique HyperDrift keyboard and powerful performance. The new Helios 700 carries over the same design with some major upgrades to its processor and graphics. It now sports an overclockable Intel Core i9-10980HK or i7-10875H and Nvidia GeForce RTX 2080 Super or 2070 Super.
The new Helios 700 has a faster 2933Hz DDR4 memory up to 64GB, an additional Thunderbolt 3 port, and the latest Killer DoubleShot Pro (Wi-Fi 6 AX1650i wireless and E3100G Ethernet) for faster and more consistent internet connection. The Helios 700 also sports PCIe NVMe SSDs in RAID 0 config. The 17.3-inch display is FHD IPS with a 144 Hz refresh rate with Nvidia G-SYNC.
The Helios 700 now also features Acer's new thermal solution called Predator PowerGem for both the Core i9 and Core i7 models. PowerGem is a special material that Acer claims to have 3.83 times more vertical heat conductivity than copper, improving the laptop's thermals.
As for the HyperDrift keyboard, the new Helios 700 features per-key RGB lighting and anti-ghosting. The WASD keys have also been upgraded to included MagTek mechanical switches and a new set of racing keys design for racing games. The new racing keys feature 1.5mm of keycap curvature that enables gamers to make finer and more controlled movements in-game. The keys can be swapped with the standard WASD keys and once swapped—using the Predator Sense app—can adjust the keys' lighting and actuation points.
The Helios 700 will be available in North America starting October 2020 and will retail for USD 2,399.99
Triton 300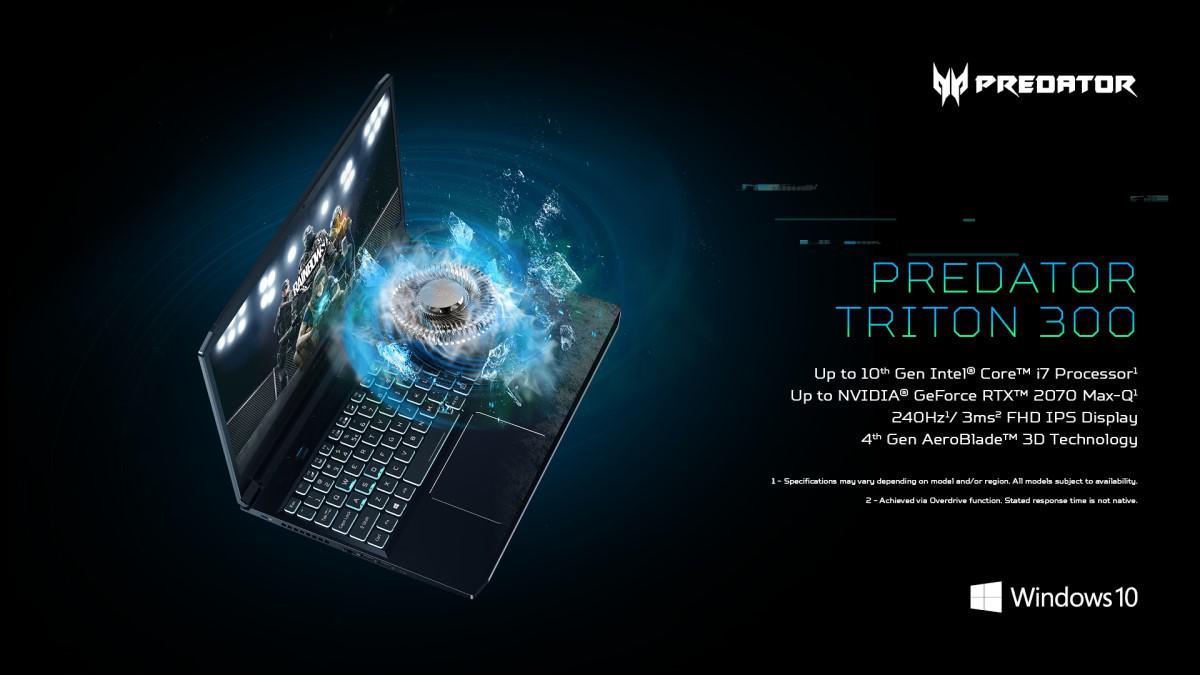 The Acer Predator Triton is the brand's thin and light gaming laptop. The Triton 300 has been refreshed to now include a 10th gen Intel Core H-series processor and up to an Nvidia RTX 2070 Max-Q. The 15.6-inch FHD IPS has a 240Hz refresh rate and a 3ms response time. The screen has 300nits brightness and supports 100 percent of the sRGB color space, ideal for content creation. The Triton 300 now also sports up to three M.2 SSDs (One PCIe, two combos).
For thermals, Acer has added three heat pipes, with a dual-fan cooling system featuring one 4th gen AeroBlade 3D metal fan. Also included is Acer's CoolBoost technology and strategically placed intake and exhaust vents. All of this is fitted in the device's thin and light metal chassis that's just 19.9mm thin and weighs only 2.1kg.
The Predator Triton 300 will hit US shelves starting September 2020 and will cost USD 1,299.99
The refreshed laptop's will arrive locally but pricing and availability are yet to be announced by Acer Philippines.