Acer revealed a new range of rugged devices named Acer Enduro during its [email protected] 2020 global press conference. The new series features MIL-810G military-grade protection and up to IP65 certified water and dust resistance designed for first responders, field, and manufacturing workers.
"With an increasingly modern workforce, more and more mobile devices are being deployed in the field where they are subject to harsher handling. Enduro, our new line of rugged notebooks and tablets, was created to provide our customers with the durability and performance that gets the job done," said Andrew Chuang, general manager, rugged computing, Acer Inc.
In addition to physical protection, the new Enduro devices also include a host of security and management services such as the Acer Enduro Management Suite (AEMS). The AEMS is a system designed to streamline the management of large quantities of devices, helping to keep existing devices more secure and speed up the process of rolling new ones out. The AEMS consoles enable a manager to remotely interact with AEMS-enabled devices in the following ways:
• Programmable physical keys: AEMS-enabled tablets and notebook computers include physical keys, located next to the power button, which will automatically launch a designated application upon key press.
• I/O Control: The ability to remotely enable/disable access to I/O ports. Cameras and barcode scanners may also be enabled or disabled.
• Device Monitor: Lists and exports information for all devices being managed, including information about each individual device's system, hardware, software, and any applied hotfixes.
• Remote Deployment: Any necessary applications, BIOS changes, or Windows updates can be pushed out and deployed remotely.
Enduro N7
Leading the new line is the Acer Enduro N7, a rugged notebook designed to survive even the most chaotic of industrial environments. The device has a MIL-810G and IP65 certification so that it withstands drops even on the hardest of surfaces and resist ingress of water and dust.
It has a 14-inch 700-nit FHD display which offers great visibility so you can work endlessly on the field. The Enduro N7 has a single hot-swappable battery with 10-hours of battery and another bridge battery to help stay on even without a power outlet nearby.
The Enduro N7 is equipped with the necessary technology in a modern workplace with a quad-core 8th gen Intel Core i5 CPU which can get most jobs done smoothly. The device also prioritizes security with its hardware-level Trusted Platform Module (TPM) 2.0 checking for any signs of intrusion during startup, and the aforementioned AEMS. It also has a fingerprint reader for a more secure log-in through Windows Hello.
Enduro N3
The Enduro N3 is a rugged laptop made to strike a balance between durability and portability. This device is made for users who rotate between several worksites or just outdoor hobbyists who want to record their adventures. It has a MIL-STD 810G and IP53 certifications, while maintaining the thin and light frame of 24.85mm and 1.985kg. Some of the built-in protections include the Corning Gorilla Glass screen, reinforced corners, and the unique water-resistant Aqua fan.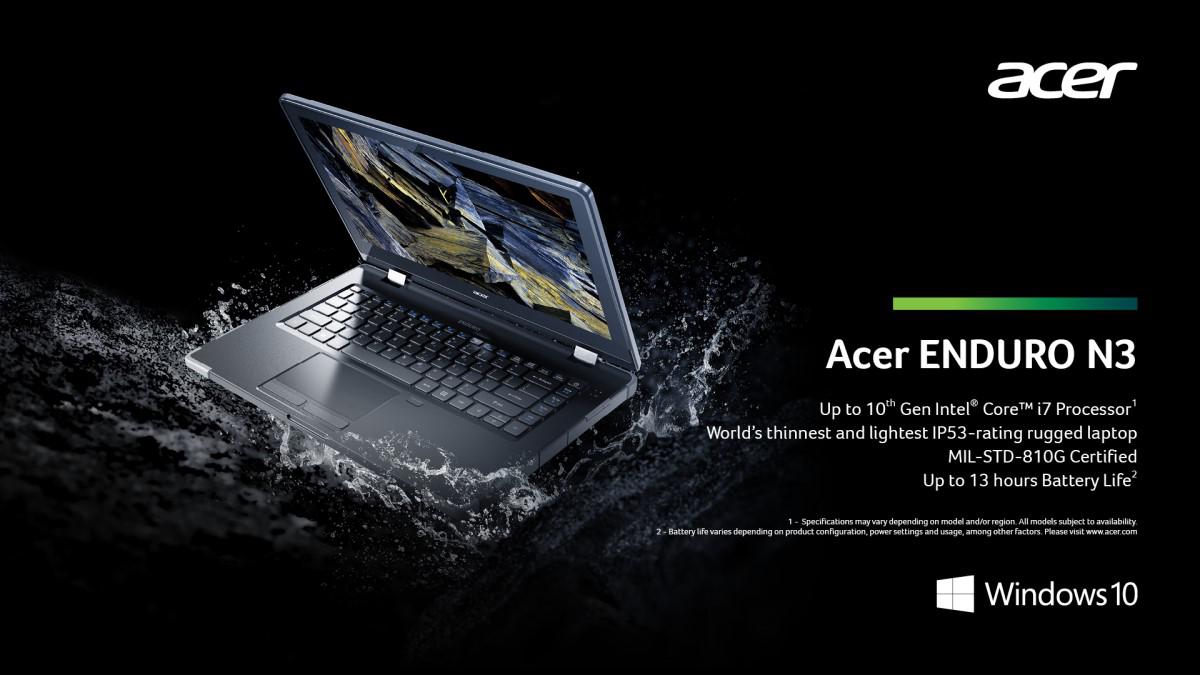 The Acer Enduro N3 is powered by a 10th gen Intel Core i7 processor, 32GB of DDR4 RAM, an optional Nvidia GeForce MX230 discrete graphics, and 512GB PCIe Gen3 NVMe SSD.
Enduro T5 and T1 rugged tablets
In addition to the two laptops, Acer also launched Enduro rugged tablets. The Enduro T5 a 10-inch Windows 10 tablet with a 7th gen Intel Core M3 processor and MIL-810G and IP65 certifications.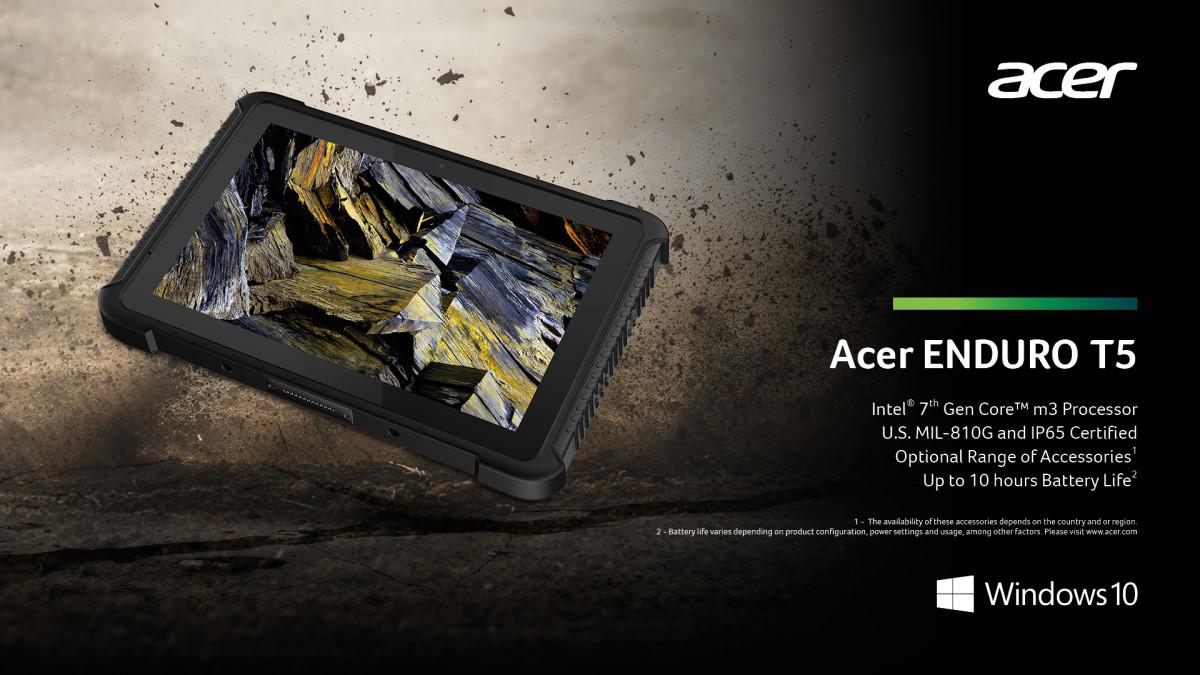 The  Enduro T1 which has two variants. It can be a Windows tablet that doubles as a 10.1-inch notebook via the optional portfolio keyboard or an 8-inch Android tablet. Both Enduro T1s have MIL-810G protection and IP54 water and dust resistance.
The Acer Enduro N3 will be available in North America starting in August with a retail price of USD 899. There is no word yet on the release date of the other devices.