Running from November 15, 2023, to January 15, 2024, the Share 2023 holiday promo offers buyers of participating ASUS and ROG products with merchandise and other exclusive bundles. They also get free ASUS Premium Care 1-year Warranty Extension for all laptops. So, this is the season to get into the ASUS OLED premium laptops, bigger and stylish 16-inch devices, update that Creator or work-from-home setup, and upgrade one's gaming rig as ASUS and ROG Share holiday promo returns this year with up to PHP52,400 worth of freebies up for grabs.
Immerse in ASUS Lumina OLED goodness like never before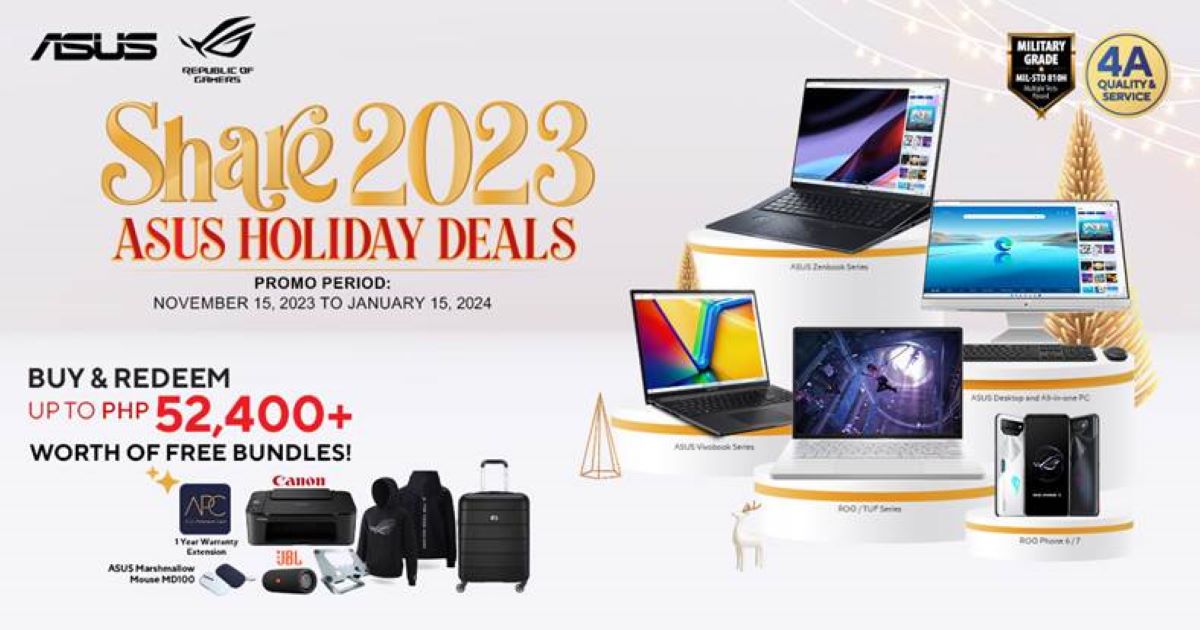 Experience OLED goodness like never before with ASUS' wide variety of premium ASUS Lumina OLED laptops like the Zenbook S 13 OLED (UX5304, UM5302) and Vivobook S 14/15 OLED (K3402, K3502).
The Zenbook S 13 OLED marries premium performance and portability in a sleek device. Featuring a stunning   2.8K 16:10 ASUS Lumina OLED display, this laptop features true-to-life visuals. With 13th Gen Intel Core processors or AMD Ryzen 6000-Series processors, the Zenbook S 13 OLED delivers fast performance for day-to-night productivity. Supplemented with up to 16GB of LPDDR5 RAM and 512GB PCIe 4.0 SSD, the Zenbook S 13 OLED is encapsulated in a sustainable, elegant, thin, and light form that is only 1cm slim and weighs 1kg, so users can make more of their day without their laptop weighing them down.
Even on the go, show off that youthful vibe with the true power of Vivobook S 14/15 OLED's Intel Evo-verified performance. This means users get a fast charge, an all-day battery, blazing fast internet and connectivity speeds, instant wake, and incredible performance, all in an ultra-portable form factor. It's also guaranteed to keep up with one's hectic lifestyle as it features high-performance components, including 12th Gen Intel Core H-series processors, up to 16GB upgradable DDR4 RAM, and an ultrafast 512GB PCIe SSD. It's tough metallic lid design, complemented by its raised logo tab, makes an authentic style statement.
These OLED laptops retail at a starting price of PHP50,995, and Filipinos can get PHP10,700 worth of freebies that include a JBL Flip 5, an ASUS Marshmallow Mouse, ASUS desk mat, ASUS tumbler, 64GB USB, ASUS Premium Care one-year warranty extension.
Envision a bigger, better, more creative year ahead
There's no better time to explore life with a bigger display than today, as ASUS Vivobook 16 (X1605/M1605) showcases a 16-inch IPS wide-view NanoEdge display ideal for smart, practical users. With this larger screen real estate plus ultrafast up to 12th Gen Intel Core or AMD Ryzen 7000-Series processors, users get more workspace and performance for work or entertainment apps. User-friendly features such as its 180-lay flat hinge, ASUS Antibacterial Guard, and comprehensive I/O ports make the ASUS Vivobook 16 the best productivity and entertainment buddy.
Find out the many benefits ASUS 16-inch laptops and get one within the promo period for a starting price of PHP37,995 and receive up to PHP7,300 worth of free bundle, including an ASUS Marshmallow Mouse, ASUS tumbler, 64GB USB, and an ASUS Premium Care one-year warranty extension.
For the creatives in the family, gift them the innovation only found in the ASUS Creator Series, such as the ASUS Zenbook Pro 16X OLED (UX7602) and ASUS Vivobook Pro 15 OLED (M6500). Be empowered to create more and be inspired by the ultimate power and out-of-the-box intelligent design of Zenbook Pro 16X OLED. It features the exclusive Active Aerodynamic System Ultra for enhanced cooling and ASUS Dial, designed to make one's creative process more efficient. Supported by up to 13th Gen Intel Core H- series processors, up to NVIDIA GeForce RTX 4080 GPU, and a world-leading 16-inch 3.2K OLED 16:10 120Hz refresh rate touchscreen display, content creation never looks this smooth and satisfying.
To further enhance creativity, aspiring creators can explore Vivobook Pro 15 OLED's top-notch specifications that represent incredible value for money, with high-performance components including AI-enabled AMD Ryzen 7000-series processors with up to 16 GB of LPDDR5X RAM, studio-grade NVIDIA GeForce RTX 4050 GPU, and an ultrafast 1 TB PCIe 3.0 SSD. Its world-leading 15-inch 2.8K OLED HDR NanoEdge 600-nit display is perfect for creative activities, with refresh rates up to 120 Hz and 0.2 ms response times. Primed for productivity, Vivobook Pro 15 OLED also features fast I/O capabilities, including the latest up to USB-C connectivity with support for both Power Delivery and DisplayPort, Harman Kardon-certified Dolby Atmos audio system, and fast charging with a 150 W charger, to name a few.
ASUS Creator Series laptops start at PHP44,995 and come with a free three-month Adobe Creative Cloud subscription. Redeem as much as PHP18,500 worth of free bundle, which includes a Delsey luggage, Canon printer, ASUS Marshmallow Mouse, ASUS desk mat, ASUS Premium Care, and a one-year warranty extension.
Check this link for the complete list of participating ASUS Zenbook and Vivobook laptops https://ph.asus.click/SHARE2023HolidayDeals.
Stylish and versatile desktop and AiO PCs for the family home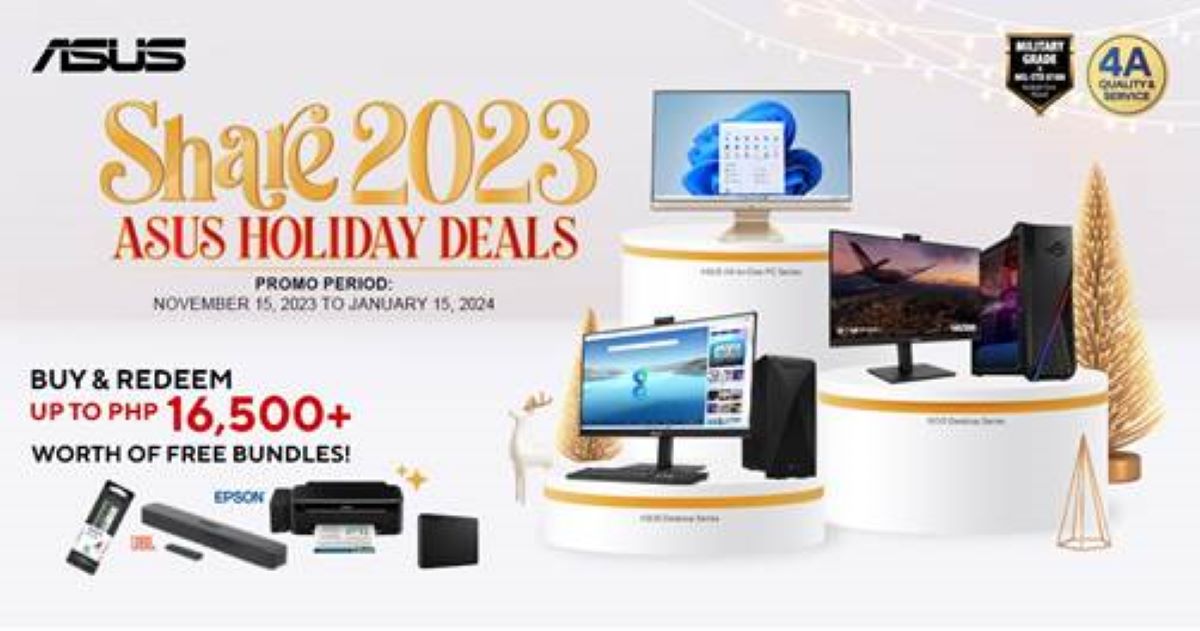 Need a stylish desktop? The ASUS S501MD desktop's unique, modern architecture-inspired look is designed to complement any interior space – it's a PC that doubles as a décor, ideal for any home or small studio. Featuring up to 12th Gen Intel Core processor and dedicated NVIDIA GeForce graphics, the ASUS S501MD is perfect for everyday content creation, working at home, online learning, and casual gaming.
Built for reliability, ASUS S501MD is built with ASUS' world's #1 motherboards and industry-leading components, making sure it has a US Military Grade stamp for that outstanding build quality for years of durable, reliable computing.
The ASUS S501MD desktop starts at PHP38,995. Users also get a free bundle worth up to P16,500+, including an Epson Workforce L100 Printer, Toshiba Canvio Basics portable 1TB hard drive, and ADATA 8GB 3200 MHz memory.
Experience ultimate entertainment with the stunningly beautiful ASUS M3400 all-in-one PC. Its vibrant 23.8-inch FHD NanoEdge touchscreen display features wide viewing angles and 100% sRGB color gamut, making it perfect for sharing pictures or videos with friends and family. Alongside high-quality stereo speakers with advanced Bass Reflex design and Dolby Atmos support, the ASUS M3400 provides a cinematic viewing experience for the whole family.
With a simple yet elegant stand that resembles the Chinese character 人, for "human", The ASUS M3400 looks seamless and effortless. It's also incredibly slim and compact, leaving more space for more than just a computer on one's desk.
The ASUS M3400 all-in-one PC retails at a starting price of PHP44,995 and comes with a wired keyboard and mouse inside the box. Buyers also get a free bundle worth PHP15,400, including an Epson Workforce L100 Printer and Toshiba Canvio Basics portable 1TB hard drive.
Check this link for the complete list of participating desktop and AIO products https://ph.asus.click/SHARE2023DesktopDeals.
Gaming Never Stops this Share 2023!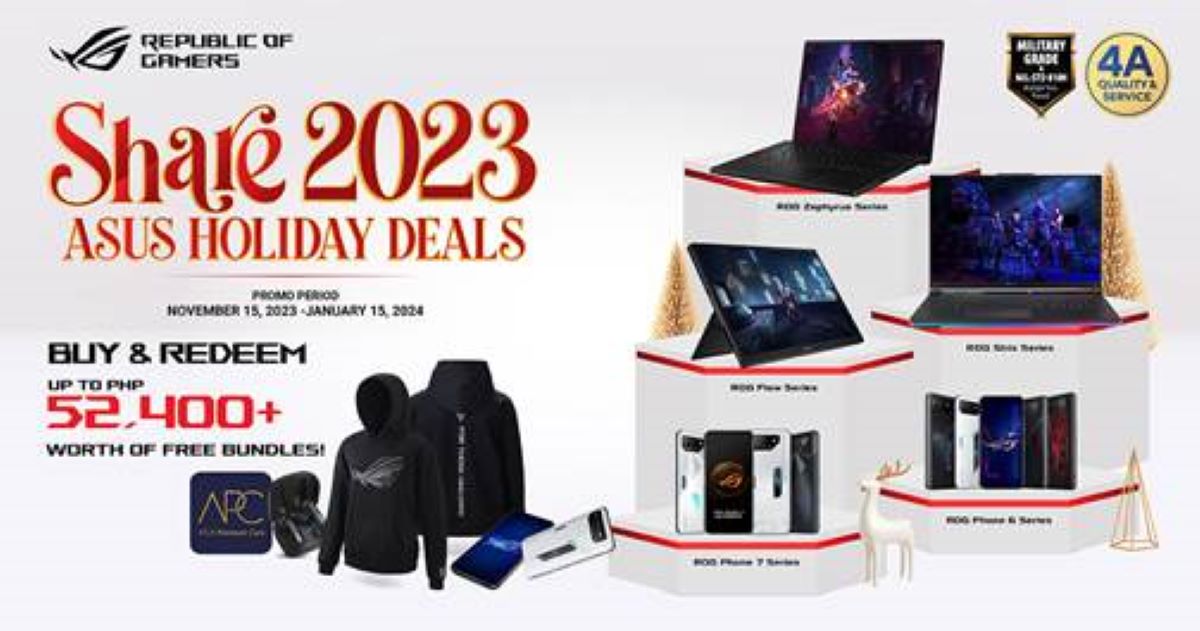 The holiday season just got an upgrade, as the Republic can enjoy lots of gaming goodness this Share 2023. Level up gaming this time of the year when purchasing participating gaming laptop models and receive wondrous bundled items from the number one #1 gaming brand, ASUS Republic of Gamers.
The Zephyrus M16, built with gamers and creators in mind, represents ROG's take on sleek, stylish, and refined gaming laptops with powerful internals. Powered by up to an Intel Core i9-13900H processor with RTX 30 or 40 series GPU that boasts the ROG Nebula HDR display, this gaming beast is a AAA game-ready device. Add the AnimeMatrix LED display, and gamers have endless customization right in the palm of their hands. Get it this Share 2023, and participating models can give items ranging from an ROG Hoodie plus ASUS Premium Care with a 1-year Warranty Extension, ROG Cetra True Wireless plus ASUS Premium Care with 1-year Warranty Extension, or the ROG Phone 6 plus ASUS Premium Care with 1-year Warranty Extension worth PHP51,490.
Play competitive game titles with the best partner, ROG Strix SCAR 18, and effortlessly win battles. Powered by an Intel Core i9-13980HX processor with RTX 4090 GPU, break all limits with this 18-inch 204Hz beast of a gaming laptop. Cop this ultra-fast Strix SCAR 18 and enjoy the ROG Phone 6 plus ASUS Premium Care with a 1-year Warranty Extension worth PHP51,490.
For the power and portability gamers out there, the ROG Flow Z13 also joins the festivities. This most powerful gaming tablet/laptop satisfies gaming on the go with zero sacrifice on style and power. With up to an Intel Core i9-13900H processor and up to an RTX 4060, it allows a better gaming experience anytime, anywhere. This holiday season, get participating models of the Flow Z13 and enjoy items such as the ROG Hoodie plus ASUS Premium Care with a 1-year Warranty Extension worth PHP9,994.
The durable bang-for-the-buck TUF Gaming laptops wouldn't miss the holiday cheer. This year's newest TUF Gaming A16 Advantage Edition features all AMD-powered internals up to an AMD Ryzen 7 Zen 4 processor and AMD Radeon RX 7600s GPU with AMD Smart Access Graphics. Boasting its new Sandstorm colorway, this 16-inch military-grade laptop will be the best daily driver for work and play. Get the TUF Gaming A16 this holiday season and an additional 1-year ASUS Premium Care Warranty Extension.
The King of Gaming Smartphones wouldn't miss the season of giving as ROG Phones are also available with exciting promotions this 2023! Built without any compromise, the ROG Phone 7 features the flagship 3.2 GHz Snapdragon Gen 2 Mobile Platform with up to 16GB of LPDDR5X RAM and up to 512GB of storage for the fastest mobile gaming experience one will ever experience. Get the ROG Phone 7 series this season with up to a PHP4,000 discount, or get the ROG Phone 6 series to secure a Cetra II Core Headset.
For the full list of participating ASUS & ROG products, visit https://ph.rog.gg/SHARE2023GamingDeals.
Must-have add-ons for peace of mind this holiday season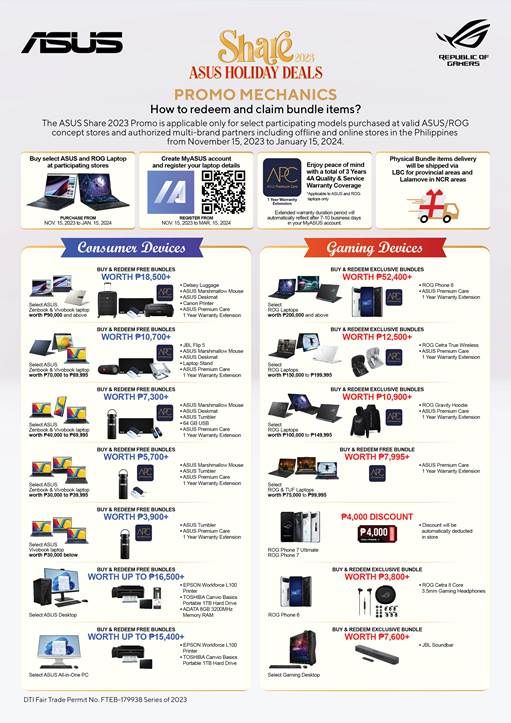 On top of the leading performance and design, ASUS and ROG laptops come with must-have add-ons to give users peace of mind during the holiday season. They come with a free lifetime license to Office 2021 Home & Student worth PHP6,990 so users can start working on their tasks right off the bat. These devices are also guaranteed durable and reliable as they are US Military Grade certified.
In addition to that, users can also get a complimentary warranty package with ASUS 4A Quality & Service. Get up to three years of international or local warranty, ASUS Perfect Warranty (Local Accidental Damage Protection), and ASUS Preventive Maintenance service to ensure that ASUS devices are always protected and performing at their best.
ASUS products are now made more accessible through Home Credit's 0% interest for up to 12 months. Head to the nearest ASUS Concept Stores and authorized resellers or check the list of stores here https://ph.asus.click/PRWTB. Filipinos can also shop from the comfort of their homes through the ASUS Online Store for free shipping and extra bundle items or at the ASUS and ROG Shopee Official Store, ASUS Expert Series Flagship Store, and ASUS Lazada Official Store.