As the ongoing global pandemic continues to disrupt normal business operations, more companies are integrating work-from-home technology to achieve and maintain high levels of productivity and keep their businesses afloat. A recent Lenovo global survey revealed that nearly half of employees (46 percent) were encouraged and 26 percent were required to work from home. In addition, 77 percent expect companies to be more accepting of the setup in the future. Recognizing the need for an efficient and seamless WFH technology solution, Lenovo, is offering a special Work From Home productivity suite which bundles together its latest devices and services designed to bolster a company's capacity to work from anywhere.
"We understand the struggles involved in making work from home arrangements work for certain industries, especially within a short period of time. As a global leader in providing cutting-edge technology, we at Lenovo make it our mission to assist businesses in adapting to the new normal through our holistics solutions packaged in smart bundles for quick and convenient implementation," said Michael Ngan, president and general manager, Lenovo Philippines.
The devices included in the bundles provide enhanced business flexibility and ability, enabling teams to easily communicate and finish projects from anywhere without any hitches. The devices also extend added security and a sense of comfort and ease with the support provided by expert Lenovo technicians.
Headlining Lenovo's work from home technology bundles is the ThinkCentre M90n Nano workstation which delivers powerful performance through its 8th gen Intel processor despite being only 179mm x 88mm x 22mm small and having a starting weight of 0.7kg. It has several ports, including powered USB Type-C, which allows it to be hooked up to peripherals such as a projector, monitor, keyboard, and mouse without unnecessary cable clutter in the workspaces. The ThinkCentre M90n Nano is WiFi-ready and has two additional USB 3.1 ports that enable lightning-quick data transfer.
Lenovo is recommending two displays for the ThinkCentre M90n—the ThinkCentre Tiny-in-One 22-inch and the ThinkVision T22i-10 21.5-inch monitors. The ThinkCentre Tiny-in-One monitor assures a clutter-free workspace through its 1920 x 1080 borderless LED panel which gives a clearer view of worksheets and projects and a clip that can tuck all cables in for a clutter free workspace. Meanwhile, the T22i is a clear display of 1920 x 1080 resolution with a near edgeless IPS-type screen, providing vivid color in images from a wide viewing angle.
To connect the ThinkCentre M90n Nano to a display, Lenovo suggests the ThinkCentre Nano TIO Cube or the ThinkCentre Nano Monitor Clamp. Both accessories easily hook up the ThinkCentre M90n to a monitor, giving users a lean working environment and an overall better and hassle-free user experience during setup.
Lenovo is also offering its USB-C Laptop Power Bank 14000 mAh, which provides a 48Wh battery life enough to bootup the ThinkCentre M90n on a mobile workspace. The powerbank's two additional USB-A ports supports simultaneous charging so that the user can charge multiple devices at the same time. The powerbank also has fast-charging capabilities, with less than two hours of charging time already capable of providing up to 80 percent battery capability.
To complete the ultimate work from home setup, Lenovo is also including its Lenovo Professional Ultraslim Wireless Combo Keyboard and Mouse into the bundles. The keyboard and mouse combo was made to give users maximum comfort as it features a 2.5-zone ultraslim keyboard that is only 12mm thick. The accompanying mouse, on the other hand, has an adjustable DPI of up to 3200. The combo also uses a single Nano USB receiver which saves necessary port space.
Until June 30, 2020 companies can choose from two Lenovo work from home technology bundles.
ThinkCentre Nano Bundle 1 (SRP PHP 50,390)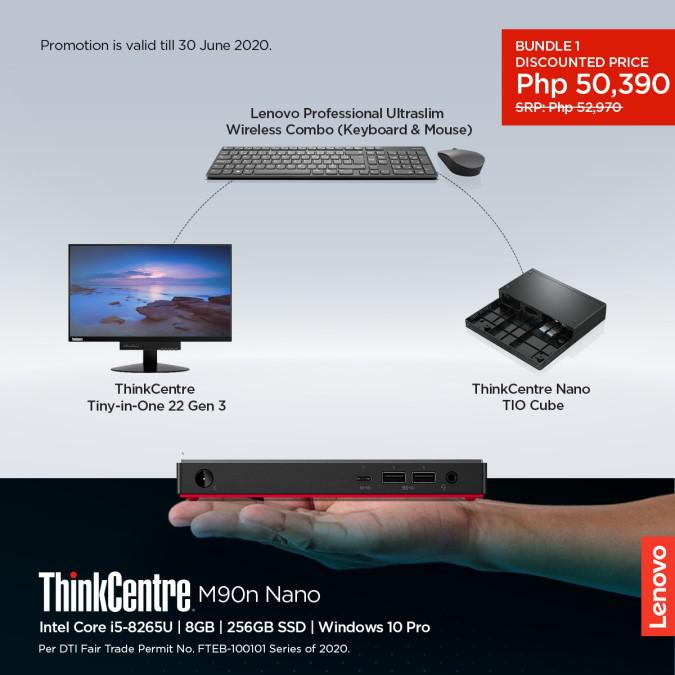 Includes ThinkCentre M90n with Intel i3-8145U processor, 256GB SSD, 8GB RAM, and Windows 10 Pro, ThinkCentre Tiny-in-One 22 Gen3 monitor, ThinkCentre Nano TIO Cube, Lenovo Professional Ultraslim Wireless Combo Keyboard and Mouse, and Lenovo USB-C Laptop Power Bank 14000mAh.
ThinkCentre Nano Bundle 2 (SRP PHP 51,890)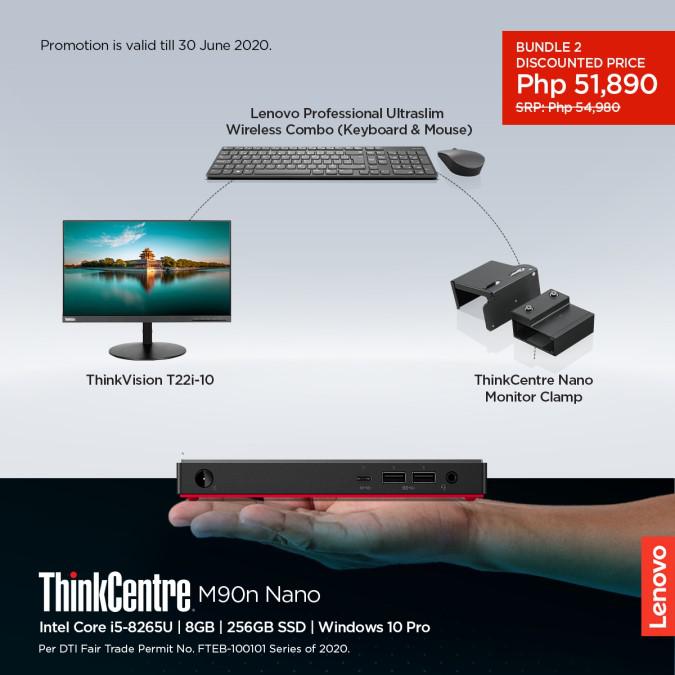 Includes ThinkCentre M90n with Intel i5-8265U processor, 256GB SSD, 8GB RAM, and Windows 10 Pro, ThinkVision T22i-10 21.5-inch, ThinkCentre Nano Monitor Clamp, Lenovo Professional Ultraslim Wireless Combo Keyboard and Mouse.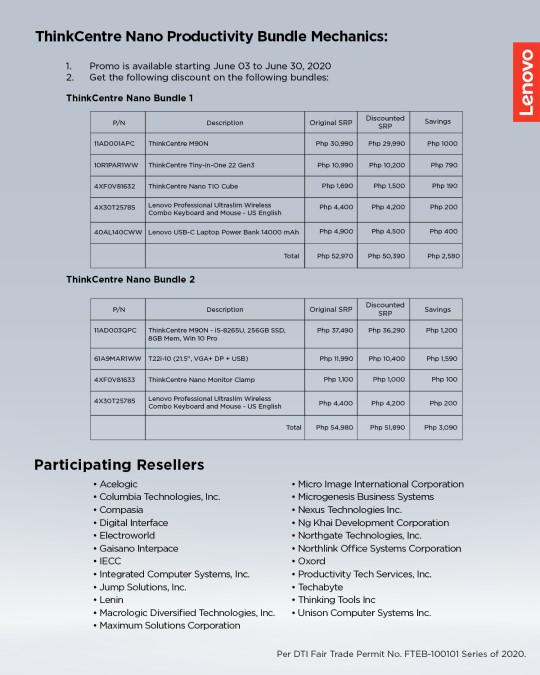 Both bundles will come with Lenovo's Advanced Solutions for Remote Work service, a suite of solutions designed to help businesses easily transition to work from home arrangements. By combining Lenovo's proprietary services, namely Premier Support (a 24/7 dedicated hotline to Lenovo engineers, comprehensive hardware, and OEM support), Premium Care (real-time solutions on first contact, "Getting Started", and "How-to" support, assistance with hardware and software issues), and Accidental Damage Protection (coverage for accidental drops, spills, bumps, electrical surges, damage to LCD screen), Lenovo is covering all bases and issues that employees are bound to encounter while working remotely.
The two bundles can be purchased through Lenovo's authorized retail partners and their respective online stores. For more tips on how to bolster productivity at home, contact Lenovo at their Facebook page, or visit their website at www.lenovo.com/ph/en.