Lenovo makes good on their promise to further revolutionize the customer experience with a string of product announcements at Tech Life in Berlin.
Ahead of their IFA unveiling, we got an exclusive first look at Lenovo's latest innovations. Some rumors were confirmed, and there were unexpected reveals that either caused surprise and some healthy discussion among the members of the press. It was, nevertheless, a showing of excellent craftsmanship and engineering we're sure customers will appreciate.
Leading the pack for consumer electronics is Lenovo's Yoga C930. The newest in the brand's line of premium flexible power machines, the Yoga C930 embodies beautiful functionality. It maintains the all-aluminum body and metallic finish of its previous iterations but ditches the iconic watchband hinge. A single, wide bar hinge now holds the halves together, and the company hopes this new aesthetic adds a cosmetic and functional change consumers will appreciate. Dual Dolby-Atmos-boosted tweeters are embedded in the rotating hinge.
Another unique selling point of the Yoga C930 is a stylus silo that doubles as charger for its digital pen–touted Garaged Pen. The device will also come with other convenient features like fingerprint scanner, Alexa and Cortana support, far-ranged micwebcam privacy shutter, Dolby Vision, as well as up to 14.5 hours of run time. It will be powered by an 8th gen Intel Core i7 processor and will have a starting price of EUR 1499 (roughly around PHP 91,000)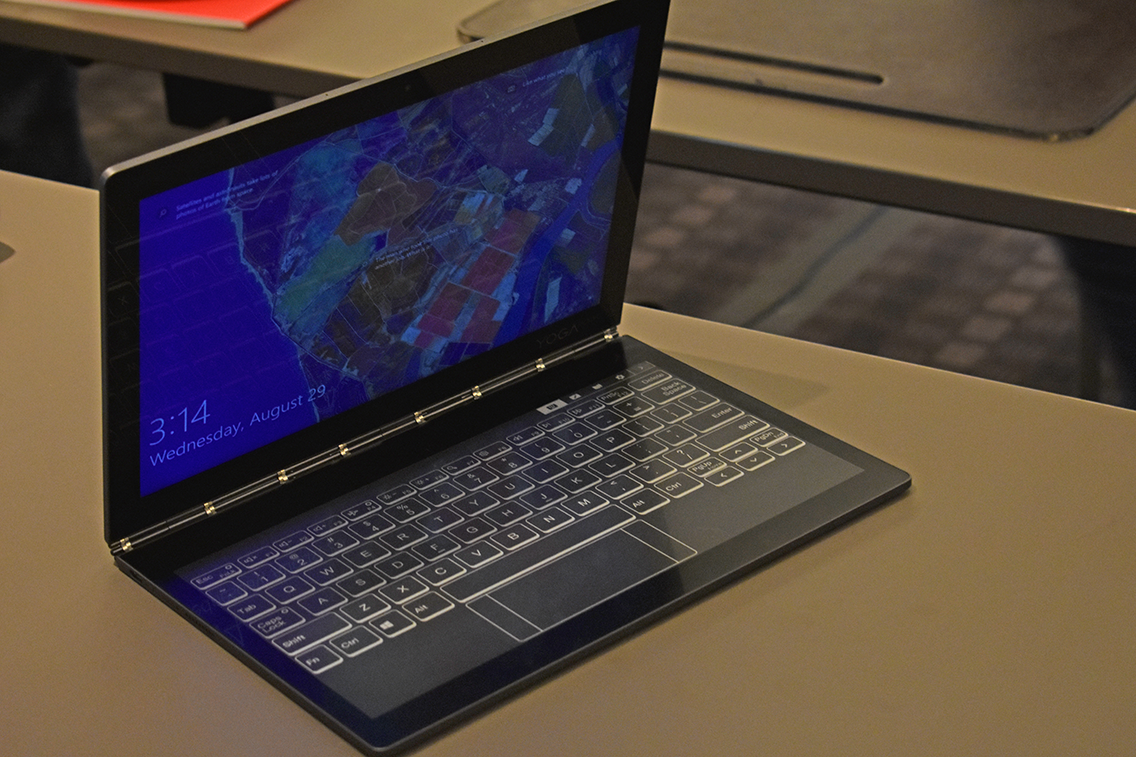 Making a return is Lenovo's physical keyboard-less creation, the Yoga Book. The latest iteration of this feature-packed device, the new Yoga Book is an interesting device with an e-ink surface area for a keyboard. It still allows scribbling, but is now more accurate, with 4,096 levels of pressure sensitivity. Utilizing E Ink technology, it can also turn into an e-book reader at will. Lenovo listened to customer concerns and masterfully created a typing surface that offers better haptic feedback and and sinks into the body of the keypad area,to replicate that physical keyboard feel. It is also now more intuitive, making use of machine learning to adjust to the user's typing behavior. It also debuts a knock-to-open feature, that as the name suggests, pops the device open as response to lightly knocking on its lid. While it does work and is quite a fun addition, it strikes us as a little gimmicky.
The first version of the Yoga was offered in versions Android and Windows, but the thin and light second gen will solely be a Windows-run device with up to an Intel Core i5 processor. Price for the Yoga Book C930 starts at EUR 999 (roughly around PHP 60,000).
Lenovo also previewed their thinnest consumer clamshell laptop, the Yoga S730. The brand was still able to pack an 8th gen Intel Core i7 Processor, Dolby Atmos Speaker system, dual AIs Cortana and Alexa, up to 10 hours of battery life, and a double cooling system in an 11.9 mm-thin chassis.
World firsts seem to be the running theme for Lenovo's IFA offerings. Another device to add to this list is the Yoga C630 WOS. It is the first PC to have a Snapdragon 850 mobile compute platform, allowing it power in a compact form factor. It will ship with 4.5G LTE Advanced Pro support, a whopping 25+ hours of local video playback, fingerprint reader, and a Lenovo Pen option. The Yoga C630 WOS will rollout in November with a starting price of EUR 999 (roughly around PHP 60,000).
Three new Chromebooks were also made official. These are the Lenovo Chromebook C330 and S330, as well as a Yoga Chromebook C630. The L27 m monitor was also introduced, which is aimed at creatives and those with sophisticated tastes. It's unique, with USB type-C connectivity and virtually borderless 27-inch FHD display panel.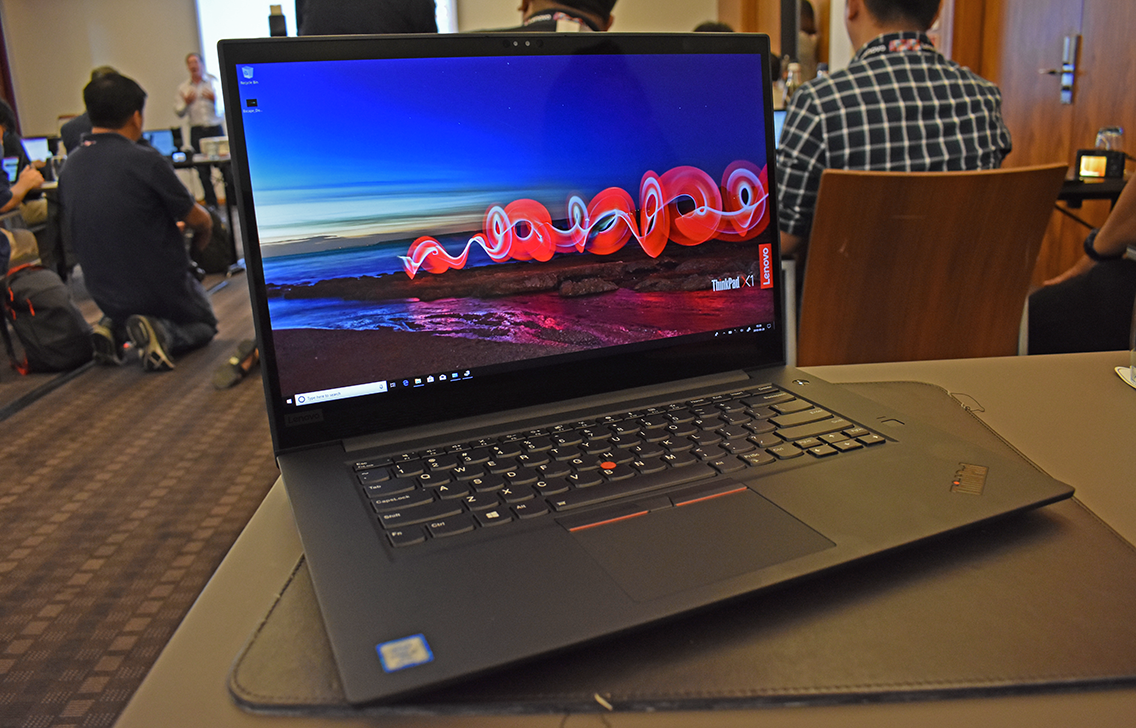 While not a secret, the appearance of the ThinkPad X1 Extreme was a refreshing sight. This productivity-focused machine gets a thinner form factor at 15-inches, which would appeal to power users who do a lot of traveling. It surprisingly debuts with more consumer-friendly specs: a combination of 8th gen Intel Core i7 processor, NVIDIA GeForce 1050Ti GPU, up to 64 GB of memory, and dual PCIe SSD storage with raid option run its operations. These may rather look modest on paper for a top of the line device, but senior worldwide competitive analyst of Lenovo Intelligent Devices Group, PCs, and Smart Devices Business Kevin Beck contests that it offers the perfect balance, maintaining optimal performance to meet varying user requirements. Lenovo did disclose that a variant with an Intel Core i9 processor will see a December release.
On the visual front, the ThinkPad X1 Extreme is fitted with a 15.6-inch UHD display with Dolby Vision HDR. Then there's its GeForce 1050Ti MaxQ discrete graphics creatives and gamers can utilize. It also comes built with Dolby Atmos-boosted sound, Cortana and Alexa, Rapid Charge of up to 80-percent of power in just 60 minutes, ThinkShutter webcam privacy, and a USD 1859 price tag (around 98K in Philippine peso).
The electronics behemoth also announced a slew of Legion, smart home, and AI products, all of which will be sharing in following posts.