To better support its customers during the ongoing COVID-19 pandemic, Lenovo is adding another year to its popular 2-year Premium Care warranty solution for select devices in its consumer lineup starting July 1. This means that all new IdeaPad, Yoga, Legion, and IdeaCentre devices are now automatically covered for three years with Premium Care's International Coverage and Local On-site Service, while those with existing warranties may be upgraded to the same.
"At Lenovo, we are committed to putting our customers first, and this entails not only providing game-changing products but also extending them flexible and affordable technical support and solutions. The pandemic has disrupted day-to-day operations and pushed everyone to set up mobile working arrangements which lead to additional wear and tear to devices. Hopefully, with the added year of maintenance in our Premium Care service, our customers can spend their money on more essential goods in these trying times," said Michael Ngan, president and general manager, Lenovo Philippines.
Lenovo's Premium Care provides direct and easy connection to real Lenovo technicians, real fast resolution to PC troubles, and holistic comprehensive support even outside of the user's home country. Aside from covering the usual store and manufacturer warranty, it provides the following customer services:
24/7 access to Lenovo technicians via phone, chat, e-mail, and WhatsApp
Comprehensive support for hardware, peripherals, and software
On-site repair on the next business day
'Getting started' and 'How to' assistance
Annual PC health check
With all of these solutions combined, Lenovo customers are assured of a hassle-free and worry-free maintenance experience even in the middle of the pandemic.
The new three-year Premium Care service is bundled for free upon purchase of IdeaPad, Yoga, and Legion laptops, and the IdeaCentre and Legion Tower gaming desktops with Intel Core i5 or i7 and AMD Ryzen 5 or 7 processors. These include:
IdeaPad Slim 5
IdeaPad Slim 5i
IdeaPad Flex 5
IdeaPad Flex 5i
Yoga Slim 7
Yoga Slim 7i
Yoga C940
IdeaPad Gaming 3
IdeaPad Gaming 3i
Legion 5
Legion 5i
Legion 5pi
Legion 7i
Legion Tower 5i
IdeaCentre AiO 3
IdeaCentre 3
IdeaCentre Gaming 5i
Meanwhile, users who want to extend their warranty for other Lenovo devices need to go directly to their nearest Lenovo Legion Concept Store or any Lenovo authorized reseller and provide information including the model name of the device, its serial number, the customer's name, and email address for the registration of the new warranty.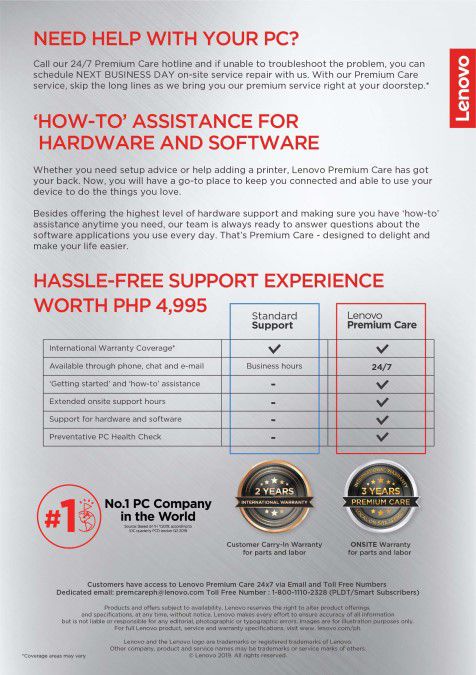 The extension from two-year Premium Care to three-year Premium Care will cost PHP 5,300. Users are allowed to extend their Premium Care warranty up until six months before the expiration of their outstanding device warranty. Meanwhile, those with devices currently under Lenovo's two-year Carry-in Warranty can upgrade to the new three-year Premium Care warranty solution for PHP 9,100.
For more information about Lenovo's Premium Care warranty solution and tips on how to maintain your devices, visit Lenovo Philippines' Facebook page, or WhatsApp at +63 23953354. You can also visit Lenovo's website.