Top PC maker and innovation leader Lenovo is pushing boundaries once again with the Philippine launch of the Yoga Duet 7 and Yoga Slim 7 notebooks. The new ultra-versatile devices are designed to power users through anything and streamline their day with smart, time-saving features.
"Lenovo's smarter technology is always designed with purpose, making sure we help solve our customers' challenges. Aligned with our goal to empower and transform the way our customers live, work, and play, the Yoga Duet 7 and Yoga Slim 7 are packed with top-notch hardware, AI-enabled features, and innovative design that help finish tasks with minimal effort and create opportunities for our customers. These new devices further expand our wide range of products and services, which validates Lenovo's position as the industry's most prolific end-to-end global technology organization that delivers smarter technology for both individuals and businesses to unlock their full potential," said Lenovo Philippines president and general manager Michael Ngan.
To celebrate their arrival, customers who pre-order select Yoga Slim 7 models can get their hands on accessories and premium gifts worth up to PHP 40,570.
Yoga Slim 7
Users of the Yoga Slim 7 are sure to turn some heads while on-the-go with its precision-stamped all-aluminum Slate Grey, Orchid, or Dark Moss colored body and razor-thin profile. Making it easier to use on long travels are its 14-hr battery life and 1.5kg starting weight. Mobile workers can create last-minute presentations with minimal effort with its up to Intel 10th Generation i7-1065G7 processor or up to AMD R7 R4800 8-core design processor. The up to NVIDIA GeForce GTX 1650 graphics or AMD Radeon Vega 8 graphics also add flair in visual content and make presentations more impactful than ever. Leaving room for more possibilities and powering it through heavy tasks is the Yoga Slim 7's up to 16GB RAM and up to 1TB NVME PCIex4 SSD storage.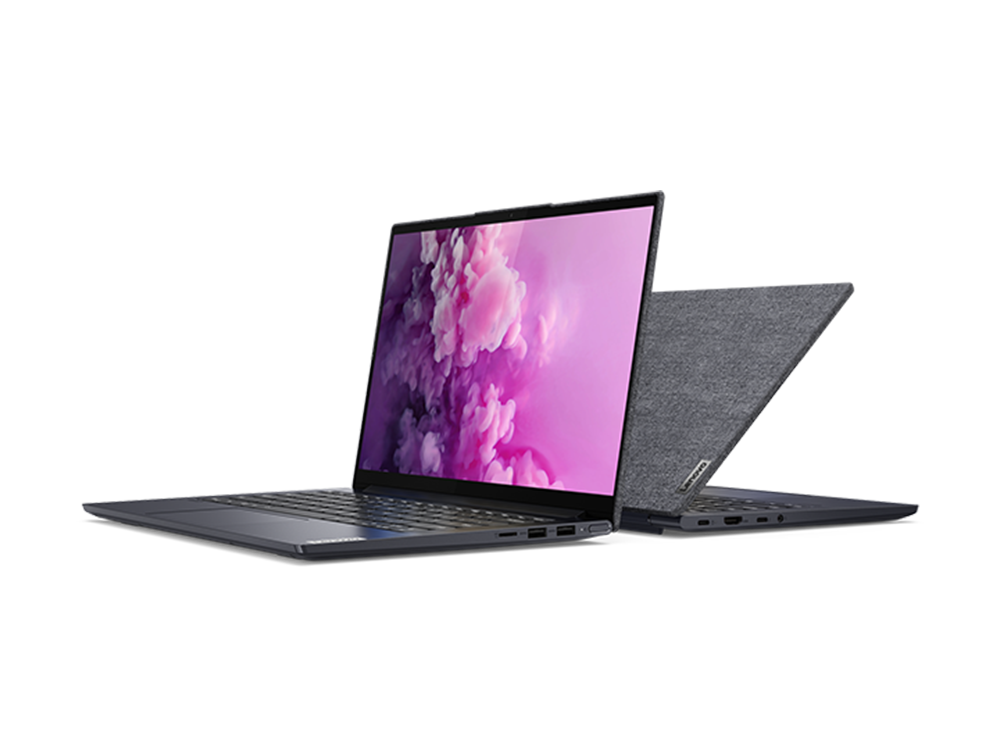 Movies and series buffs can fully immerse themselves while watching their favorites all-day with the Yoga Slim 7's razor-thin bezels and Ultra High Definition display with 4K (3840 x 2160) resolution and 500 nits of brightness. For a complete home cinema experience, the Yoga Slim 7 has High Dynamic Range and Dolby Vision that give off vivid colors, and front-facing Dolby Atmos speakers that create three-dimensional audio. Lastly, users can effectively streamline their daily tasks with the help of digital assistants Alexa or Cortana who can send emails, organize the daily schedule, set up meetings, make calls, and more.
Coming in a 14" display, the AMD version of the Yoga Slim 7 will have five different models varying in processor, memory, storage, and graphics, and its price starts at PHP 49,995. The Intel version, on the other hand, is available in either 14" or 15.6" displays, with a starting price of PHP 69,995.
Pre-order and get up to PHP 40,570 worth of accessories
Customers pre-ordering two models of the Yoga Slim 7 running on AMD Ryzen processors can get them bundled with accessories and other premium gifts worth up to PHP 40,570 as part of a special promo.
YOGA SLIM 7 model
SRP
Freebies – Value
• AMD Ryzen 5 4500U processor
• AMD Radeon Vega 6 graphics
• 8GB 4266MHz LPDDR4X memory
• 512GB PCIEx4 NVME SSD storage
• Windows 10 Home OS
• 14" FHD IPS display
PHP 49,995
• Yoga ANC headset – PHP 9,995
• B210 backpack – PHP 2,995
• Microsoft Office Home & Student 2019 Lifetime license – PHP 6,995
• Premium Care Warranty upgrade to 3 Years – PHP 9,100
• AMD Ryzen 7 4800U processor
• AMD Radeon Vega 8 graphics
• 16GB 4266MHz LPDDR4X memory
• 1TB PCIEx4 NVME SSD storage
• Windows 10 Home OS
• 14" FHD display
PHP 69,995
• Yoga ANC headset – PHP 9,995
• Herschel Little America backpack – PHP 6,490
• Lenovo 14,000mAh Laptop Powerbank – PHP 4,995
• B210 Backpack – PHP 2,995
• Microsoft Office Home & Student 2019 Lifetime license -PHP 6,995
• Premium Care Warranty Upgrade to 3 years.- PHP 9,100
The Yoga Slim 7 pre-order promo will begin on July 20 and end on August 7, valid only at select Lenovo stores and authorized Lenovo Partners. Terms and conditions apply. Full mechanics of the promo are available at lenovoyoga.ph. The bundles may be redeemed from August 17-31, 2020. Customers will be notified by their chosen store once the devices are ready for pick up.
Yoga Duet 7
Lenovo's drive for constant innovation and new opportunities is prominently shown in the Yoga Duet 7. It is the first Yoga PC to have a detachable backlit Bluetooth 5.0-powered keyboard, and its folio kickstand gives added freedom to do tasks on different modes depending on the requirement. Aside from the standard laptop mode, users can detach the keyboard and prop up the screen for better viewing through free mode, rotate the kickstand to a lower angle in drafting mode for easier sketching and writing, or use the Yoga Duet 7 on-the-go in tablet mode.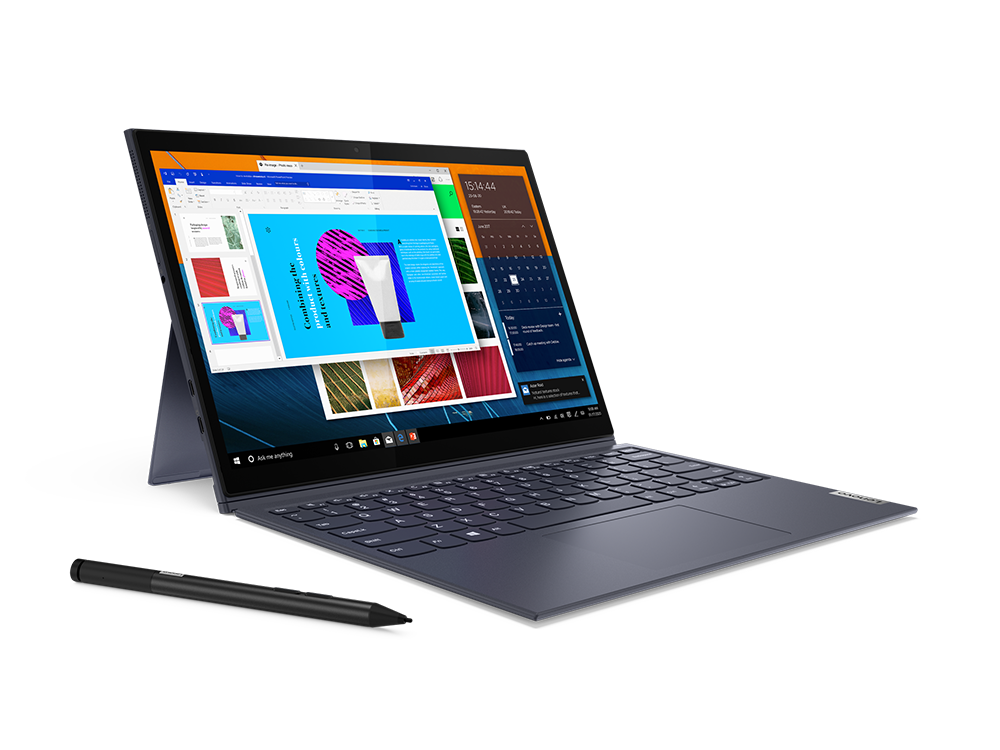 The device also comes with the highly-innovative E-Color Pen that digital artists can utilize in improving their color schemes through its built-in smart sensor. By simply pressing down on any real object, the pen's sensor can capture its color. Combined with its 13" WQHD 2K (2160 x 1350) resolution touchscreen display with 100% sRGB color accuracy and 450 nits brightness, the Yoga Duet 7 is the perfect canvas to create stunning content for any digital artist.
Despite being thin and light, the Yoga Duet 7 packs a mean punch and is capable of performing a wide variety of tasks. Users can study, create, play, and do whatever they imagine with the Yoga Duet 7's up to 10th Generation Intel Core i7-10510 processor and up to 16GB DDR4 2667 RAM, which is more than the required specs needed to install intensive programs. Transferring files are also done lightning-quick through its up to 1TB NVME PCIe SSD storage, while the Windows 10 Home OS adds features like instant and secure login through the Windows Hello facial recognition login feature.
Available in the colors orchid and slate grey, the Yoga Duet 7 comes in eight different models with varying processors, storage, and memory options. It will arrive by the late third quarter of 2020 with a starting price of PHP 64,995.
For more information about the Lenovo Yoga Slim 7 and Yoga Duet 7, 'Like' Lenovo's official Facebook page visit lenovo.com/ph/en/pc.