Aside from a smartphone, if there's one thing that students and yuppies can't live without, it would probably be their laptops. People are able to work and study remotely thanks to the portability and convenience that these computing machines bring. However, it's quite challenging to look for a device that combines style, performance, and value. Our friends from Lenovo recently sent us one of its newest laptops introduced at the 2019 IFA. Is it a hit or a miss? Let's find out.
Design: 5/5
Coming in a chic Sand Pink, the IdeaPad S340 is a stunner. This new generation of IdeaPad has a slim and lightweight aluminum chassis which weighs only 1.69 kg. It may not be as ultra-thin as other ultrabooks, but it doesn't compromise on connectivity. On its right lies two USB-A 3.1 ports and a 4-in-1 SD-card reader, while the power jack, HDMI and USB-C ports, and combination audio jack are all placed on the left side. For a more immersive viewing experience, it boasts a 14-inch FHD display with extra narrow top and side bezels. Should you feel the need for more privacy, there's a webcam shutter at the top center of the screen.
Hardware: 4.5/5
Lenovo has provided options for the IdeaPad S340. It's available in two variants: a 14-inch or a 15.6-inch that both come in either HD or Full HD and optional touchscreen or IPS displays. Our review unit is a 14-inch FHD display with 220 nits of brightness and can be laid 180-degrees flat on a surface. It is powered by an 8th generation Intel Core i7 processor for seamless multitasking, and features internal storage composed of a 1 TB HDD plus a 128 GB SSD for reliability and faster booting. In addition to being a productivity workhorse, the IdeaPad S340 showcases unique features in the entertainment department. It is equipped with a Dolby Audio speaker system that delivers a cinematic audio experience right into your home. To make it more responsive, it has an 8 GB RAM onboard.
User Experience: 4/5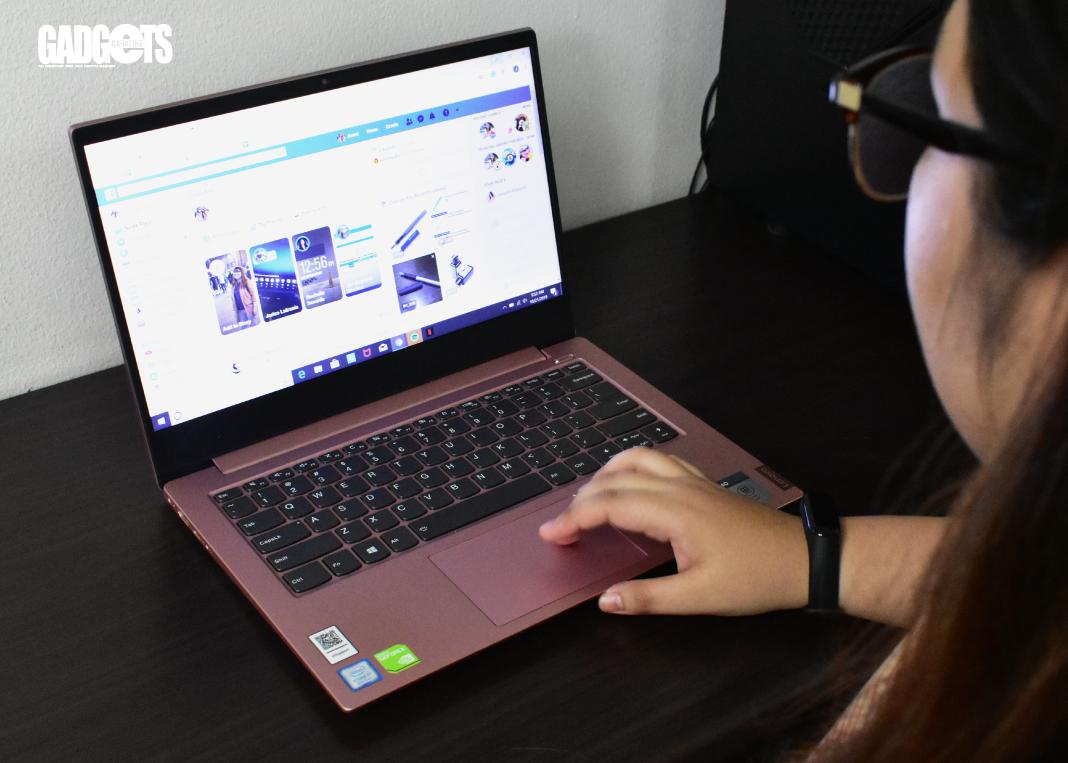 The Lenovo IdeaPad S340 is a stylish laptop that you can easily lug on your bag and bring anywhere. It deserves to be flaunted at a coffee shop, thanks to its premium design and gorgeous color. Its size means it has a bigger and better display, which is good for both accomplishing daily tasks at the office or enjoying the weekend in the comfort of your home. You just need to adjust the right angle while binge-watching your favorite movies and TV shows. The placement of its Dolby Audio speakers may also affect performance. It works better with Spotify bringing in the party inside my room, while the volume can be quite low for Netflix.
When it comes to seamless multitasking, the IdeaPad S340 delivers. It can boot up in about five seconds. I never experienced any lag or crash, thanks to its hybrid internal memory mated with an 8th generation Intel Core i7 processor. It's also pre-loaded with some useful software for apps and file management as well as security and productivity like Lenovo Utility, Lenovo Vantage, McAfee LiveSafe, and Microsoft Office. It has a springy, chiclet-like keyboard with larger keys that motivates users more to finish their workload. And as advertised, it has an impressive battery life which can last up to 10 hours under the power-saving mode. It took me only one and a half hours to fully charge the device with its compact charger.
Value: 4/5
Packed with a decent 8th gen Intel processor and a mid-range graphics card, the Lenovo IdeaPad S340 is a suitable laptop for productivity and entertainment. It is a good investment mostly for students and young adults who are willing to shell out PHP 52,995. There are definitely more powerful ultrabooks out there from the brand, but if you just want to have a mid-range laptop that could do more, you should add this to your wishlist.
Specifications:
Processor: Intel Core i7-8565U Processor
Operating System: Windows 10 Home
Graphics: NVIDIA GeForce MX230
Display: 14-inch FHD (1920 x 1080) TN, 220 nits
Memory: 8 GB DDR4 RAM
Storage: 1 TB SATA HDD + 128 GB NVMe PCIe SSD
Audio: 2 x 2 W speakers with Dolby Audio Premium
Keyboard: Standard QWERTY, with optional backlight
WiFi/Bluetooth: 802.11 AC 1×1 & 2×2, MU-MIMO technology + Bluetooth 4.2
Ports: USB Type-C, 2 x USB 3.1 (one charging), HDMI, 4-in-1 SD card reader, combo audio jack, Power connector
What's Hot:
Impressive battery life
Stunning and lightweight design
Hybrid storage
A good productivity workhorse
What's Not:
Underwhelming speakers
USB-C port only works for transferring data and smartphone charging
Bottomline:
An all-around productivity laptop made to impress.
Also published in NOVEMBER 2019 Issue
Reviewed by Jewel Sta. Ana