Incredibly versatile, the recently-unveiled Lenovo P-Series tablets can double as a smart display for managing your smart home devices, and one can even serve as a second screen for your PC via a wireless connection.
Tablets are indispensable for both work and play. It delivers endless ways to enjoy entertainment and perform more tasks efficiently, whether at home or on the go. The world needs a healthy escape now more than ever, as consumers are spending more time streaming everything from movies to games. According to research, millennial parents are more likely to provide their kids with their own tablet than their own TVs, continuing the pattern of young digital natives learning and engaging through streaming on YouTube and other social platforms over cable.
The new normal has also led to an uptick in consumers creating their own digital content, and as any rambling creative who's ever tried to write lyrics, posted to their blog, or submitted an online review from their tablet's touchscreen will attest that a physical keyboard and integrated trackpad comes in very handy when typing anything longer than a quick email to friends.
This is all possible with Lenovo's new smarter line of powerful, premium P-Series tablets, including the first Android tablet with dedicated 5G connectivity, the Lenovo Tab P11 5G. And for the ideal in-ear audio experience for either of these tablets, PC or smartphone, turn to our new Lenovo Smart Wireless Earbuds that pair instantly with up to two devices simultaneously via Bluetooth® to enable great sound plus smart noise canceling.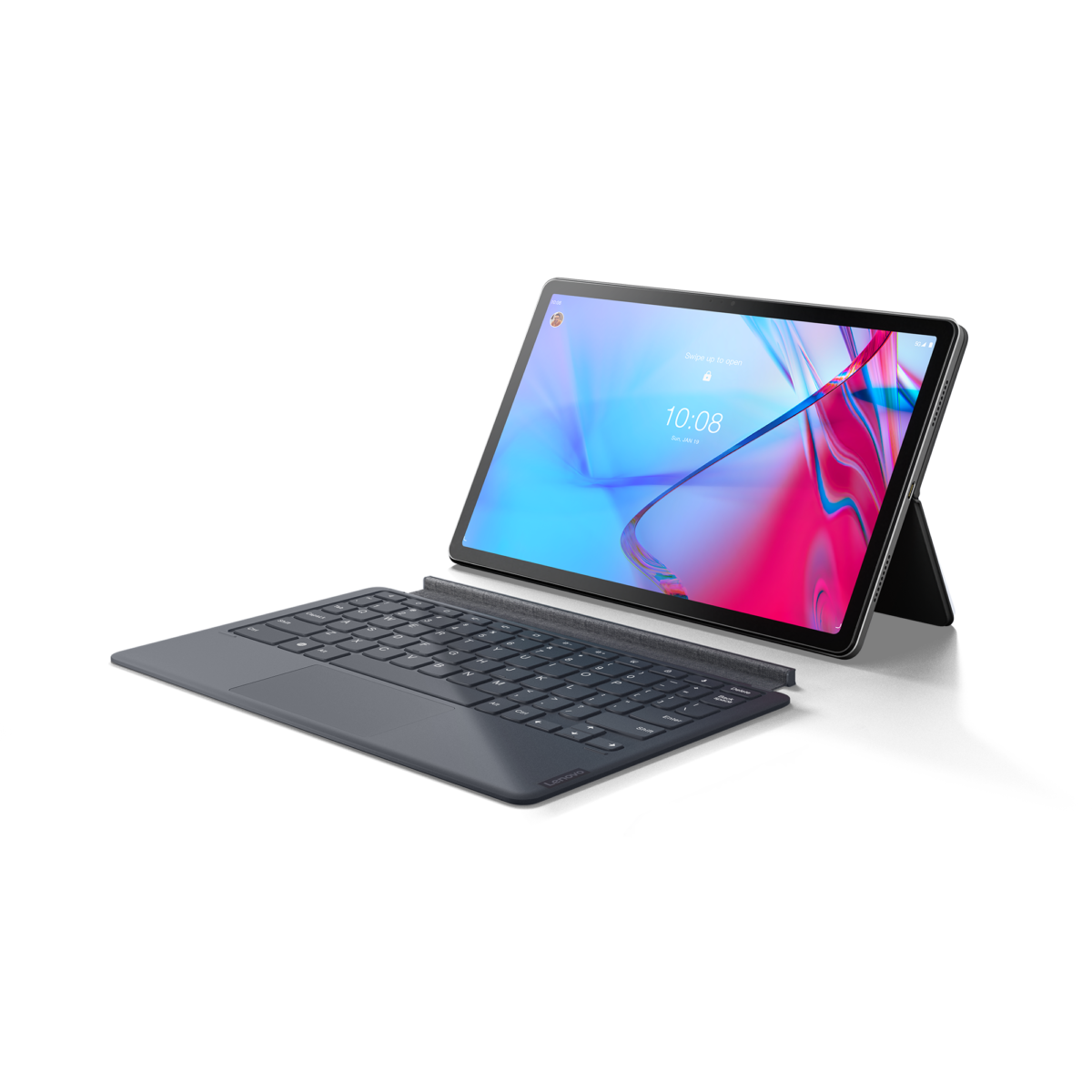 Always-on 5G, now on your tablet: the Lenovo Tab P11 5G
Lenovo's first consumer Android tablet with dedicated 5G has arrived with the Lenovo Tab P11 5G. Designed to be ultra-portable as schools and offices begin to reopen and travel starts to resume, the Lenovo Tab P11 lineup elevates experiences for hybrid work, play, and learning. Enjoy fast speeds even during peak hours and in crowded places, the Lenovo Tab P11 5G supports sub-6GHz 5G networks to help you stay connected and download your favorite shows in seconds.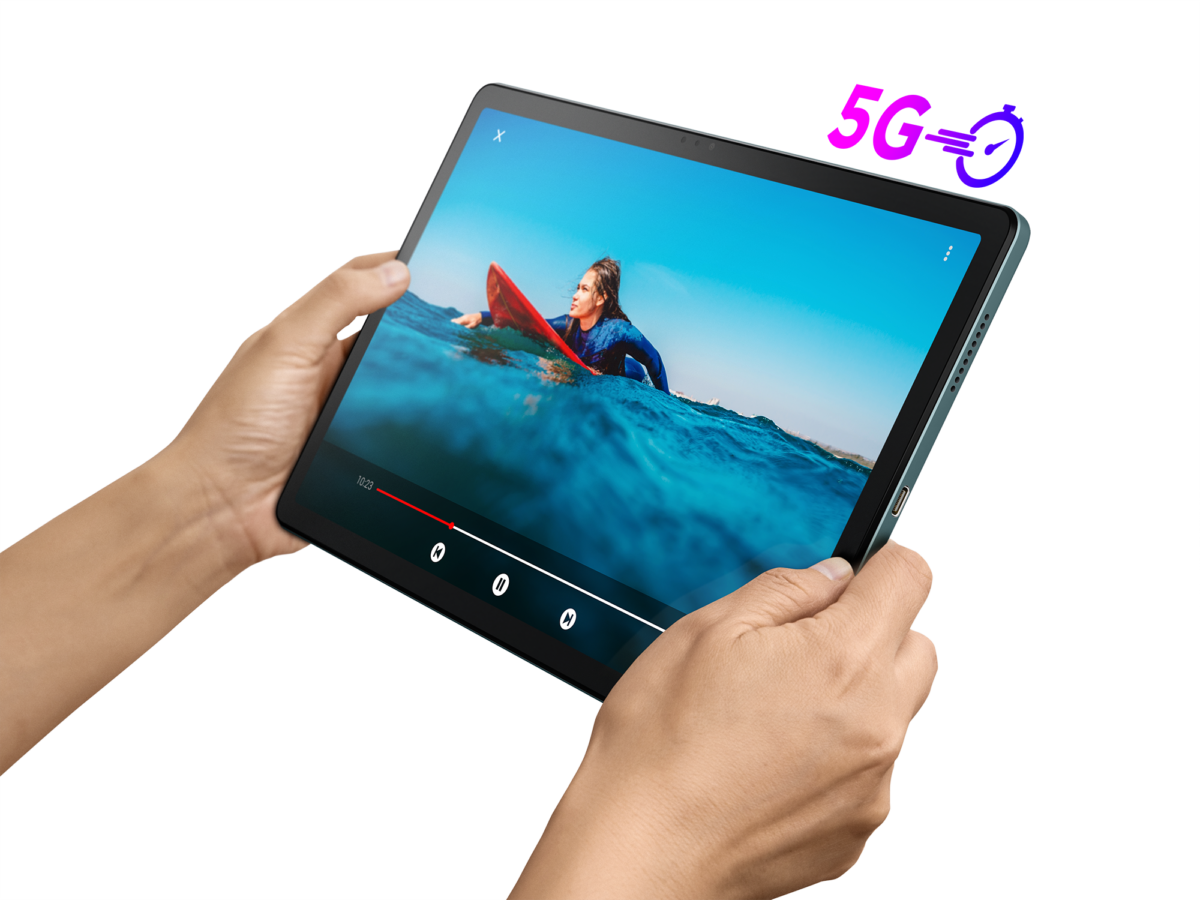 Easy to carry with an elegant glass-like screen and solid antenna reception, you'll get stunning 2K resolution on the 11-inch In-Plane Switching (IPS) display that's TÜV-certified for eye protection along with incredible picture quality delivered in Dolby Vision. This tablet supports DisplayPort and an optional keyboard pack and Lenovo Precision Pen 2 for light productivity.
Ideal for hybrid work and studying while in the car, mobile 5G technology via the Lenovo Tab P11 5G's nano-SIM card enables video chats in real-time with clever extras like hands-free login via the front camera sensor and background blur to help keep your surroundings private. Download large files at speeds 10 times faster than 4G or stream high-resolution videos via the incredible performance and power efficiency enabled by the Snapdragon 750G 5G Mobile Platform, as well as up to 8GB RAM and 256GB ROM. Play longer on the go with 7700mAh battery capacity for up to 12 hours of streaming video and 20W quick charge.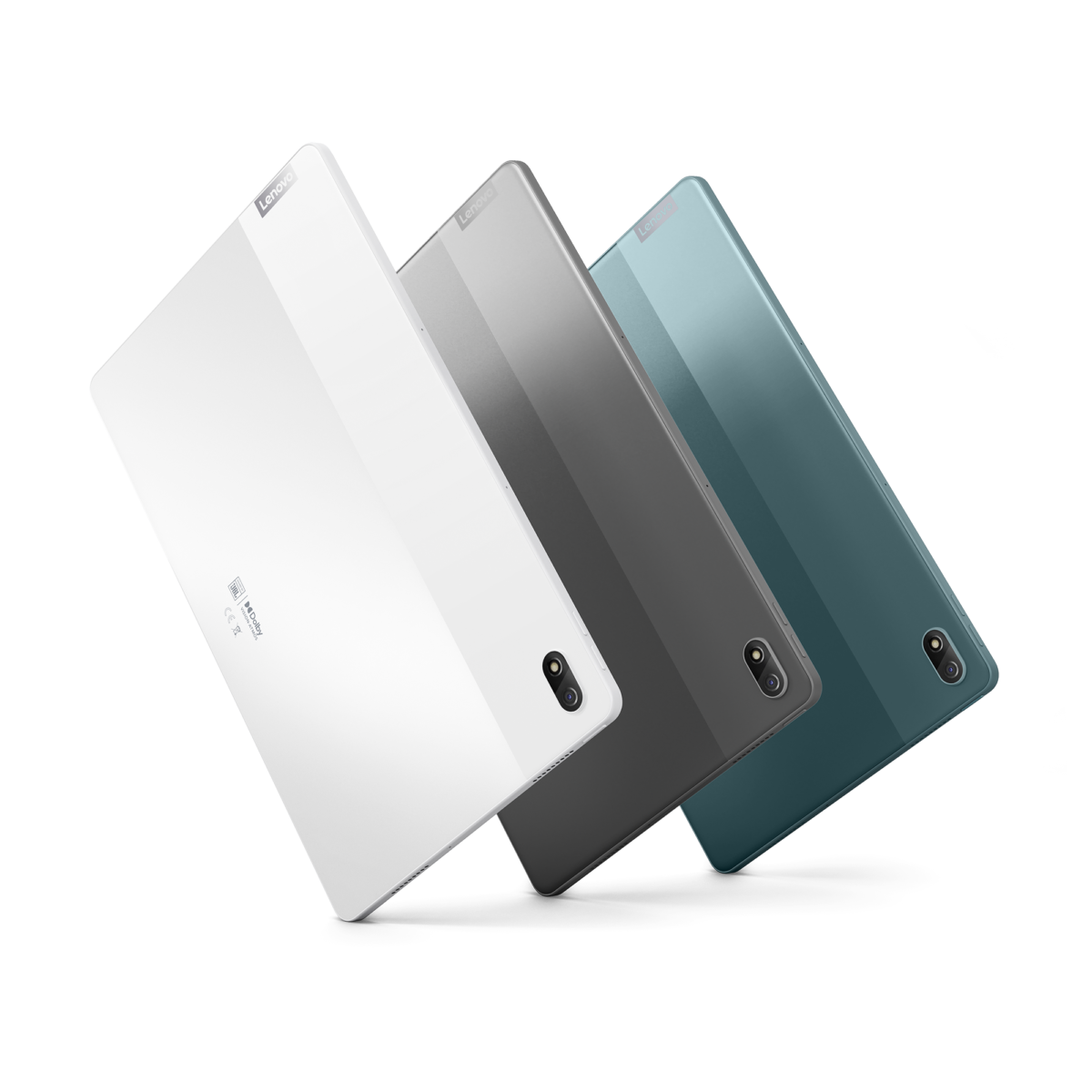 Stay entertained with four JBL speakers, Dolby Atmos, and stylish multiple color choices: Moon White, Storm Grey, and Modernist Teal.
Great sound, no strings attached: Lenovo Smart Wireless Earbuds
With convenient Lenovo Smart Wireless Earbuds, pair with your Android or Windows device in one click thanks to Lenovo Smart Pair technology, simply flip open the earbuds compact charging case to enable Bluetooth instantly. Designed for all-day use, once fully charged, your earbuds should last up to 28 hours, if you carry your wireless charging case with you for quick top-offs. On their own, Lenovo Smart Wireless Earbuds can last for up to seven hours of continuous listening time to anything from tunes to audiobooks. Offered in White and Black hues, each earbud weighs at 4.2 grams.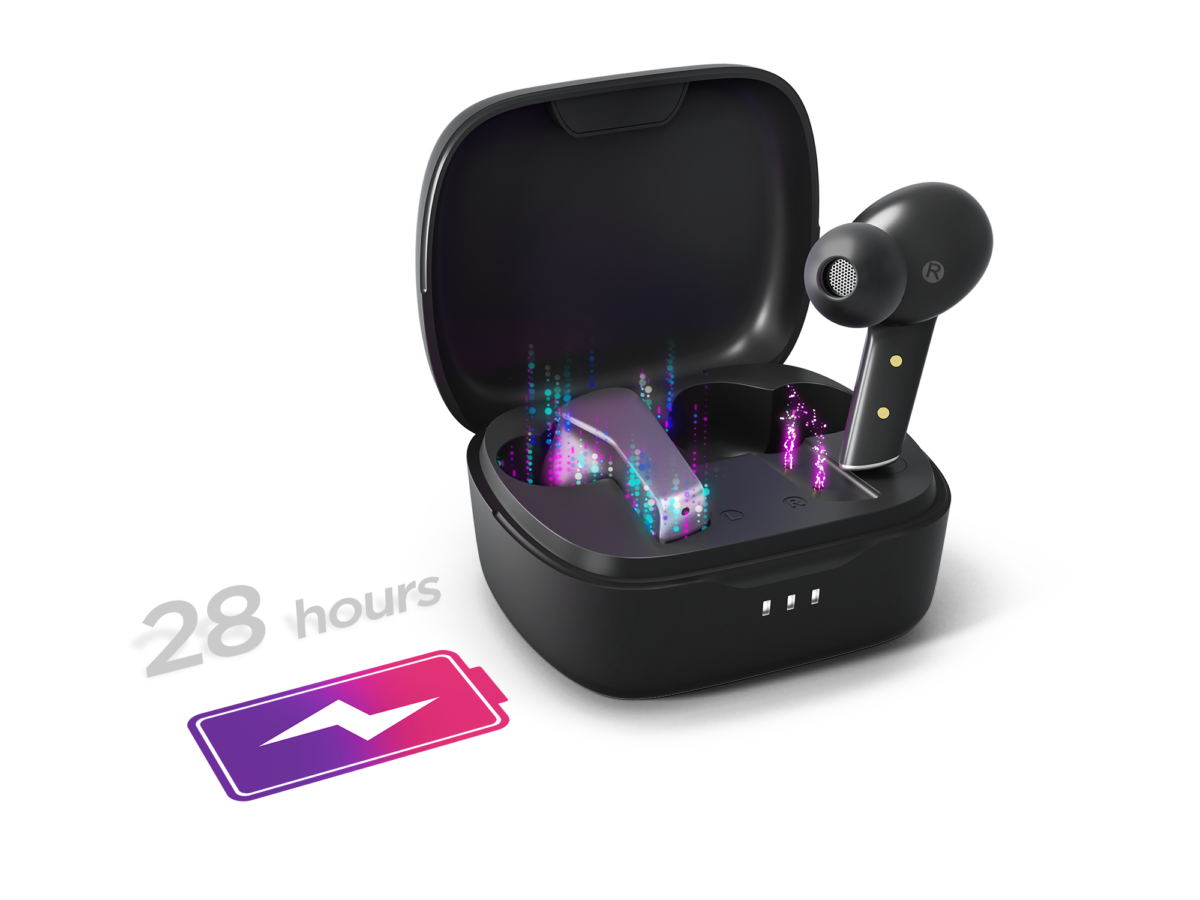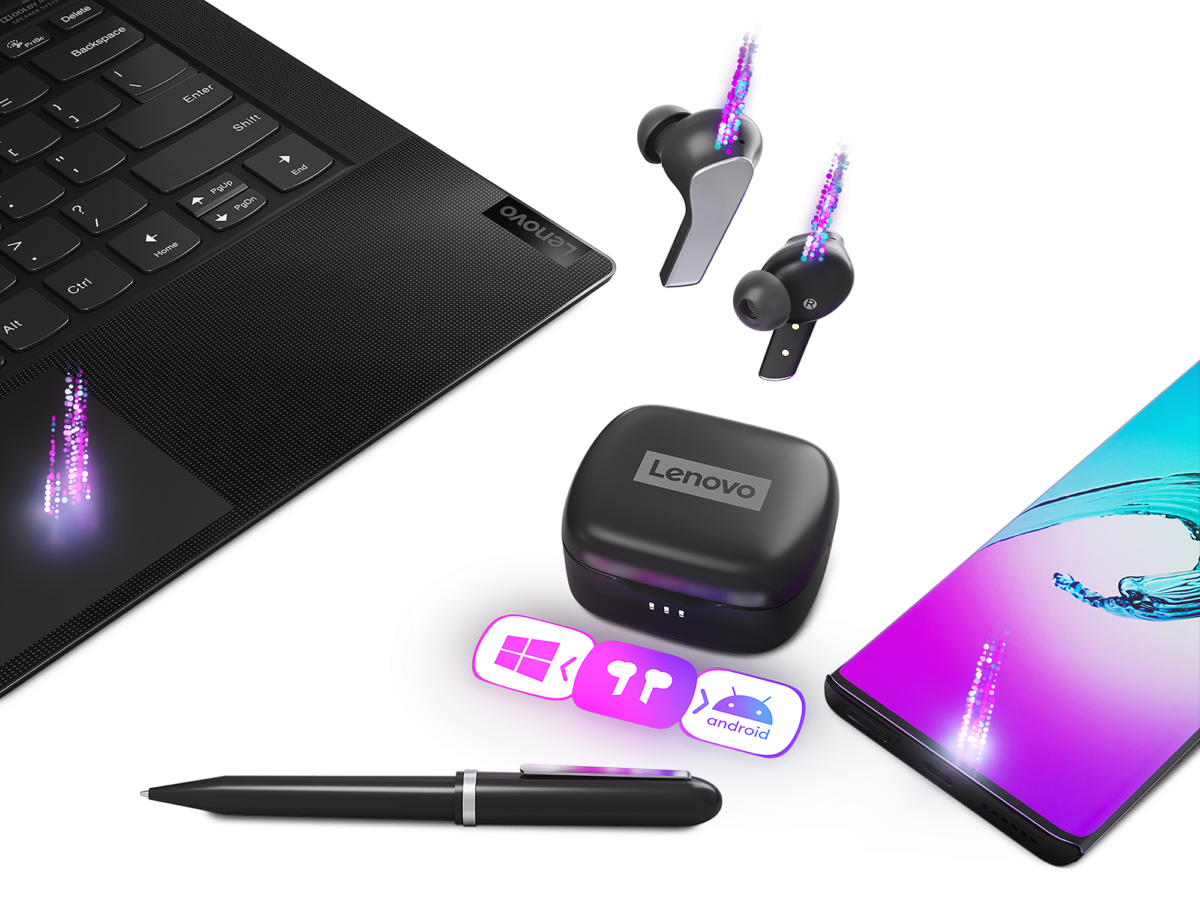 For ease of use, the earbuds are continuously connected to up to two devices of your choice at all times through Lenovo Enhanced Multipoint technology that works to automatically connect your smart audio accessory with any combination of PC or phone simultaneously, and prioritizes audio output based on its current scenario. You'll enjoy great sound and punched-up bass from high-quality 11mm dynamic drivers while still preserving inner ear comfort via its slender ergonomic design and multi ear tip-sizes for less pressure.
Ideal for subway commuters or people taking calls on the go, intuitive touch controls located discretely on the earbuds allow the wearer to regulate media and communications functions easily. With a simple tap, you can play music, pause a podcast, or make a phone call without breaking your stride. Controls are fully customized via the companion app. Just say "Hey Google" to get help from Google Assistant at any time, hands-free with just your voice.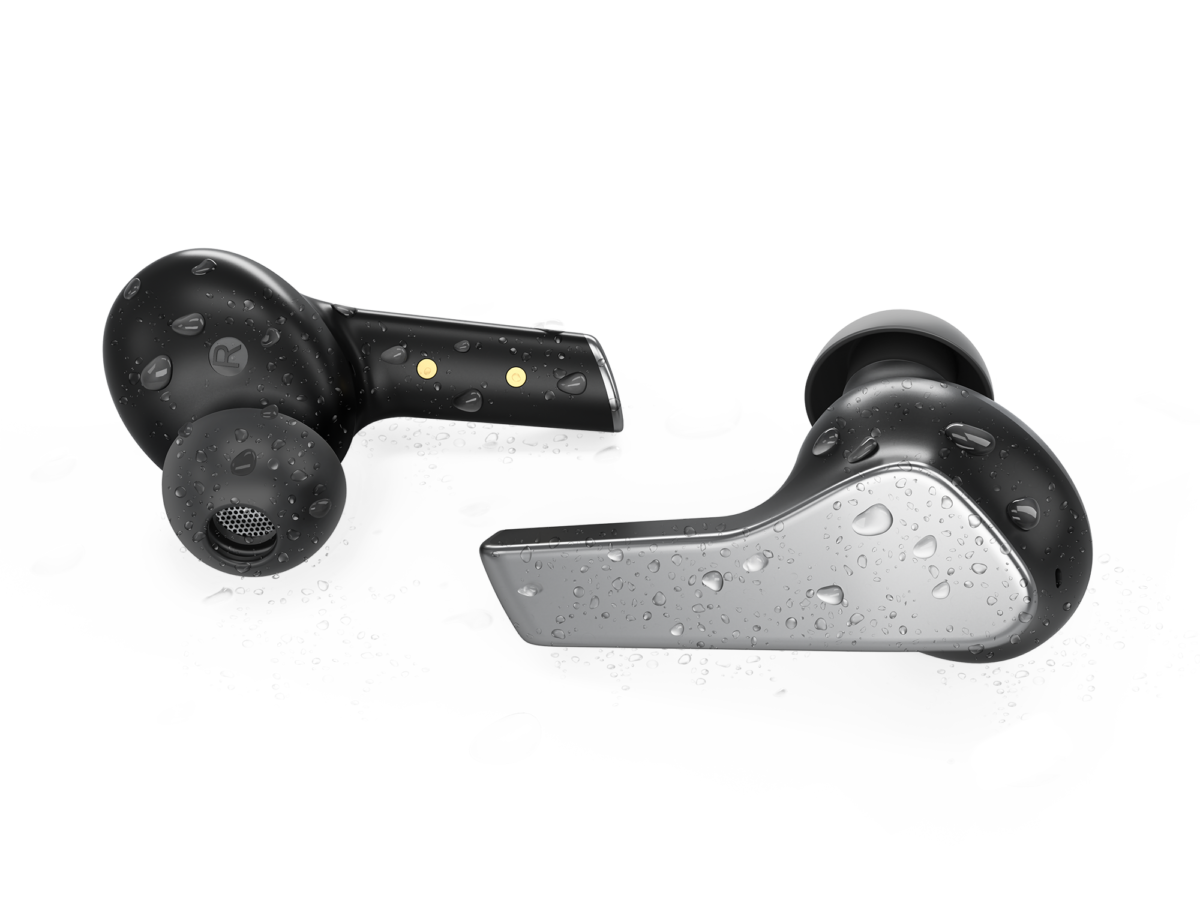 Fitness buffs will appreciate earbuds durability and resistance to sweat, and more importantly, the Lenovo Smart Wireless Earbuds is rated IPX4 for water exposure, which means the device is splashproof in all directions. This is especially useful when it rains while you're out jogging or any other means your earbuds are getting splash with fluids. Capable in reducing up to 38 decibels of ambient noise, stay immersed and be heard with smart adaptive noise canceling that dynamically adjusts to help tamper down noisy distractions in the background from construction sites, downtown streets, and busy households, ensuring your voice is crystal-clear on the other end thanks to six inclusive smart microphones.
With smarter technology from Lenovo, get ready to see more, do more, and hear everything, whether at home, in school, the office, or back on the road.
Visit Lenovo's Tech World homepage for full specs, images, and more information.