A new year is here! It's time to be optimistic about making your new year's resolutions and developing habits that lead to a happier, healthier, and more productive life. To help you start the new year on a high note, global smart device brand OPPO offers the well-rounded and budget-friendly OPPO A17 for only PHP7,999!
Packed with enduring quality and smooth performance, find out why the OPPO A17 is your partner for 2023.
Start your year with a seamless multitasking experience
Say goodbye to slow, lagging performance as the OPPO A17 showcases a default 4GB of RAM integrated with a RAM Expansion feature that provides an additional 4GB for upgraded multitasking needs. This ensures that nothing will stop you from opening several apps at a time and switching from one app to the next.
Aside from uninterrupted multitasking, the device also has 64GB internal storage, which is expandable thanks to its 1TB microSD card. This gives you the freedom to store all your documents and files for work and personal photos worth keeping, as the bigger memory can hold up to 26,000 2MB images.
Support your work and entertainment goals with the OPPO A17's big battery
The battery is one of the most important features of your smartphone, as it needs to keep up with your daily grind. The OPPO A17 has a powerful 5000mAh battery with a 10W charging feature that can power up your phone for the whole day.
You can now have the juice to do all your tasks at work and achieve your productivity targets, whether it is checking your emails, attending online meetings, responding to messages and chats, or answering calls. Aside from that, the large battery capacity will also allow you to enjoy your rest and recreation by giving you enough power to watch your preferred TV shows or play mobile games after a long day of work.
Capture milestones and achievements throughout the year with a 50 MP main camera
Make every milestone extra special by capturing them with the OPPO A17's impressive 50MP main camera. You won't hesitate to flex and post photos on social media whenever you get a promotion or an award, realize your fitness goals, or complete your travel bucket list in 2023. The rear camera is complemented by a 5MP selfie camera, to ensure all your images are clear and crisp.
The cameras also feature Portrait Retouching to provide social-media-worthy photos, Night View Selfie to enable you to capture clear and bright photos in low-light or dark environments, and Portrait Mode to blur your images' backgrounds.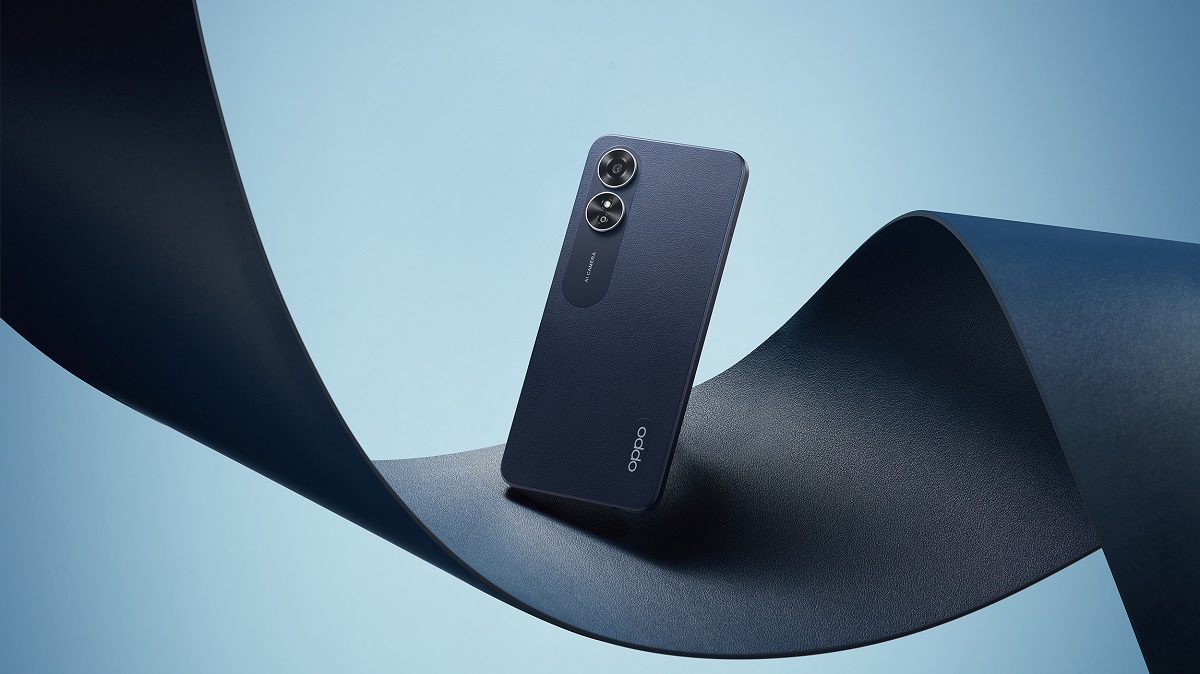 Experience OPPO's enduring quality and enjoy premium-looking design
Other than boasting a reliable performance, the OPPO A17 also looks really good, which levels up the outfits you are trying to pull off throughout the year. Its premium leather-feel design is a fashion statement on its own. Available in Lake Blue and Midnight Black, the OPPO A17 features a skin-like texture and UV soft touch coating with an Ultra-Slim Retro Design, making it easier to grip and pleasing to the eyes.
You won't also need to worry about its durability because the device underwent tougher testing to ensure its enduring quality. OPPO A17 surpassed 20,000 USB insertions, 28,000 micro-drops, 150,000 volume button pushes, and 500,000 power button presses while being water, high temperature, and high humidity resistant.
Now is the perfect time to equip yourself with an all-around device that can help you own 2023 without breaking the bank. You can shop the OPPO A17 for PHP7,999 via your nearest OPPO Brand Stores and partner dealers, or online via OPPO Official Stores on Lazada, Shopee, and TikTok Shop.
To know more about the OPPO A17, visit OPPO Philippines' official website at  https://www.oppo.com/ph/. You can also check OPPO Philippines' official social media pages on  Facebook, YouTube, and  TikTok. To get the best care for your OPPO devices, visit your nearest OPPO Care Center or contact us on our  website, via  Facebook.