POCO, a popular technology brand among the young generation of tech enthusiasts, introduces two new POCO X5 series smartphones for entertainment-loving Gen-Z users looking for a new and different phone. Celebrating five years, the POCO X5 Pro 5G and POCO X5 5G are important milestone devices for the brand and come packed with new and exciting functions that will delight the world's techies. The POCO X5 Pro 5G's stand-out features include upgraded camera functions, faster processing speeds, and an incredible display. Meanwhile, the POCO X5 5G is an incredibly well-rounded smartphone with a superb screen, strong performance, and a long-lasting battery, which sets a new benchmark for mid-range phones.
One after the other, POCO X-series models have won over young technology fans with incredible mobile experiences. Learning deeply about our fans' preferences for each product, POCO's X5 series for 2023 is designed and engineered to meet the needs and exceed the expectations of young content consumers and content creators.
"Designed for content creators to take things to the next level, we believe the POCO X5 Pro 5G is nothing short of the best smartphone in the USD300 segment," said Angus Ng, head of product marketing at POCO Global. "With a superb screen and performance, the POCO X5 5G also delivers amazing value and the best possible user experience for a smartphone under USD200."
POCO X5 Pro 5G: a winning combination of superb visuals and advanced camera capabilities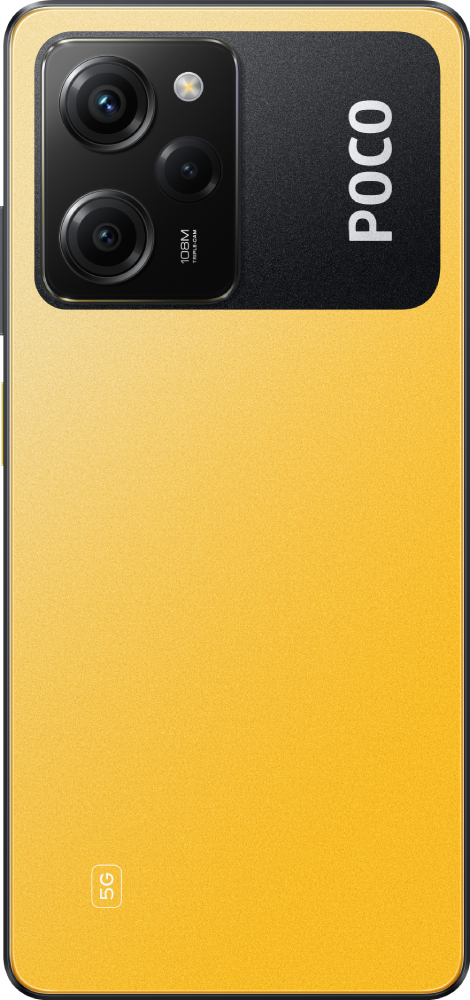 In a first for POCO X series smartphones, POCO X5 Pro 5G features an astonishing 6.67″ Flow AMOLED screen. This flexible display technology makes the POCO X5 Pro 5G lighter, and at 7.9mm thin, it is the slimmest X series device ever, all the more comfortable to hold when gaming or creating content. Whether making videos, watching movies, scrolling through social media or gaming, the flagship-level 120Hz refresh rate delivers bright, vibrant, ultra-smooth images. Photos and videos come to life with 100% DCI-P3 and 10-bit color depth, and Dolby Vision makes the viewing experience even better.
Imagined to go with you anywhere, the POCO X5 Pro 5G has 1920Hz PWM dimming to protect eyesight when reading and creating in low light if inspiration strikes late at night. Powerful and responsive POCO X5 Pro 5G's Snapdragon® 778G 5G chipset with advanced TSMC 6nm has an AnTuTu score of 545,093 [2], which is even higher than the newly released MediaTek Dimensity 1080. The Snapdragon® 778G 5G chipset offers a perfect balance of power efficiency and high performance, allowing the camera processing system even faster than the previous model. All POCO X5 Pro 5G speeds are updated to improve camera performance: for setup (41%), photography (69%), and night mode (38%). Meanwhile, the image signal processor (ISP) achieves two gigapixels per second, and the chipset makes your camera even smarter with AI performance of up to 12 TOPS.
A flagship-level 108MP sensor unlocks professional-level photography, delivering ultra-high-resolution imagery and capturing minute detail and color, even in dark areas. POCO X5 Pro 5G also supports 4K video shooting and includes various modes that make vlog creation more accessible, splendid, and easier to catch every winning moment.
POCO X5 Pro 5G supports more than 5.5 hours of 4K shooting with its 5000mAh battery, an undeniable plus for video creators who are always on the go. Now they can keep streaming or shooting all day and never worry about losing power. And with 67W turbocharging, a simple coffee break is all you need to quickly boost the battery level up to 30% charge in just 7 minutes.
POCO X5 5G: just the right mix of a fantastic experience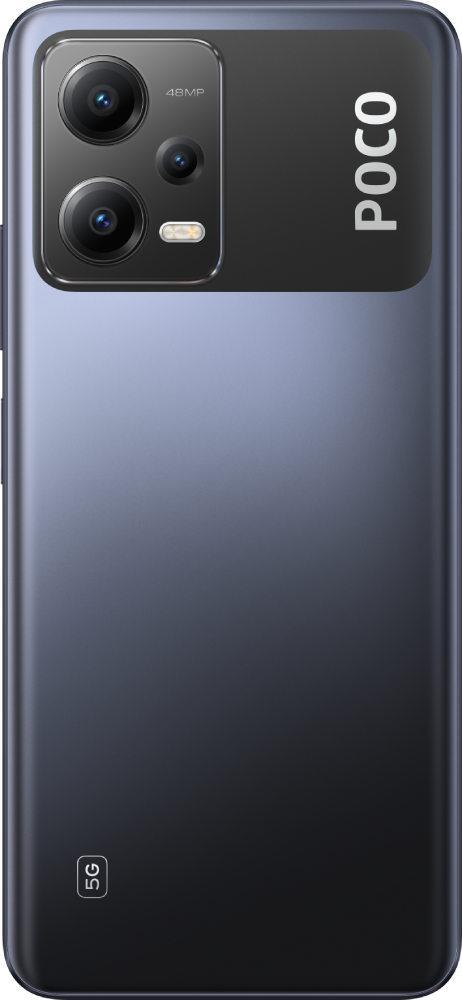 Resetting ideas about mid-range smartphones, POCO X5 5G has everything Gen Z users need to power through a day of work, study, or entertainment. Even if you're taking hundreds of photos, gaming for hours, or watching high-resolution videos, it will keep you covered through the day and night. Super light with a slim 6.67-inch AMOLED DotDisplay, and weighing only 189g, POCO X5 5G always feels comfortable. Gaming fans will appreciate the 120Hz refresh rate and 4,500,000:1 contrast ratio that guarantees a smooth, life-like gaming experience, and DCI-P3 wide color gamut brings images to life for a visual feast.
POCO 5X 5G is equipped with a Snapdragon® 695 chipset that delivers a smooth user experience. It packs a high level of speed and efficiency and excellent download speeds. The devices offer just the right RAM and ROM combination to keep content smooth and enjoyable, with RAM optional up to 8GB and ROM up to 256GB, respectively. As multitasking users switch from one app to another, Dynamic RAM Expansion Technology 3.0 supports more apps running in the background.
Whether switching from work tasks to gaming or watching movies to scrolling on TikTok, POCO X5 5G's long-lasting 5000mAh battery has you covered. Users can say goodbye to battery anxiety thanks to the fast-charging technology; if you are watching shows on YouTube videos, the X5 5G battery can power for a whopping 21 hours. POCO's 33W fast charger can bring an empty battery back to 100% charge in about 68 minutes, just enough for you to take a break and grab a meal before resuming your game or catching up with the latest online videos. With a fully charged battery, you can enjoy scrolling and interacting on social media for 12 hours.
Product Availability
POCO X5 Pro 5G will come in three colors: Black, Blue, and Yellow. It will also be available in two variants: 6GB+128GB and 8GB+256GB.
6GB+128GB: Recommended retail price at PHP16,999 via official e-commerce channels.
8GB+256GB: Recommended retail price at PHP18,999 via official e-commerce channels.
POCO X5 5G will come in three colors: Green, Blue, and Black. It will also be available in two variants: 6GB+128GB and 8GB+256GB.
6GB+128GB: Recommended retail price at PHP14,999 via official e-commerce channels.
8GB+256GB: Recommended retail price at PHP15,999 via official e-commerce channels. 
For more information and exclusive updates, please visit and follow POCO's Facebook page. To join the live stream, please register through POCO's Facebook event page.