Realme has officially launched the newest member of its Realme 5 lineup, the Realme 5i.
The Realme 5i is the first quad-camera phone in the PHP 6K segment that is powered by a Qualcomm Snapdragon 600 series chipset.
"Realme Philippines is off to a good start this 2020 with the launch of the Realme 5i. It has always been our commitment to make optimum smartphone experience available to more users and this is what Realme 5i will do. 2020 is the year of real value and we're excited to bring more of it to more Filipinos across the Philippines," said Realme Philippines marketing director Austine Huang.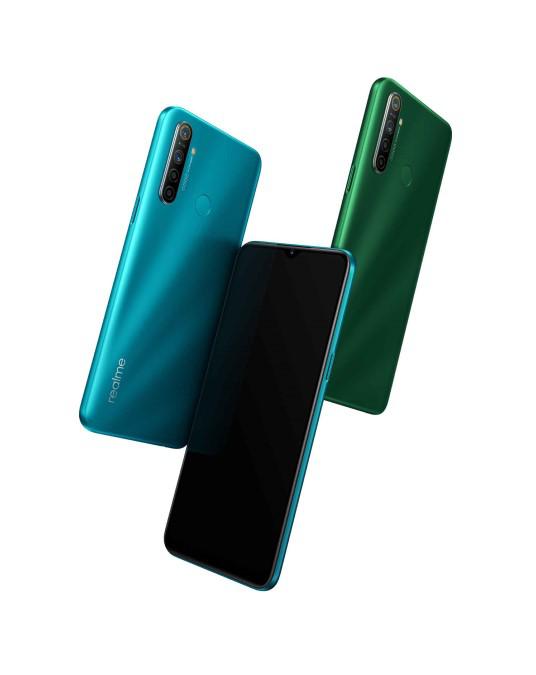 The Realme 5i is powered by a Qualcomm Snapdragon 665 AIE chipset with a 2.0 GHz processor. This enables the Realme 5i to become a gaming beast giving users superb, lag-free performance. It also features 3 GB of RAM and 64 GB of internal storage. Power is no issue either with its 5000 mAh battery enough to last the whole day.  
The Realme 5i is also the first phone with a quad-camera setup in the sub-PHP 8K category. Its main shooter is a 12-megapixel camera which is backed up by a 119-degree ultrawide angle 8-megapixel snapper. It also has a 2-megapixel portrait lens and a 2-megapixel ultra-macro lens. For video, the Realme 5i supports 4K, 240 fps slow motion, and stabilization.
The Realme 5i will come in two color variants: aqua blue and forest green. It will be available in all Realme stores starting February 1.
Realme also announced some of its plans in the coming year. They are reportedly keen on launching their own Artificial Internet of Things (AIoT) by expanding the Realme wearable lineup. The Realme Buds Air, the brand's first wearable in the country recorded 100 units sold in one minute in its recent online sale.
Realme fans can also expect the same real value offering it provides to the Filipinos when the Philippine market becomes ready to roll out the 5G technology. Realme ensures that its users an make full use of the upcoming standard as the brand is ready with its 5G-compatible technology.