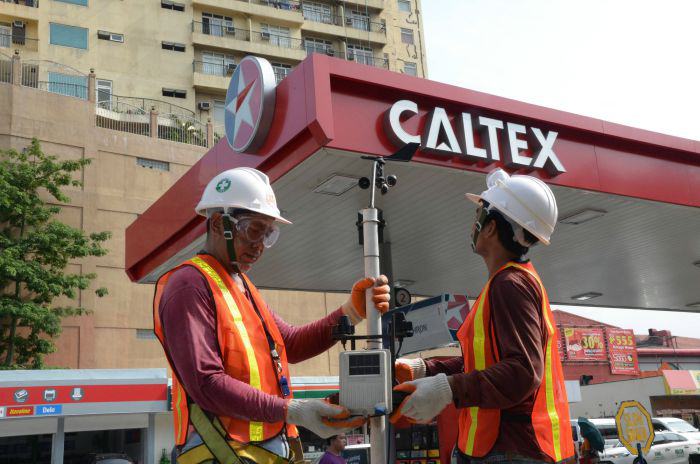 Chevron Philippines assured that the 18 Metro Weather Project automated weather systems (AWS) under its supervision are properly functioning after the continuous and intensive maintenance procedures the company conducts to ensure the units are up to the task as the rainy season starts.
The Metro Weather project is a collaboration between Chevron companies, Manila Observatory (MO), Globe Telecom, and MMDA. The project provides near-real time weather information that is integrated to the MMDA Traffic mobile app and can also be accessed online through http://www.panahon.observatory.ph. The data comes from the project's 30 AWS units which collect and store weather data that show rainfall intensity which can indicate flooding. These AWS units, placed in strategic areas including in 18 Caltex stations within Metro Manila, covers up to 12 million people.
"The public always needs to be informed about the weather especially during the rainy season, so that they can do the necessary preparations. So we are always making sure that the 18 Caltex-hosted AWS units are regularly calibrated, checked, and cleaned up so that weather data is correctly gathered and transmitted to the MO for analysis and interpretation," said Raissa Bautista, manager of Policy, Government, and Public Affairs, CPI.
The Metro Weather project is very effective in creating environmental consciousness to the public. According to Antonia Loyzaga, MO executive director, "The data collected by the AWS assists in refining the identified flooding thresholds that the Metro Manila LGUs, MMDA, and DENR-Mines and Geosciences Bureau are monitoring. The data and analysis can be used as part of the evidence-based decision support system for evacuation planning, class cancellations, preparedness planning and zoning, and land-use planning." Several caveats from project, with data coming from all 18 Caltex-hosted units, are recognized especially during the southwest monsoon months. In 2013, the project identified more than 50 flooded areas in Metro Manila due to monsoon rains intensified by Tropical Storm "Maring". While in the wake of Tropical Storm "Mario" in September 2014, AWS satellite images indicated strong rainfall activity that caused flooding.
The Metro Weather project has recently been expanded outside Metro Manila. "Similar projects are being deployed in areas including Iloilo City and Iloilo province, Davao City and Davao Oriental and Cagayan de Oro City," said Loyzaga.
Bautista added, "Chevron Philippines remains supportive and highly interested in this collaboration. Our continued commitment to public safety and environmental awareness keeps us motivated to support initiatives that address issues and educate the general public on the impact of severe weather changes."