OLX Philippines, the country's leading classifieds platform with around 8 million monthly active users, has just introduced its thematic campaign for 2016, Win Together.
The campaign, in essence, is a culmination of the classifieds platform's efforts throughout the years to bring customers the best buy and sell experience online. "Win Together" underscores the win-win exchanges within OLX's online community. More than just being a service, it brings together people with similar interests and fosters relationships, which is key to the growth of its online community.
"OLX today is all about the connections and lifestyle created through the simple act of buying and selling," explained Giancarlo Bonsel, general manager of OLX Philippines. "Through our platform, we connect people with one another to create value with each transaction and in time, foster relationships that enable a growing, supportive community that wins together."
OLX chief marketing officer Cris Concepcion said, "We believe that buying and selling go beyond its practical function.  The exchanges between buyers and sellers create a community where everybody wins.  Within our larger community are smaller communities of like-minded individuals who share passions. It is in our best interest to help these 'tribes' grow their own community base as well as encourage entrepreneurship and healthy exchanges with more people. Collectively, community efforts contribute to a greater goal of promoting sustainability, thereby enabling all stakeholders to win together."
In the Philippines, OLX receives over 40,000 new listings placed every day. "Win Together" is in line with OLX's promise of efficiency, convenience, and safety. As its online community grows, the company continues to improve and search for ways to address the users' needs and demands, being the main component that keeps the service going.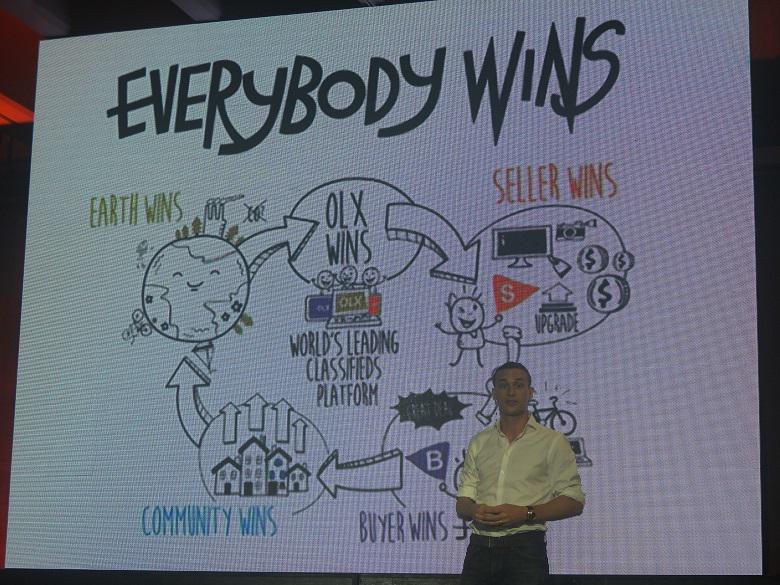 Everybody wins: virtual cycle that feeds itself.
OLX is a platform where just about anyone can log on to to buy and sell goods and cars, find a job, or rent a house. It's an avenue where communities are empowered, giving them the opportunity to turn their pre-owned goods into cash.
The campaign is also centrepiece of the brand's latest multi-channel campaign. Beginning on Sunday, OLX Win Together TV ads will air through various local broadcast networks. The relatable television commercials presents individuals from different walks of life connect through an exchange which is driven by different personal reasons: a desire to exercise one's interests, give back to a loved one, or even earn additional income. OLX reiterated that the people behind these transactions make every exchange successful and worthwhile.
OLX also plans to create engaging initiatives to facilitate the growth of its home-grown 'tribes'. "We're extremely excited for the programs we have planned for the rest of the year. These communities represent what OLX stands for, a platform fuelled by the desire of its users to preserve and extend their passion. It is through engaging these communities that we prove that there is alchemy in the buying and selling at OLX," Concepcion added.
More photos from the campaign launch here: