Make the most of your overseas getaways with the bigger and better Surf Abroad 550.
"Nowadays, mobile Internet–or the lack of it–can make or break our vacation abroad, what with the many practical mobile apps and valuable information available online – from news, weather, navigation, flight schedules, and accommodation to must-have apps like Instagram, Facebook and Twitter," said Tina Mariano, Global Access and International Services head at Smart.
For only PHP 550 per day, you can now share your overseas adventures across your social media accounts, Google Translate your way out of a challenging situation, navigate uncharted routes with ease, and chat with your loved ones at the end of the day without the worries of skyrocketing bill charges. Initially offered to Smart Postpaid subscribers, this data roaming service pushes convenience further with its automatic registration and network lock feature.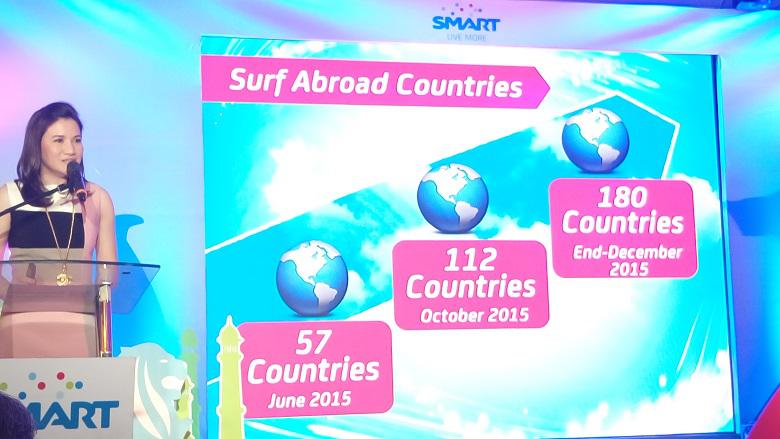 Tina Mariano, Global Access and International Services head at Smart
Just by simply turning on your mobile data setting, you can freely surf the net wherever you are without the hassles of special codes and registration. Once the service is active, you will receive an SMS notification informing you of your subscription and also get timely updates about its status.
Surf Abroad 550 is also powered by network-lock technology, which automatically steers and locks your phone onto Smart's roaming partner-networks. This feature rids you of the trouble of having to manually select every time.
"So aside from expanding our coverage from 57 countries last year to over 110 countries now, we have also enhanced Surf Abroad 550 to be a lot easier, convenient and totally bill shock-free," Mariano added.
Available for only PHP 550 per day, Smart's Surf Abroad 550 will give users high-speed mobile internet connections in 110 covered countries, valid for one day. Smart has also stated that the service will also be available soon for prepaid subscribers.