PLDT wireless unit Smart Communications, Inc. kicked off the Philippine National Disaster Resilience Month with the launch of the #SafePH disaster preparedness online caravan.
"The #SafePH caravan is our way of building a culture of readiness among Filipinos, especially those in hazard-prone areas, by delivering accurate information on various hazards and how to respond to them through an online, interactive platform," said Oliver Odulio, head of enterprise business community and resilience at PLDT and Smart.
PLDT and Smart are particularly engaging the youth to lead communities and help protect them, prepare and recover from the impact of the pandemic and natural disasters.
"Smart is rolling out the #SafePH caravan, to arm the youth with useful information on disaster emergencies and public health safety protocols," said Catherine Yap-Yang, group head and first vice president of corporate communications at PLDT and Smart.
The #SafePH online caravan was attended by local officials, different SK federations, as well as municipal disaster risk reduction and management officers across Luzon. Evacuees who fled the recent Taal Volcano unrest and are now staying at Ticub Elementary School in Laurel, Batangas also tuned in to the digital caravan. So far, the webinar has been viewed more than 11,000 times on Facebook.
While waiting for the event to start, participants explored the virtual lobby and played interactive games while learning how to prepare for and respond to natural and man-made disasters in communities. The program is anchored on three talks conducted by experts on emergency management, basic life support and first aid, and the COVID-19 global health crisis.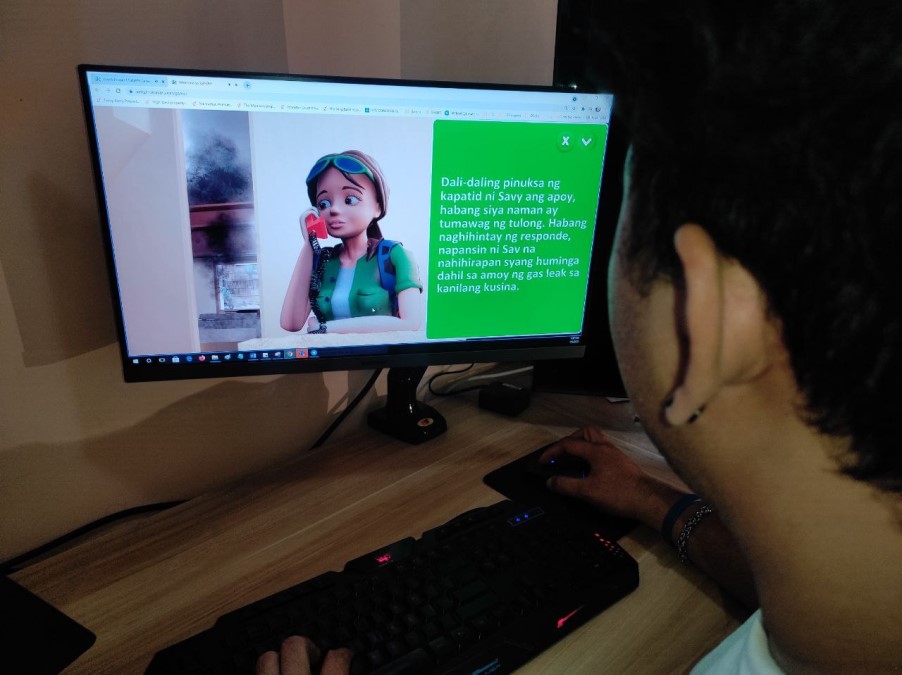 Louie Domingo, director of Emergency Management Center, taught participants how to prepare for emergencies. He said it's important to remember the 5 Ps – Pray, Plan, Prepare, Practice, and PPE. Domingo also encouraged households to prepare an emergency canister or "E-balde" that contains important items and life-saving devices like a flashlight, portable radio, lighters or matches, canned food preferably preserved in oil, and a water filter. Domingo also shared tips on what to do during earthquakes, fires, and floods at the #SafePH webinar.
Von Ryan Ong, acting manager for the Safety Services National Headquarters of the Philippine Red Cross, shared modifications to First Aid and Cardiopulmonary resuscitation or CPR in consideration of the ongoing coronavirus crisis. In the case of CPR, pre-pandemic techniques required ventilation or breathing into the patient's mouth. But because of the infectious outbreak, Ong said that the organization now suggests hands-only CPR. To do this, remember the 5 Cs – Check the person, Call Red Cross at 143, Cover your mouth and nose with a face mask, Compress the chest, and Connect the patient to an Automatic External Defibrillator or AED if available.
Dr. Miguel Mantaring, Medical Officer IV for Health Promotion Bureau of the Department of Health, explained COVID-19 including its symptoms, how it's transmitted, those who are at risk for severe illness, as well as environmental risk factors like crowding, poor ventilation, confined indoor spaces. Even if the government has lifted restrictions, he urged participants to protect themselves by avoiding the 3 Cs – Crowded places, Close contact settings, and Confined enclosed spaces.
Amy Tenorio, a barangay councilor in Bugaan East, Laurel, Batangas, is grateful for the information shared at the #SafePH seminar. "It's important to be prepared always. We should secure essential items and be ready to evacuate once ordered by authorities. We have to act quickly to ensure our safety," she said.
#SafePH is Smart's long-running advocacy program that helps promote resilience among communities. The initiative is particularly helpful for residents living in high-risk areas as it teaches them how to prepare for and respond to natural calamities and man-made disasters.
The digital caravan started out as the TNT Tropang Ready back in 2016. Before the pandemic, Smart successfully rolled out the caravan in seven universities educating more than 8,000 students and school officials on disaster preparedness.
Smart will also roll out the #SafePH digital caravan in Visayas, Mindanao, and NCR in the next few weeks in July.
The #SafePH digital caravan is part of PLDT and Smart's #SafeandSmart advocacy, which promotes preparedness and immediate response through network resilience, continuous availability of communication services, mobile solutions, and activities, and relief assistance to help communities mitigate disaster risks. The initiative also underscores the commitment of PLDT and Smart to attaining the UNSDGs, particularly SDG #11: Sustainable Cities and Communities.