Sharp announced the Philippine launch of its new flagship product for its AQUOS Audio-Visual line, The Scenes 8K, providing new dimensions of immersive experience in the living room. AQUOS THE SCENES 8K series debuts over two product categories — TV and Sound bar — as part of the 20th year anniversary of Sharp's Audio-Visual brand AQUOS.
Aquos is a coined word, combining AQUA + QUALITY. It has been used since 2001 as the symbol for New standard home use TV for the 21st century. In 2000, when only 4% of TVs were LCD, SHARP grandly declared that all CRT TVs in Japan would shift to LCD TVs in 5years. After 20 years, all TVs worldwide are LCD TVs.  In the same period, Sharp launched many "World's Largest" or "World's First" TVs, and achieved 50-million units accumulated sales in 2020.

AQUOS THE SCENES 8K TV: DW1X series
As the flagship model in the AQUOS lineup, the DW1 is packed with key features for families seeking premium visual experiences at home. It provides 8K Ultra-High Definition (8K UHD) resolution and is available in 60- and 70-inch options.  Combined with the newly developed Deep Chroma Display Pro and Z2 Revelation Processor, DW1 will turn your living room into a theater. 
Its Deep Chroma Display Pro achieves a color gamut that exceeds 100% of the digital cinema color gamut standard, and 167% of the screen brightness compared to conventional models. The color area is widened by two elements. It uses Sharp's unique high-quality 8K UV2A panel made in Japan with low reflection structure, and newly developed backlight. 
Sharp's proprietary HDR Enhanced+ powered by Z2 Revelation Processor (patent pending) allows you to experience realistic and deep images.
In most instances, content brightness is diversified, but it does not always display the contrast comfortably to the viewers. HDR Enhanced+ optimizes middle tones — so viewers can easily perceive contrast — by detecting darker and brighter areas, optimizing the amount of light, and driving its backlight where needed
The DW1X series adopts the latest AV1 format adopted for YouTube 8K streaming, while its AQUOS 8K Contents Downloader app allows sharing of 8K photos and videos via Google Drive.
Android TV makes it easier to get more from the AQUOS DW1 TV. Choose from 400,000+ movies and shows from across streaming services.  Ask Google to control your TV, get recommendations of what to watch, dim the lights, and more with your voice. Cast photos, videos, and music from smart devices to your TV with Chromecast built-in.  Miror your work PC to your living room TV, and do so much more.
AQUOS THE SCENES SOUND BAR: C22CX1series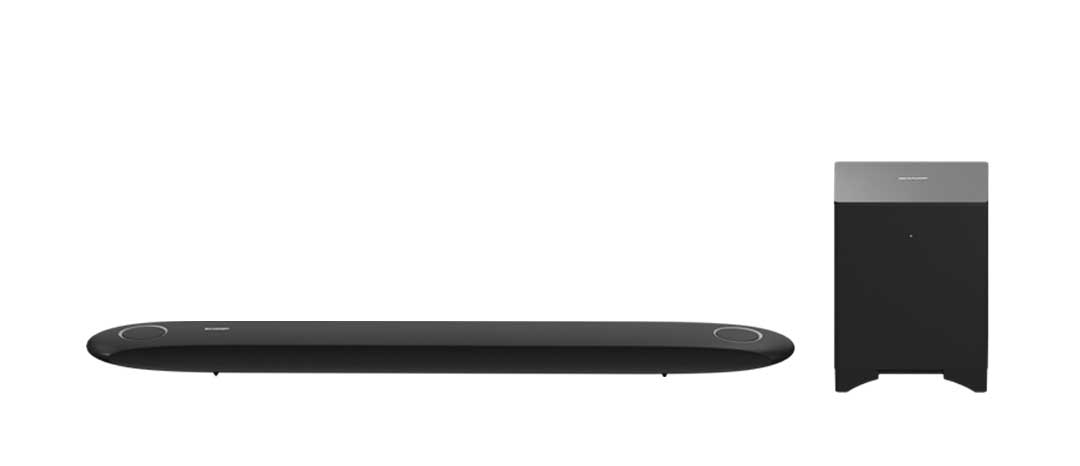 The C22CX1 series soundbar home theatre system uses OPSODIS technology which accurately simulates many three-dimensional audio formats commonly used in TV, cinema, and gaming. OPSODIS simulates how humans perceive sound in a real environment. The unique stereophonic reproduction technology controls the time difference of the sound, allowing the listener to experience a natural stereophonic sound that reaches the left and right ears directly. Customers can further enhance the immersive experience by connecting this soundbar to AQUOS THE SCENES 8K TV.
"OPSODIS can reproduce 360-degree immersive sound even without special sources nor rear speakers," said Shigeru Okubo, head of Audio R&D. "By simulating how humans perceive sound and applying original speaker layout theory, the audience will not sense the existence of speakers. Instead, the feeling of being on the scene is achieved."