It's beginning to look a lot like Christmas here in the Philippines and a significant part of our tradition is gift giving! Luckily for us, gift giving need not be stressful especially as the World Bazaar Festival (WBF) – the country's longest annual charity bazaar – returns this December to cater to all our holiday needs and dreams!
Now on its 18th year, this year's WBF will take bazaar goers on a groovy trip down memory lane with a "Boogie Woobie" Christmas! Transforming 12,708sqm of exhibition space into a retro-themed yuletide wonderland, WBF 2018 will also be hosting an incredible line-up of event highlights and pocket activities that will surely make everyone's holiday experience truly enjoyable!
But more importantly, WBF 2018 is where you will find the biggest and widest selection of goodies and products that will make for perfect gifts this season. To help everyone get a head start on their holiday shopping needs, here's a round of the best gift finds that await at this year's WBF!
For the best sister in the world
Perfect for your book-loving, journal-scribbling, or faith-embracing sister are the inspirational gift items and writing products by Motto Pressroom which include journals, notebooks, and notepads. Price: P80 – P350
Give your sister's lovely toes a break from heels with casual and comfy yet utterly classy footwear by Cheeky Toes. Price: P500 – P700
Help your sister organize her life better by gifting her with a lipstick tray from Summit Crafts! Functional and stylish as it comes in different designs, the trays can also be used to store essential oils. Price: P120
For the coolest brother ever
In this tech-savvy age, level up your brother's gadget game by gifting him with any of the premium mobile phone accessories by Joyroom. Choose among items such as a wireless power bank or a Bluetooth headset.
Price: P600 – P5, 000
Make sure that he's always backed up with extra battery as he goes about his days with Omena Corporation's Quick Charge Powerbank Slim External Battery Pack with Micro USB, Lightning, and Type-C Cables. Price: P899
Nowadays, men are getting more comfortable playing with fashion. Encourage him to experiment more with his style by gifting him with a cool and easy-to-wear retro hat like the ones by 360HATSmnl. Price: P150 – P350
For your one and only mom
Unique and one-of-a-kind like moms, any of the handmade shoes and sandals made out of jute and abaca by Jhazz Footwear will make for a truly special gift this season. Price: P450 – P1, 900
For moms who are always on the go, the chic and class non-skid customized flats by Marikina brand Shoe Room are guaranteed to put a smile on their faces. Price range: P380 – 800
A cool and practical new addition to your mom's kitchen collection, the non-stick 5-in-1 Grill Pan by Kat DG Shop lets one fry up an entire breakfast or any other meal in a single pan! Trust us when we say that she will be grateful for this for a very long time. Price: P1, 000
For the father of the house
Is your dad a beverage connoisseur? If he is, then he will surely appreciate a bottle of Canadian ice wine or coffee wine from Urban Island Winery.
Gifting your dad with his very own go-to cup for his drinks is heart-warming as it is practical. Choose among SugarPlum Lifestyle's porcelain coffee cups and cup sleeves to match.
Price: P200 per piece, 3 for P500
With all the hard work that they do for the family, Dads deserve no less than the best! For something a bit more luxurious, simply pick from the variety of premium and genuine leather shoes and bags from Vedasto Leathergoods Corporation.
Bag Price: P 4,000 up
Shoes Price: P 1,200 up
For your dearest friend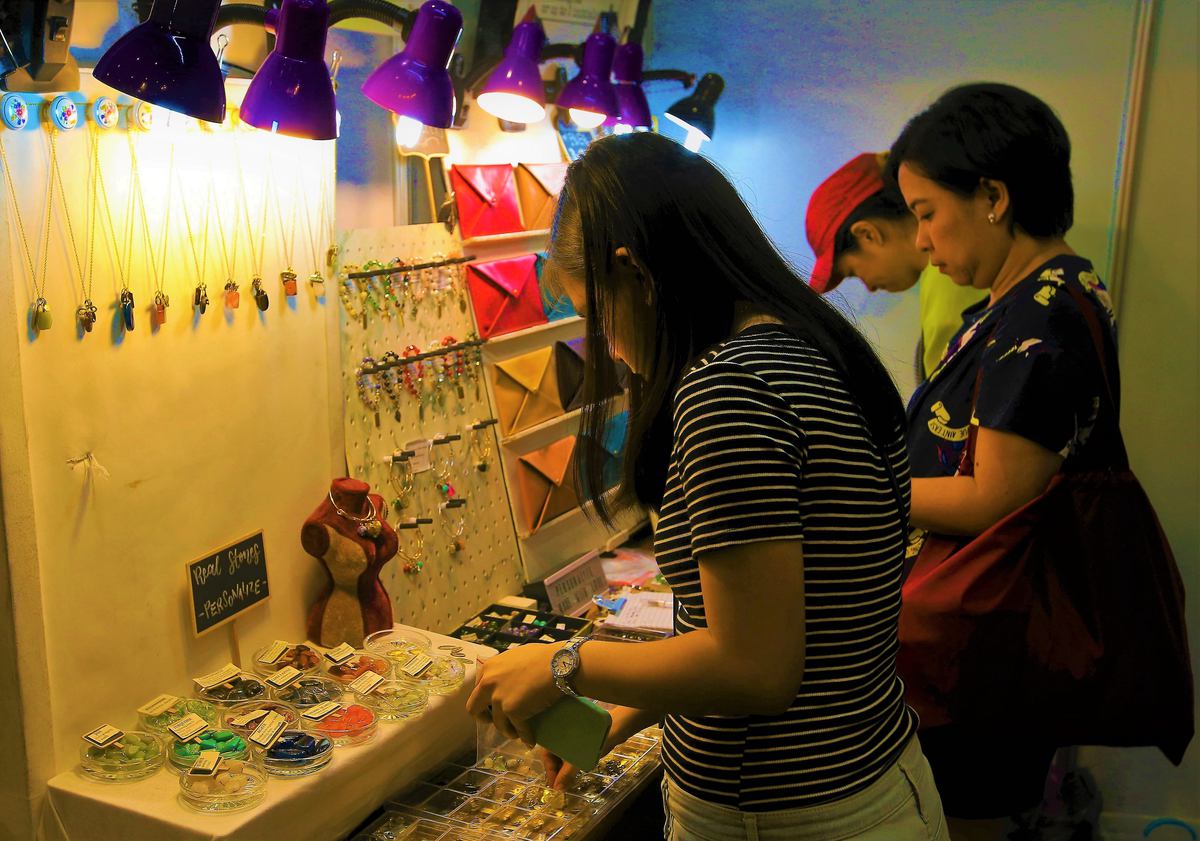 The quality leather accessories for everyday use by Vanity Chest make for a thoughtful present for your closest buddies this Christmas. Once you've chosen between items such as a leather passport holder, key holder, card holder, or a wallet, you can have them customize these with name inserts and charms. Price: P350 – P700
Another practical yet mindful gift idea are customizable pouches like the ones by Happy Gifts Corporation! Price: P59
For that friend of yours who loves unique fashion and off-kilter styles will be delighted to receive a handmade fashion jewelry for Christmas! Choose among the classic, vintage, boho, and shabby chic designs of Jumimo by Vickit. Price: P50 – P800
For the love of your life
Make sure that your loved one stays warm and fuzzy even if you're not around with the clever blanket with sleeves by Bleevesph. Price: P500 – P800
How about something soft and cuddly for your loved one to remember you by? Take your pick from the cute and classy pillows by Evo-Hern Home Furnishing shop! Price: P300 – P1, 000
Let your loved one feel special with a gift that shows how much thought you put into finding it! Find the perfect fragrance that suits your special someone from the array of perfumes by Imecstatic ship. Price: P280 (50ml), P199 (30ml), P100 (10ml)
Organized by Worldbex Services International in partnership with ABS-CBN, the 18th World Bazaar Festival or WBF 2018 is happening on December 12 to 22, 2018 at the World Trade Center Manila, from Sunday to Thursday (12nn – 10pm) and Friday to Saturday (10am – 12mn). For more information, call (02) 656-9239, email [email protected], or follow World Bazaar Festival on Facebook and @worldbazaarfestival on Instagram.