In this year's installation of Reebok's Be More Human race that brought more than 8,000 runners from all across Southeast Asia (SEA) together in 2018, the brand is challenging runners to complete 3 stages from 3 different categories over 3 race weekends.
Introduced in this year's race is a new team format where participants can form teams of 4 to run the longest combined distance over the stages. Recording the greatest collective distance or sharing the most empowering race experience on the Be More Human Race Facebook event page, gives them a chance to win a set of Reebok's all-new Forever Floatride Energy running shoe and Reebok running apparel.
The race is open to runners of all levels. Participants can run anytime and anywhere over the designated race weekends as submission of results can be easily done using any GPS running trackers and apps.
With the successful completion of each stage, runners will be awarded with commemorative medals and race pins. For participants who register for all 3 stages under the Bundle system, they will be entitled to receive a limited-edition medal holder that transforms all 3 race medals into a trophy plus an exclusive 2019 Reebok Be More Human Race Finisher Tee.  
This year's Delta medals are inspired by 3 different running terrains: the track (Stage 1), the trail (Stage 2), and the city (Stage 3).
Race weekends take place on these weekends across these categories:
Stage 1: 17 May – 19 May
Stage 2 : 7 June – 9 June
Stage 3 : 28 June – 30 June
For returning participants who took part in the Reebok Be More Human Race 2018, runners will receive an exclusive tote bag when they sign up for the Bundle challenge–valid until stocks last.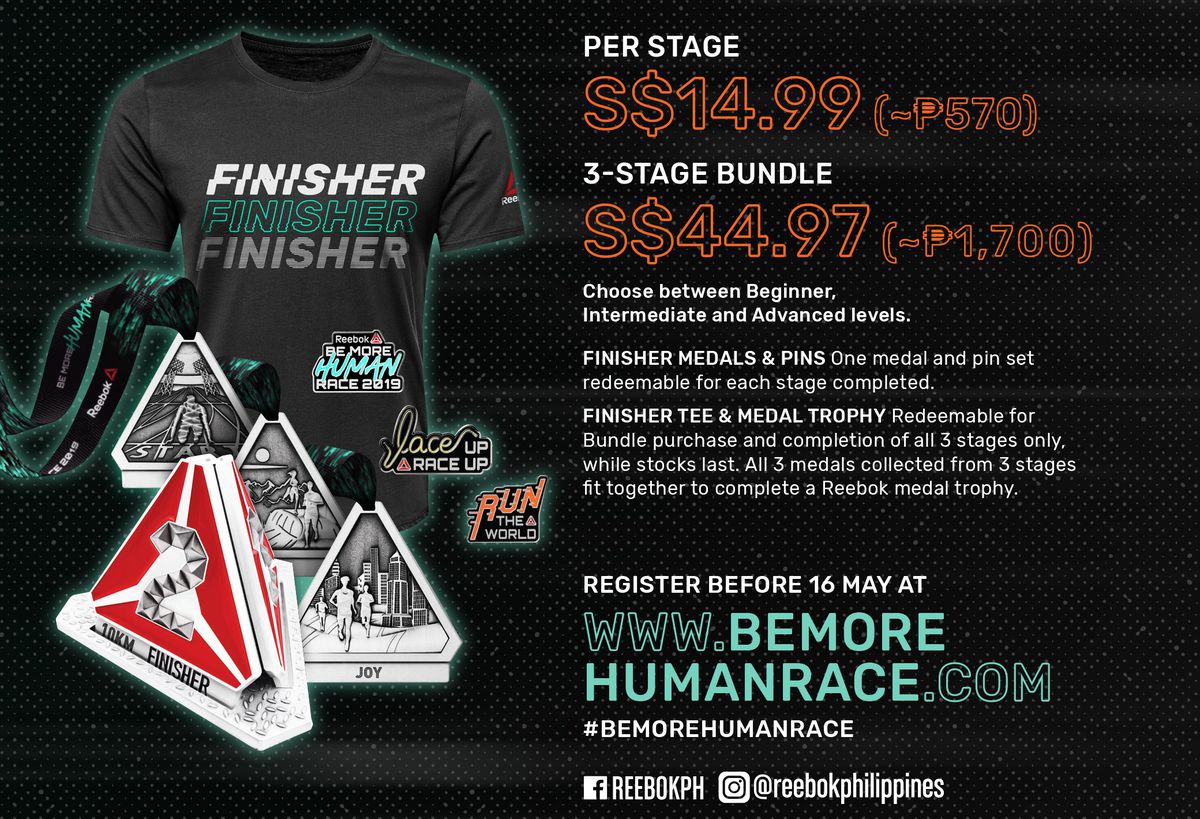 Registration fees for each individual stage of the race are priced at PHP 570. Participants can also opt for the 3-stage race bundle worth PHP 1,700 and receive the additional benefits of the exclusive medal holder and 2019 Reebok Be More Human finisher shirt. Register for the race at www.bemorehumanrace.com.