Fitbit recently collaborated with leading panel of experts from Johns Hopkins, Stanford University, and University of Arizona to create a simple yet powerful set of sleep tools to help millions of Fitbit users around the world improve their sleep consistency and overall health.
Available today on the free Fitbit app and compatible with all Fitbit devices that track sleep, Fitbit's new Sleep Schedule feature helps guide you to get a more consistent pattern of sleep with:
Personalized sleep goals based on your sleep data to achieve your optimal amount of sleep each night
Customized bedtime and wakeup targets to establish sleep consistency
Reminders to stay on schedule, and a sleep schedule history to chart your progress
These tools are the first in a series of new sleep features being developed in collaboration with Fitbit's new panel of leading sleep experts that includes Drs. Michael Grandner at the University of Arizona, Allison Siebern at Stanford University,and Michael Smith at Johns Hopkins University.
The Fitbit app is a vital part of the Fitbit platform – consisting of devices, apps, social and motivational features, advice and personalized coaching – which is continually getting smarter and easier to use with features like automatic sleep tracking and exercise recognition to make tracking your health and fitness effortless. Working in harmony, the Fitbit platform helps people make behavioral changes to be more active, exercise more, eat smarter, track their sleep and manage their weight. While many people understand the benefits and importance of a good night's sleep for their health, getting enough sleep (7 to 9 hours) and regularly going to bed around the same time each night can be a challenge.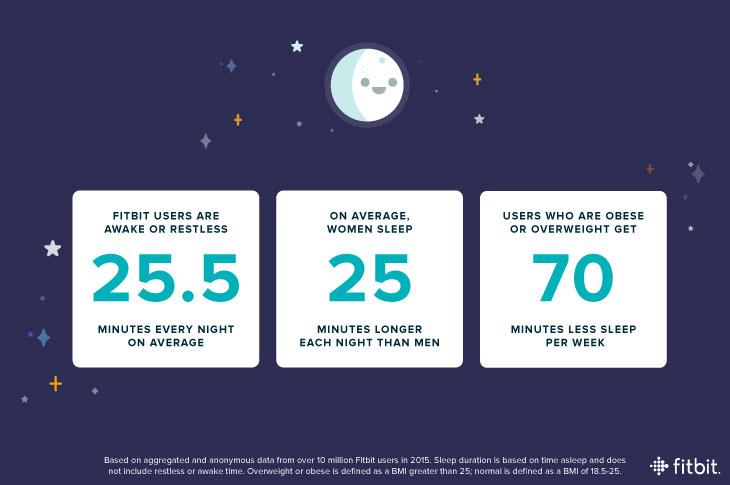 Enhanced Sleep Tracking Features
The new Sleep Schedule features on the Fitbit app will help you meet your sleep goals and maintain a more consistent pattern of sleep through these tools:
Sleep Goal:Based on your sleep data from your Fitbit tracker, you can follow the app's personalized recommendations or set your target number of hours to make sure you're getting enough sleep each night.
Bedtime and WakeUp Targets:Based on your sleep goal and past sleep behavior from your Fitbit tracker, the app will recommend target bedtime and wake up times. You can customize these based on your personal preferences and schedule.
Bedtime and Wake Up Reminders: To help you reach your sleep goal and regularly go to bed and wake up more consistently, you can receive push notification reminders on your smartphone. You can also set a silent wake alarm on your Fitbit tracker based on your wake up target.
Sleep Schedule History Chart: Track your sleep consistency over time to determine if you're meeting your goals or if you need to adjust your sleep schedule.
Available now on the top-downloaded free Fitbit app for Android, iOS and Windows devices, the new Sleep Schedule feature works with all Fitbit devices that automatically track sleep, including Fitbit Surge, Fitbit Blaze, Fitbit Charge HR, Fitbit Alta, Fitbit Charge, Fitbit Flex and through manual sleep tracking with Fitbit One.