Professionals and businesses across the globe are turning to online learning to adapt to the current climate. Based on LinkedIn data, in April 2020, the company saw an uptake in LinkedIn Learning courses globally with members watching over 7.7 million hours of learning content. This is three times the amount in February and two times the amount in March.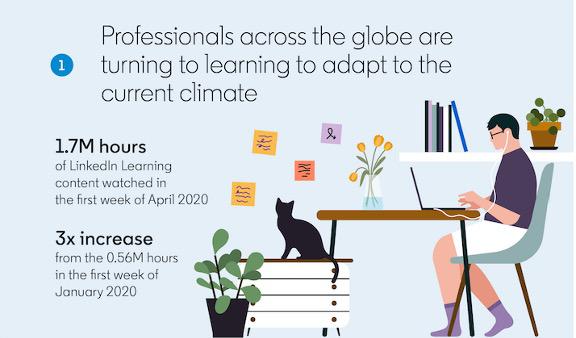 "The global pandemic has affected our professional and personal lives. We've seen that hiring has declined across the globe. In addition, many organisations have transitioned their workforce to working remotely," shared Feon Ang, vice president, Talent and Learning Solutions in Asia Pacific, LinkedIn.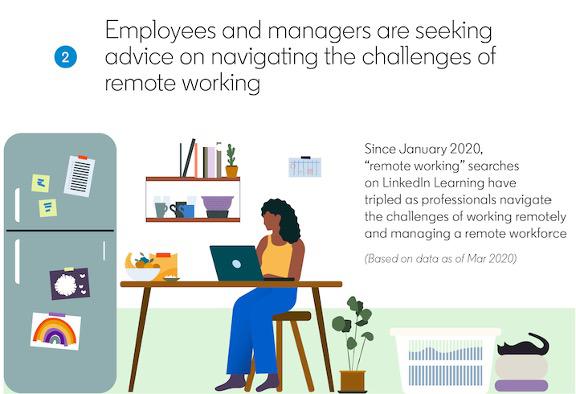 "Regardless of where you are at in your career, it is worth picking up new skills, or honing your current ones, during this time. For job seekers, honing interviewing skills and learning to grow and tap on networks may be useful. For professionals, skills related to remote working are essential to hone. For leaders, understanding how to manage teams virtually, keeping team members engaged, and the organizational culture alive is important. In addition, soft skills remain relevant across a wide range of jobs. Creativity, Persuasion, Collaboration, Adaptability, Emotional intelligence rank as the top five soft skills in 2020."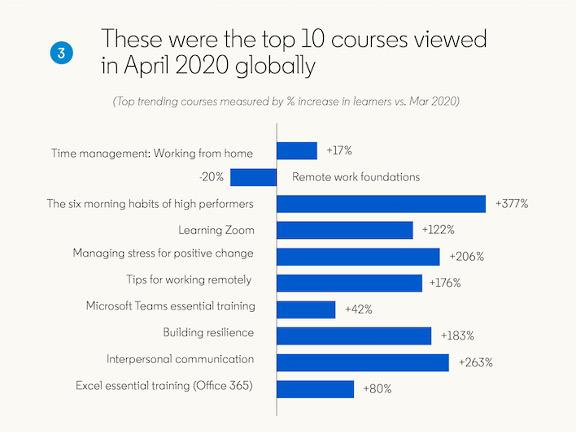 To help support professionals in this endeavor LinkedIn has offered over 275 free LinkedIn Learning courses until June 2020 so they can upskill and reskill.
For professionals who are struggling to cope with working remotely, this means learning new ways to cope with stress (home and work) or picking up the skills needed to remotely manage a team.
For jobseekers, it means learning entirely new skills in the face of a tough job market or even improving the skills they currently possess.
For small-to-medium businesses, this may mean learning how to maintain client relationships remotely, or understanding how to protect their finances in challenging times.
Working from home skills have seen a dramatic growth since the onset of COVID-19. The top courses were: "Zoom" at an increase of +6086%, Virtual Work at an increase of +5804%, and Telecommuting at +5705%.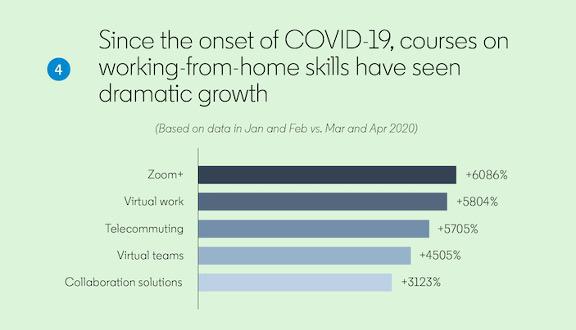 The increase is significant among managers and job seekers, as well as those in the Recreation & Travel industries.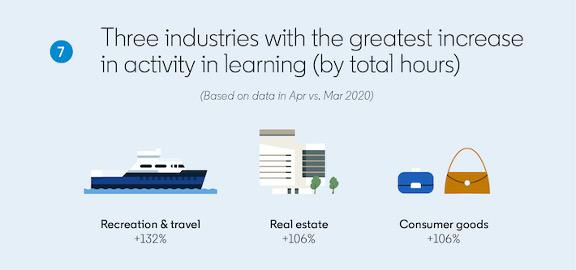 "Learning new ways of working in the current climate or being open to reskilling and upskilling opportunities will also ensure that professionals continue to gain transferable skills that might be useful for the future. For example, today, remote working is increasingly an expectation in a multigenerational workforce. In fact, a global survey showed that 45% of senior leaders say they're considering a more permanent shift to virtual events or conferences, and 44% say they're evaluating more permanent remote work policies. This may indicate that it is here to stay," Ang concludes.