With its creator-centered approach that highly cares, values, and empowers creators, Bilibili, the leading animation video platform in Southeast Asia, launched a month-long Bilibili Professional Creator Program last August 26, 2022. Through the program, top Bilibili creators will be incentivized in a bid to enhance their willingness and overall motivation to use the platform more. Creators from Vietnam, Thailand, the Philippines, Singapore, and Malaysia are eligible to participate. Being a top-tier creator at Bilibili offers one access to the platform's huge resources and a great opportunity to show off their great work.
Previously, the program successfully launched its inaugural session in Indonesia in mid-June, attracting more than 2,000 participants with a total of 10,000 video submissions. The program focused on self-produced anime, anime commentary, anime plot explanation, anime derivative work, and anime music videos.
Awards to the winner include ample monetary rewards, physical gifts, and publicity opportunities. These opportunities included driving traffic to their Bilibili accounts, media interviews, features on the app as Creators of This Month, and social media promotions. The top 3 winners from the first phase were chosen as initiators of the upcoming session in the "Bilibili Professional Creator Program" which will allow them to gain traffic and gain more traction.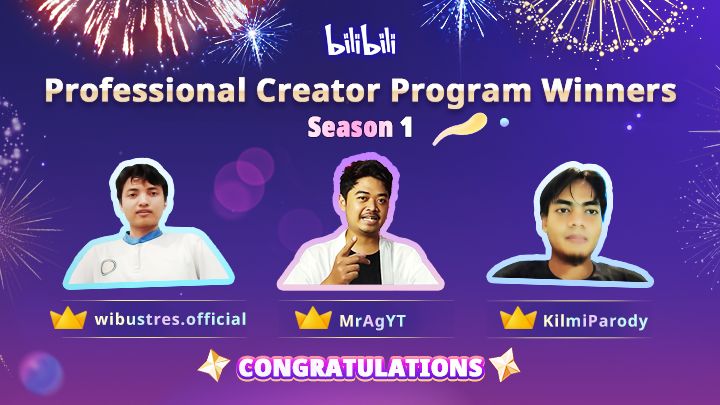 "Besides being able to get attractive prizes, you can also develop your creative capabilities through participating in the program," shares MrAgYT, the winner of the inaugural Bilibili Professional Creator Program.
Wilbustres.official, who was the runner-up creator of this activity mentioned that the program is very interesting and worth it that's why he joined right away. He also shared that he was happy and excited as this is the first time he attended this kind of event and luckily won a reward and a certificate. He also encourages content creators out there to join the program because the reward is very appealing and super worth it!
KilmiParody, also expressed his surprise at winning third place, "To be honest, I didn't expect to win. Because there are a lot of great creators who joined the event. Just give it a try. You never know!"
As a platform that is committed to growing together with creators, Bilibili sees it as a responsibility to enable talented creators to stand out and ignite their passion for content. A series of sessions on various themes under the Professional Creator Program will be released on a regular basis to encourage all Anime, Comics, and Games (ACG) content creators to join on this journey.
For novice creators, Bilibili has launched a project to help them jumpstart their game. The BCN Project (Bilibili Creator Network) allows them to gain incentives for creating video content. This is open to all app users, where participating creators just need to regularly produce high-quality video content and find their voice and identity. 
To know more about the Bilibili Professional Creator Program, visit https://www.bilibili.tv/marketing/activity-ZDZzLdHuaL.html. For more information, visit bilibili.tv or simply download app from the Google Play and App Store!