Miming and Friends, led by Cat-Fish Miming, flying lizard Buboy, and Unicorn Anacorn, is an animated YouTube channel. Their video topics include values, how to count and sing, and the importance of caring for each other and the environment — all from the multilingual and multicultural perspective of the Filipino experience. The channel is the creation of Miming and Fwends Animation Studios, formed by partners Ramon and Meryll del Prado from Dumaguete, Negros Oriental. 
Recycling is a word that Filipinos are familiar with. In keeping with local waste management needs, many recycling industries have been developing in the Philippines. In the new episode of the YouTube series Miming and Friends, the process of recycling is explored more. This aims to help kids understand how they can make an impact, and families to know how else their plastic waste can be recycled in their communities.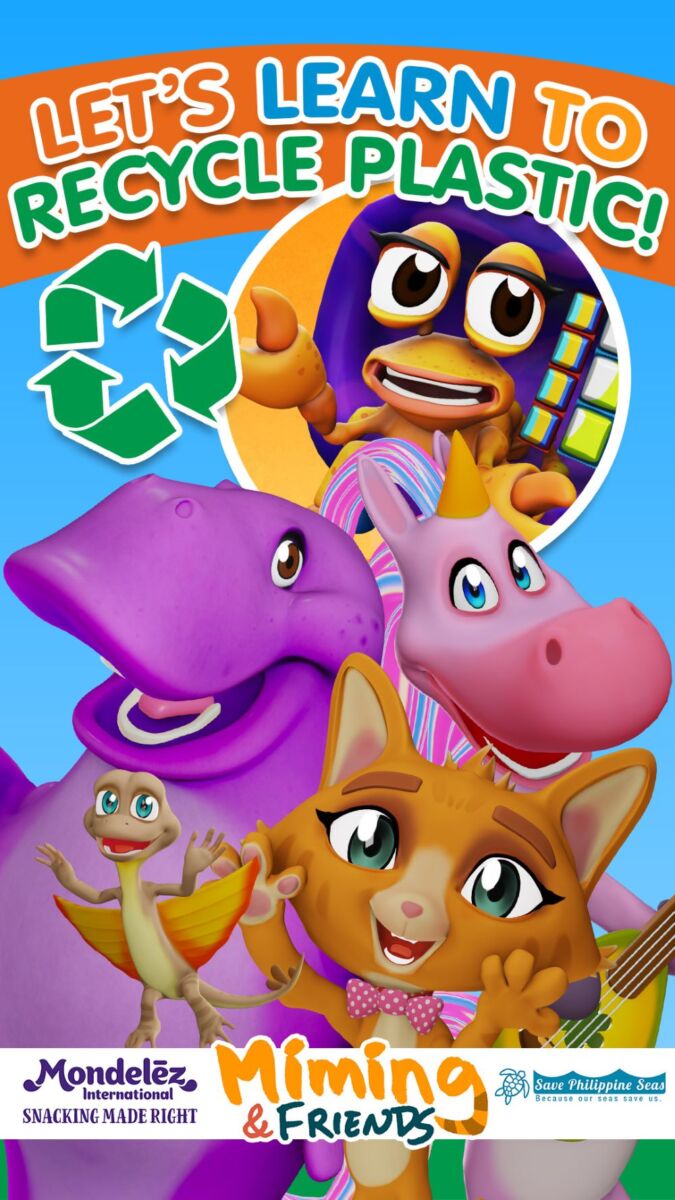 In 2022, Miming and Friends partnered with snacks company Mondelez Philippines to create content about waste management at home to serve as educational materials for children and their families. Mondelez Philippines is the maker of beloved snack products such as Tang, Eden Cheese, Cheez Whiz, Oreo, Cadbury Dairy Milk, Toblerone and Chips Ahoy! to name a few. With a legacy of 60 years in the Philippines, the Company's purpose has been to empower people to snack right, with the right snack, for the right moment, and made the right way. Making snacks the right way means growing their business with a positive impact for people and the planet. One of the Company's focus areas is using less packaging for their products, utilizing better packaging, and helping improve systems for waste management and recycling.
Miming and Friends for the Extended Producer Responsibility Law 
Information and education campaigns like the partnership with Miming and Friends are one of the ways Mondelez Philippines complies with the Extended Producer Responsibility on Plastic Packaging Waste Law or the EPR Law. This newly passed law establishes a national policy on adopting a systemic, comprehensive, and ecological solid waste management program. Among other provisions, identified companies such as Mondelez Philippines are required to retrieve and divert 20% of their total plastic output starting this year. "Beyond compliance, we have pledged to not only achieve what is required by law but as much as 100% of our plastic packaging output for the year 2023," shares Caitlin Punzalan, CGA lead of Mondelez Philippines. "In addition, we employ information and education campaigns like our partnership with the Miming and Friends series, which is geared to inform our consumers of among others, responsible management of plastic waste." 
Continuing Partnership with Save Philippine Seas 
Providing waste management knowledge for the Miming and Friends series is Save Philippine Seas (SPS), led by executive director and "chief mermaid" Anna Oposa. SPS is an organization that aims to empower citizens towards environmental consciousness, leading to collective action, and behavior change. "The first episode of our partnership launched last year was about waste segregation. Proper waste segregation increases the chances of materials finding their way to their own recycling streams.  While there is much to be developed, we have a growing recycling industry here in the Philippines. This episode aims to encourage us all to find partners in our communities, from individual waste collectors to junk shops, and work with them to ensure our waste does not end up in oceans." 
To find out more about how to be part of recycling efforts, watch Episode 2 of Miming and Friends: