Sun Life Philippines is launching a set of insurance and mutual fund "combo packs" in a bid to make the process of choosing the right insurance products and mutual fund investment simpler and easier for anyone who aims to prepare ahead for whatever the future may bring.
Dubbed Celebrity Product Starter Pack, the campaign takes its cue from "combo offers" that enable customers to enjoy more choices. Sun Life's version will offer five different bundles of holistic financial solutions that will help address specific needs and goals. Each one addresses the most common needs of every life stage, as personified by Sun Life brand ambassadors Piolo Pascual, Charo Santos-Concio, Matteo Guidicelli, Enchong Dee, and Inigo Pascual.
"Many Filipinos are reluctant to consider insurance and investment products because they find the variety of options overwhelming or they think it's expensive," Sun Life chief marketing and client experience officer Gilbert Simpao said. "This prompted Sun Life to highlight and offer the budget-friendly essential products to start their financial foundation with. These insurance and investment starter packs can suit different lifestyles and needs of Filipinos."  
Adulting Starter Pack
The Adulting Starter Pack represented by Iñigo Pascual best fits those who are discovering their independence, such as first-time workers, freelancers, and graduating college students. It combines Sun StartUp life insurance and Sun Life Prosperity Money Market mutual fund, with total rate starting at PHP 2,000 per month.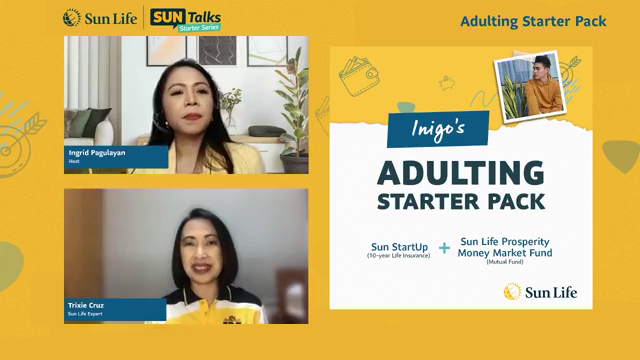 Negosyante Starter Pack
The Negosyante Starter Pack, meanwhile, would suit entrepreneurs and freelancers who, like Enchong Dee, are looking to fund business and personal goals. The combined rate for its bundle of Sun MaxiLink 100 life insurance and Sun Life Prosperity Achiever 2028 mutual fund starts at PHP 4,000 per month.
Newlywed Starter Pack
The Newlywed Starter Pack is ideal for those who are starting a family or saving up for future milestones. Just like Matteo Guidicelli, they would find the SUN Smarter Life Classic life insurance and Sun Life Prosperity Achiever 2028 mutual fund investment a perfect mix. Combined rate starts at PHP 5,000 per month.  
Health Starter Pack
The Health Starter Pack, which starts at only PHP 5,000 per month and combines health insurance products Sun First Aid Plus and Sun LifeAssure, would best fit those who are eager to enjoy good health as they prepare for retirement, much like Piolo Pascual.
Parent of OFW Starter Pack
Finally, the Parent of OFW Starter Pack endorsed by Charo Santos-Concio is a perfect match for overseas Filipinos and their families in the Philippines. Its bundle, which consists of Sun Senior Care health insurance and Sun Life Prosperity Money Market mutual fund investment, starts at PHP 7,000 per month.
"With the Celebrity Product Starter Packs, Filipinos will have a clearer starting point in their pursuit of their financial goals, especially now that everyone is striving to rise above the challenges presented by the pandemic" Simpao said. "This is not a journey they need to go through alone. We have over 20,000 Sun Life advisors nationwide who can guide them in building a brighter future."
Those who wish to know more about the Celebrity Product Starter Packs are encouraged to consult a Sun Life advisor who can help them assess their financial needs and further customize the bundles to meet their goals. To connect with a Sun Life advisor, one may visit bit.ly/advisormatch. More details are available at sunlife.com.ph and on Sun Life Philippines' official Facebook page.