Proudly Philippine-made premium items will be showcased at the Go Lokal x Manila Canvas pop-up store at the Atrium of Lucky Chinatown Mall in Binondo, Manila, from July 17 to 30, 2023.
Offering a wide range of products made by local craftsmen and artisans and carefully curated to bring only the best creations to market, the Go Lokal x Manila Canvas display will surely be a treat to mall-goers.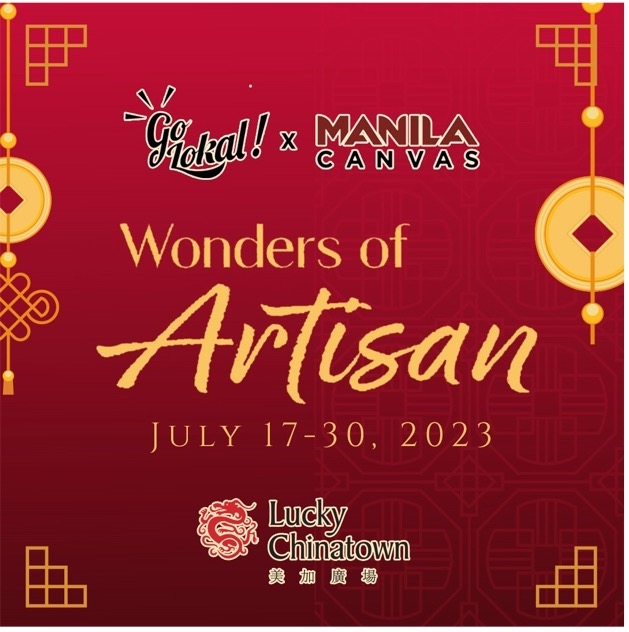 This is part of the 'Wonders of Artisan' mall event, bringing local craftsmanship and artistry under one roof. In addition to the Go Lokal x Manila Canvas exhibit, there will also be a series of art workshops during weekends, as follows:
July 22 (Saturday)
2:00 PM Watercolor Landscape Painting Workshop by The Postcard Makers
4:00 PM Flower Preservation by Care Channels
July 23 (Sunday)
2:00 PM Tea Appreciation by Tsaa Laya
3:00 PM Crochet with Krowsheyaarn
July 29 (Saturday)
2:00 PM Journaling and Notebook Making with 1372 Designs
4:00 PM Accessories Making with Disenyong Pinili
July 30 (Sunday)
2:00 PM Sketch and Paint with Tinta sa Abaca
4:00 PM Candle Making by Kakayanin PH
The art workshops are open to the public and free of charge.
A project of the Department of Trade and Industry – Bureau of Domestic Trade Promotion (DTI-BDTP), Go Lokal was conceptualized as a market access platform to help the country's MSMEs enter the mainstream market. It provides market access to stores or spaces provided by retail partners such as malls and retail operators. At the same time, it also offers merchandise development assistance so MSMEs are able to produce commercially viable products.
Aspiring entrepreneurs may visit https://bit.ly/GoLokalApply to access all the documents and information needed to start their Go Lokal journey. Please note that applications should be endorsed by the applicant's DTI Regional Office.
Follow Go Lokal on social media to stay updated about its programs and activities.
Facebook: https://www.facebook.com/DTI.GoLokal
Instagram: https://www.instagram.com/dti.golokal/
Twitter: https://twitter.com/DTI_GoLokal
LinkedIn: https://www.linkedin.com/in/DTIgolokal/
For concerns and clarifications, please email [email protected].