SM Aura Premier has become a destination for dog lovers, with the recent opening of its Paw Park, the first outdoor pet obstacle course in Bonifacio Global City. Located at the Skypark is the Paw Park.
Located at the mall's Skypark, the obstacle course is complaint to Philippine Canine Club standards, and features 11 agility obstacles—a Double Hoop Jump, an Adjustable Tire Jump, a Tube Tunnel, an Agility See Saw, Weave Poles, an A-Frame, a Dog Walk Ramp, an Agility Walk, a Pause Table, a Wall Jump, and an Adjustable Dog Hurdle. 
The dog park also has basic amenities for dogs and their owners— a water fountain, waste bins, and benches. Park use is free with a simple online registration. For everyone's safety and comfort, dog park etiquette and safety rules will be observed—all of which are posted for reference right at the Paw Park entrance, on SM Aura Premier's website, and attached with the digital Paw Park Pass.
The opening of the Paw Park, in keeping with its theme, was a leash—instead of the traditional ribbon-cutting ceremony participated in by SM's president for engineering designs Chico Sy, SM Supermalls president Steven Tan and San Miguel Animal Health Care's Raquel Nones.
Seen enjoying the park with their adorable fur babies were Tim Yap and partner Javi Martinez with their cuties pomeranians Teacup, Babushka, Gigi and Panda; Century Tuna Super Bods 2018 winner Angel Jones with babies Koda, Rocky and Nala; and fashion designer Francis Libiran with his fashionable chihuahua Toby, who won the best dressed award during the launch.
Likewise joining in the fun were football player Chris Greatwich and family with their cool dog Marley; model and actor Fabio Ide and Ellen Fjord with their poodle Simba; song writer and corporate host Marky Stroem and Kyla Rivera with their furball Kinjo; and Nadhir Khaomi with chihuahua Paloma.
It was a day for pet parents and their fur babies: dogmoms Aziza Mondoñedo Aziza with her poodle Kiki, Willyn Villarica with Q-tip, and Pam Solilapsi Guerrero with her pom Sandy; as well as  dogdads Patrick Rosas with his imperial shih-tzu King, and Ram Bucoy with his fashionista dog Lula.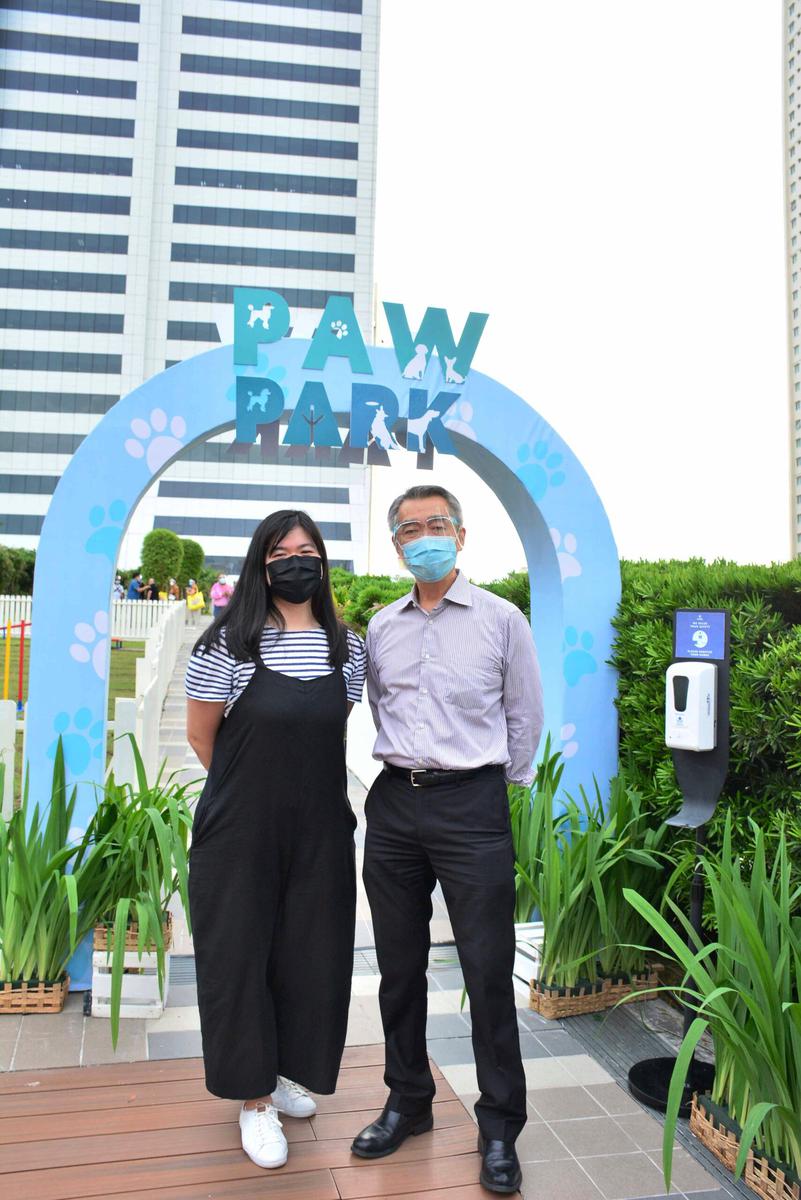 With the current pandemic, the need for safe community spaces is greater than ever. SM Aura Premier brings the solution to this need with the Paw Park—a designated venue for much needed doggy outdoor exercise and monitored socialization.
Beyond creating a place for dog owners to safely walk their pets, SM Aura Premier is set to hold Pet Markets and Workshops at the Paw Park, bolstering its commitment to keep bringing new, exciting, and safe offerings to its community in a new normal 2020.
Paw Park is located at the SkyPark, 5th level of SM Aura Premier.
For more information on SM Aura Premier's Paw Park and other Skypark offerings, visit @SMAuraPremier on Facebook and Instagram and www.sm-aura.com.