Sojitz G Auto Philippines Corporation (SGAP), the local distributor of Geely, has officially launched the 2022 All-New Emgrand, its first and newest sedan entry in the subcompact sedan market.
"The Geely Emgrand aims to continue what we have begun from our young brand. We have heard and listened to our customers and this gave us the confidence to bring in a sedan for the Filipino market. Now, we are offering a sedan that will inspire you to elevate your life, be driven and provide you a more worthy vehicle for your daily mobility needs," SGAP president & CEO Yosuke Nishi said.
This is the fourth generation of the Emgrand, after the first model was launched in 2009.  For each generation, Geely has been investing in making the Emgrand best in its class with advanced specifications and features.  Since then, the Emgrand has been a consistent best-selling sedan in China for 9 consecutive years with cumulative sales of more than 3.38 million units. The Philippines is the first overseas market to launch the Emgrand after its debut in China last year.
The All-New Emgrand is assembled in Geely's new Changxing factory, an advanced 5G smart factory in China with an unparalleled approach to intelligent vehicle manufacturing.  Its 100% automated welding operations ensure that the gap and flush of the vehicle are less than 3.5mm.  This factory also enables Geely to adopt the longest roof laser welding instead of spot weld on the Emgrand, increasing its strength by 50% and thus making the vehicle safer.  The vehicle manufacturing plant also features leading quality monitoring standards.
The All-New Emgrand adopts the B-segment Modular Architecture of the Geely Auto Group.  This platform is also used for the Coolray and is designed to exceed the criteria for 5-star NCAP safety ratings.  Also, with BMA's more than 5 million kilometer test mileage, higher reliability and durability are expected from the Emgrand.  BMA also enables Emgrand to achieve bigger space with its wide body, better riding comfort, and achieve better control and stability.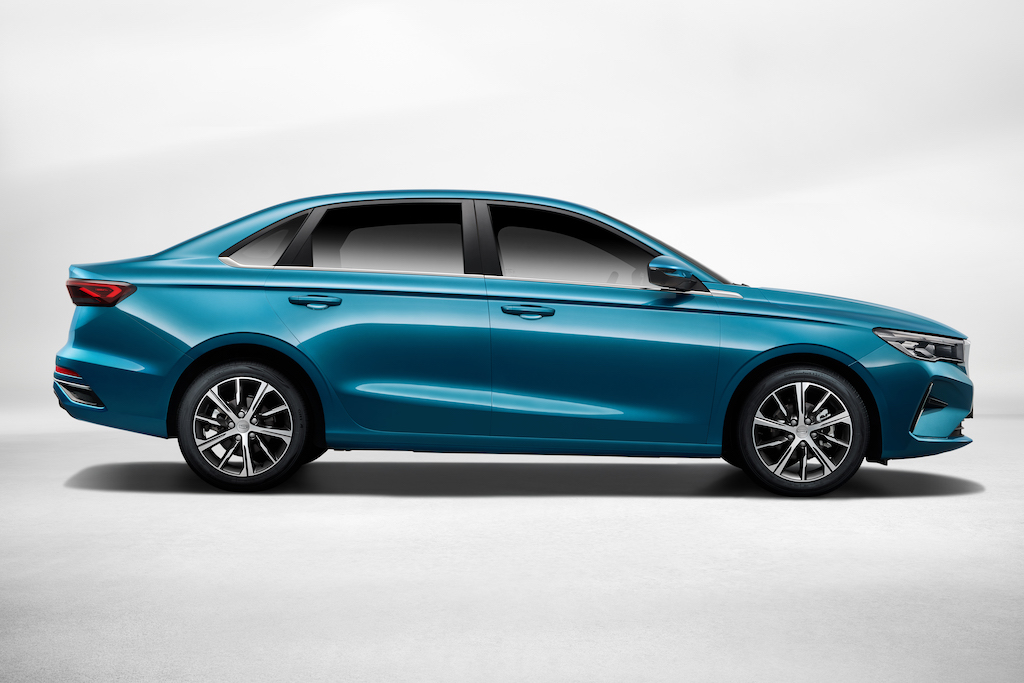 POWER
The new Emgrand is powered by a new 1.5 liter Dual Continuous Variable Valve Timing normal aspirated engine which delivers 102-horsepower at 5,600rpm and 142Nm of torque.  The engine is lightweight due to its all-aluminum alloy cylinder block and is supported by a timing chain for maintenance-free and a longer life span.   The engine is mated with an 8-speed continuous variable transmission (CVT) which delivers better acceleration with fewer shift shocks and responsive operation.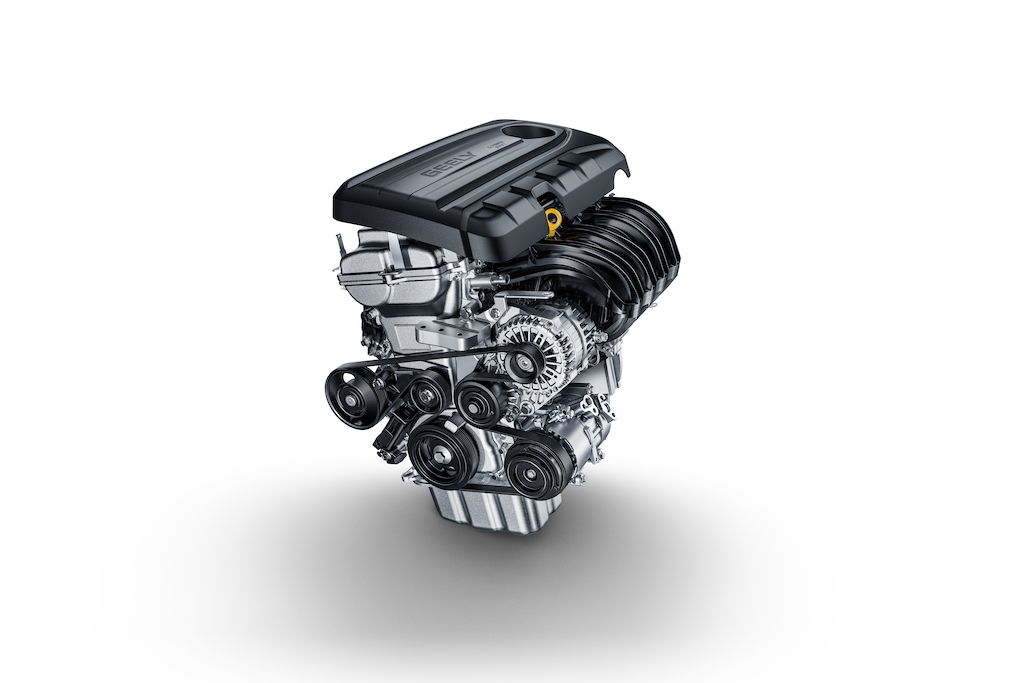 DESIGN
Geely designers have created a design that evolves on the new generation of fashion which is based on the concept of "polar light and shadow aesthetics" creating the first wide-body, low-lying style of the B-segment sedan. Complementing the refined and luxurious character, Geely designers have adopted the new "Energy Pulse" radiator grille. Emgrand is also equipped with Projector LED headlamps (Premium variant) and, LED daytime running lights that have welcome lights and a 'follow me home' feature which will give proper illumination when going near or stepping out of the vehicle. It also has an auto-on feature that allows the headlamps to illuminate when driving conditions gets gloomy.   For the rear, sharp rhythmic taillights give more accent to the vehicle. The rear combination lamps feature 190 LED bulbs which project 3 unique light patterns when you lock or unlock the car.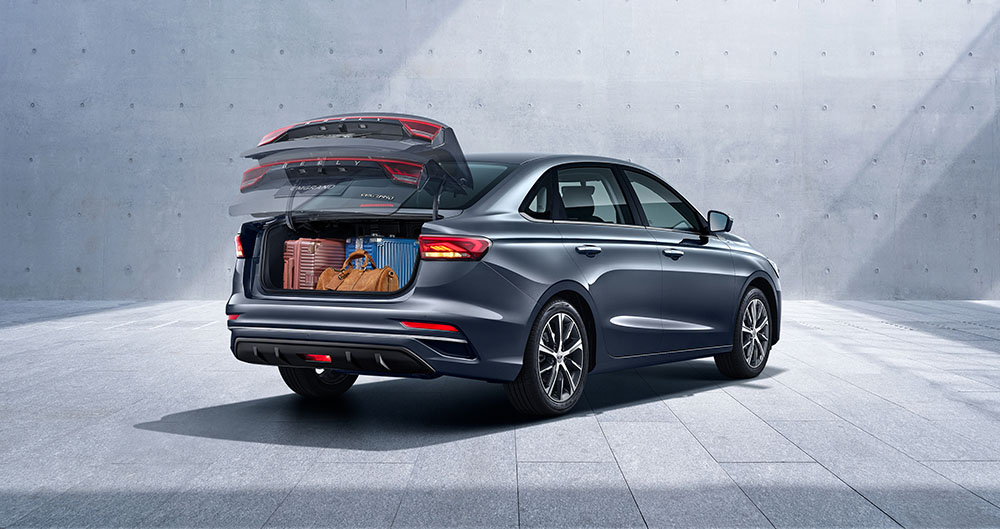 COMFORT AND SPACE
Inside, you will surely be greeted with the comfort and luxury of the Emgrand.  For one, seats are made of memory foam with light luxury suede and environment-friendly imitation leather material combination (Premium).  The dashboard and door panels are also made of plush and soft cladding materials instead of the usual hard plastic.  The steering wheel is also wrapped with constant temperature leather material to ensure that it does not feel hot even if you leave the car exposed under direct sunlight. The Emgrand guarantees a worthwhile ride for your passengers as it offers the best seating space and large headroom to fit 3 adults comfortably. Generous amounts of storage spaces and a trunk that can accommodate 500L volume with room for more as the rear 60:40 split back seats lay flat.  In addition, a quieter and more relaxing ride is expected as NVH is kept at the minimum level which is even lower than luxury European brands.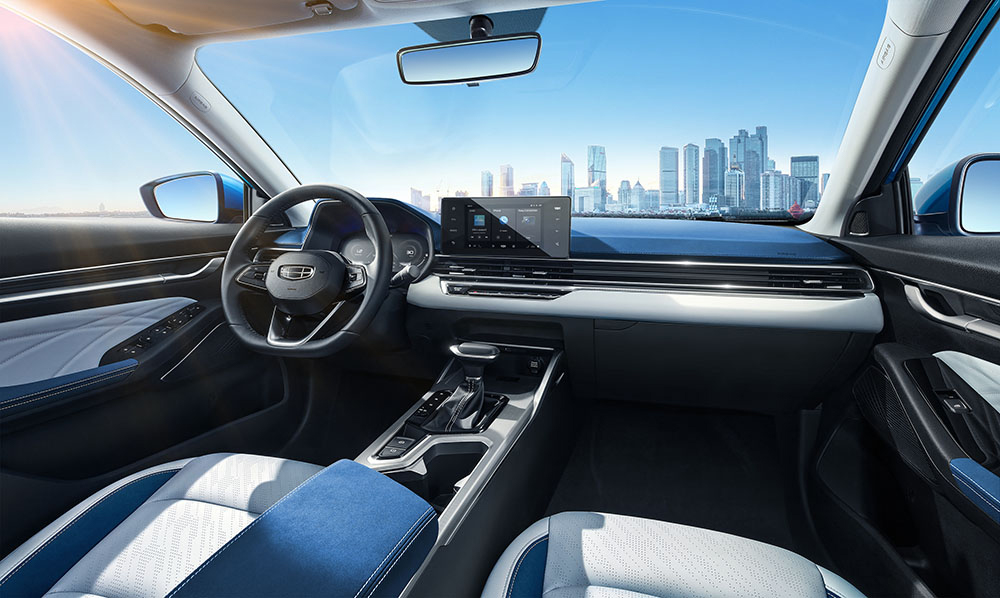 CARE, SAFETY and TECHNOLOGY
Geely has incorporated distinct health and safety technologies on the new Emgrand. As various auto brands race against each other towards electrification, connectivity, intelligence, and shared mobility, Geely has also committed itself to developing automobiles that help protect the health of its drivers and passengers. Geely has started to build cars using zero solvent, water-based adhesives that are environmentally friendly and safe for inhalation by its occupants. The new Emgrand also features a unique Intelligent Scene Air-conditioning System to which aids in deodorizing capability, making the air fresh all the time. This is indeed practical on occasions such as entering the car after being exposed to sunlight for quite some time, not using the car for a long time, or just even starting the car in the morning where stuffed air was trapped overnight. The aircon is also equipped with a CN95 filter that ensures that the air going inside the cabin is free from viruses and bacteria.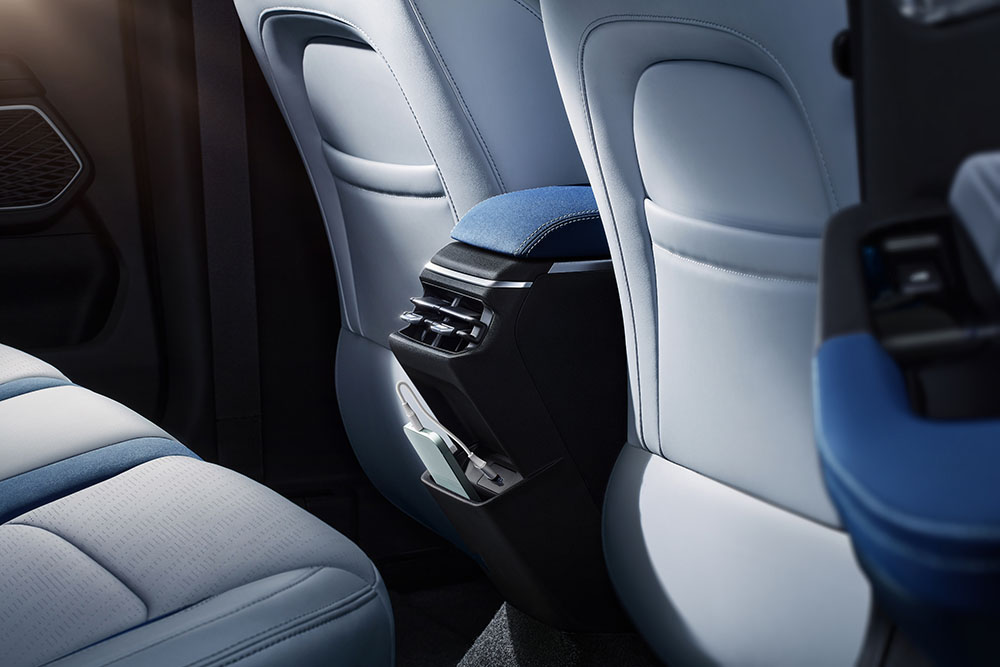 Apart from the active and passive safety features such as ABS with EBD, Electronic Stability Program, Traction Control, Hill Hold Control, Electric Parking Brake with Auto hold, Six Airbags (Premium), the Emgrand features 3 ultra-sonic reversing radars and high definition wide-angle reverse camera (Premium), Real-time Temperature and Pressure Tire Monitoring System and now a unique Rear Intelligent Monitoring System that gives you a reminder to check the rear seats before getting off the car.  This alert proves to be useful in situations when you have to load something on the rear seat just before driving off and ensure that you don't forget it after you arrive at your destination.
In terms of driver information and entertainment, Emgrand (Premium) supports a 12.3-inch digital meter which has a 3D interface and high-definition display that supports various driving information.  Meantime, an 8-inch HD central screen is also standard to support entertainment and control of functions of the car such as shifting driving modes from Eco, Comfort, or Sport, opening, and closing of the sunroof (Premium), and accessing other intelligent features of the aircon.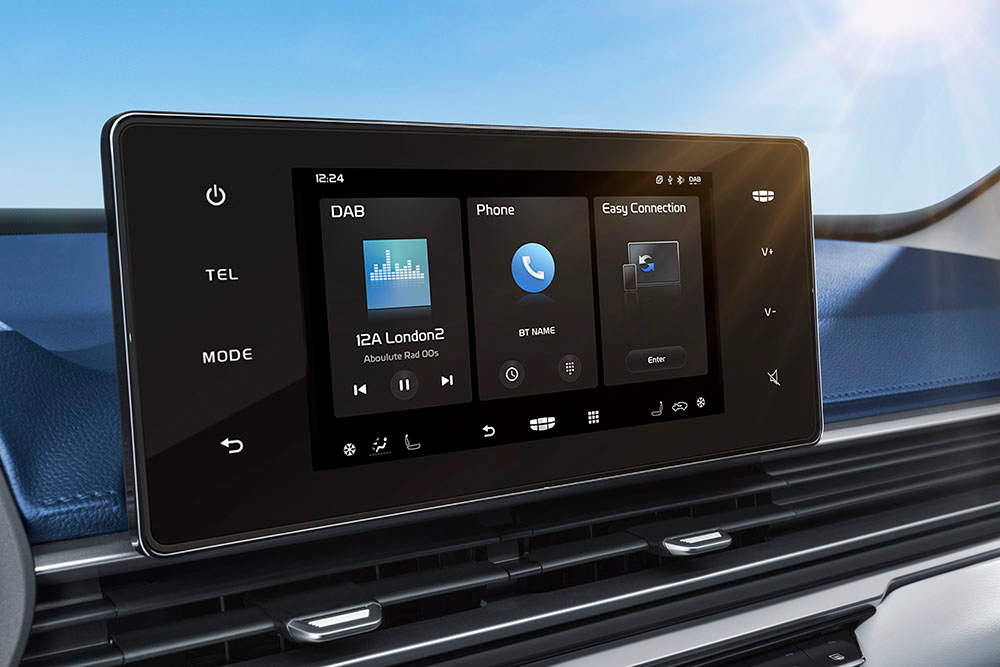 The strategic entry of Emgrand in the Philippines following the three SUVs is seen to beef up Geely's currently strong sales standing in the industry. With only three models in the lineup, Geely PH saw its sales almost tripled in 2021 with 6,104 units sold. This was a significant increase of 182% from the 2,158 units in 2020. Based on the CAMPI and AVID reports, Geely Philippines has maintained the 9th spot in total industry sales but has increased its overall market share to 2.1% which is more than double compared to the previous year's 0.9%.       
The All-New Emgrand comes in six colors: Proud Teal, Dark Blue, Gold, Gray, Red, and White. The Suggested Retail Prices for the Emgrand are PHP908,000 for the Premium variant and PHP798,000 for Comfort. It comes with a 5-year warranty or 150,000 kilometers whichever comes first.
During this launch period, customers who will purchase the Emgrand will automatically get a PHP50,000 discount and a Free 1-year Periodic Maintenance Service inclusive of parts, oil, and labor.  Moreover, those who will reserve or purchase an Emgrand now until May 31st automatically get a raffle entry for a chance to be one of the 3 lucky winners of PHP250,000 savings or rebate.