Isuzu Philippines Corporation (IPC), the official distributor of Isuzu vehicles, continues to expand its dealer network with the opening of a new dealership in Calapan, Oriental Mindoro, while breaking ground for another one in Bacoor City, Cavite.
Isuzu Calapan
Isuzu Calapan, owned and operated by Mina de Oro Motors Incorporated, is situated in Km. 9 Nautical Highway, Puting Tubig, Calapan, Oriental Mindoro. It is the first dealership to implement the new showroom design concept.
Calapan is the center of trade and commerce, agriculture industry, transport and communication in Oriental Mindoro. Isuzu Calapan will cater to the growing business of the province.
The new dealership includes an extensive showroom that can house two trucks and four passenger vehicles. It has wide service bay slots to accommodate heavy-duty trucks. It also offers genuine Isuzu spare parts. I
Mr. Daniel Uy, president of Mina de Oro Motors Incorporated, remarked: "We are happy to further boost the Isuzu brand and provide easier access for the residents who want to use dependable and economical vehicles, both for personal and business use."
Isuzu Bacoor
Bacoor City is strategically located 15 kilometers southwest of Manila on the southeastern shore of Manila Bay. It is one of the fastest-growing gateways to metropolitan Manila. It is considered an ideal location for businesses that aim to reap the benefits of heightened economic activity in both Metro Manila and the Calabarzon (Cavite-Laguna-Batangas-Rizal-Quezon) growth corridor.
The Isuzu Bacoor dealership will be operated by Isuzu Automotive Dealership Inc (IADI). It is located at Lot 4652-B along Molino Boulevard, with a total land area of over 4,000 square meters. It will showcase Isuzu's latest showroom design, featuring 6 light commercial vehicles and 2 truck service bays.
Wholly owned by Ayala Automotive Holdings Corporation, IADI has been an authorized dealer of Isuzu commercial vehicles since 1996 and now has a nationwide network of 9 dealerships.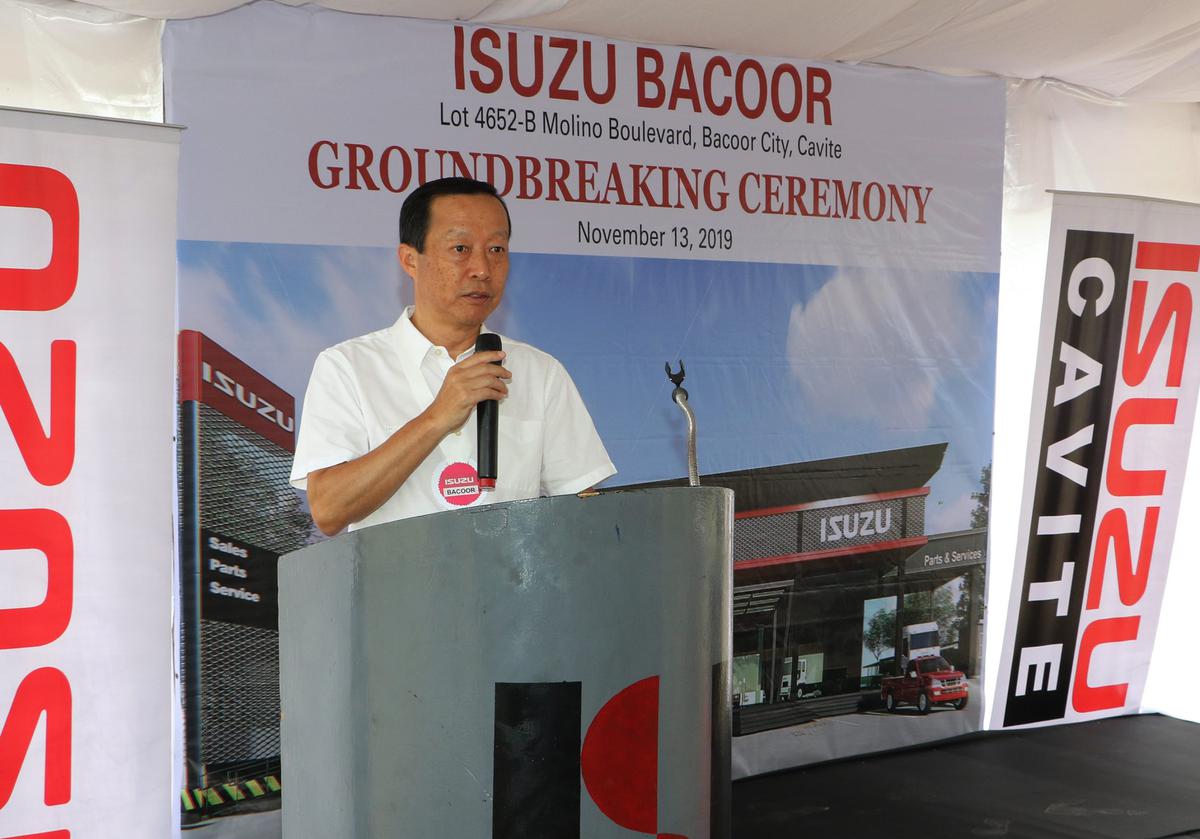 During the ceremony, IPC president Hajime Koso remarked that the time was appropriate for IPC to establish its newest dealership in the city. He noted, "I see the current potential of Bacoor. Business activities are booming, especially in retail, banking, service and manufacturing sectors. That is why Bacoor has the highest family income in the province of Cavite, making the city an ideal place to establish small and medium-sized businesses."
For more information about IPC and its roster of products and services, log on to www.isuzuphil.com, or visit any Isuzu dealership near you.