Mitsubishi Motors Philippines Corporation (MMPC) has formally unveiled the much-anticipated New Xpander. This latest iteration of the brand's best-selling model redefines the MPV segment sporting a more advanced and progressive look while combining luxury and comfort akin to larger SUVs.
"We are excited for Filipinos to finally be able to see in metal the New Xpander. Mitsubishi Motors wanted to further evolve the Xpander and assert its number 1 position in the market. We have enhanced its unique selling propositions while upholding the traits that have made it the MPV that it is today. Expect a reimagined ride that will tap into your adventurous spirit and re-excite you to hit the road and go outdoors," said MMPC president and CEO Takeshi Hara.
Design
The New Xpander was developed to exude more "active" and "tough" characteristics. Starting with the exterior, the front embraces a more horizontal structure with the addition of 3-dimensional skid guards. Evident are the new black metallic radiator grille and the now signature T-shape headlight with a restyled LED daytime running lights (DRL) and turn signal.
The back also shows off an upgraded appearance with the adoption of a homogeneous T-shape taillight unto the reshaped bumper as well as tailgate garnish and glass. On the sides, the bigger 17-inch wheels and larger side sill garnish are prominent.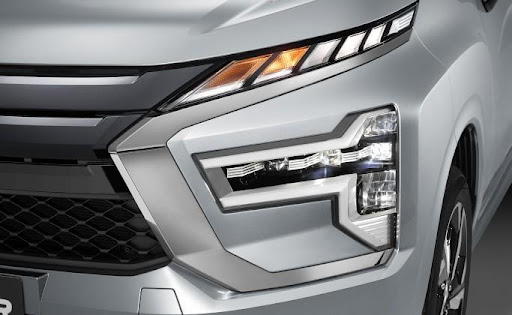 Stepping inside, Mitsubishi's Design Identity of "Horizontal Axis" was applied to the New Xpander's dashboard for a more robust feel. This is complemented by accents of soft padded materials with real stitches. At the driver's seat, the tilt and telescopic steering wheel, aside from its now more modern styling, has been restructured with a compact center to enable a better grip. Behind it, a new meter cluster and dynamic opening graphic have been incorporated.
Comfort and peace of mind
Hard to miss on the New Xpander is the patented 7-inch Smartphone-link Display Audio (SDA-3), a touchscreen infotainment system that supports hands-free functions and is compatible with both Apple CarPlay and Google Android Auto. At the bottom of it is a new digital LCD A/C panel that was made not only to match the overall aesthetic but also to be easy to understand. For improved convenience, the front console has been converted into a larger capacity open tray while still having a 12V outlet and USB port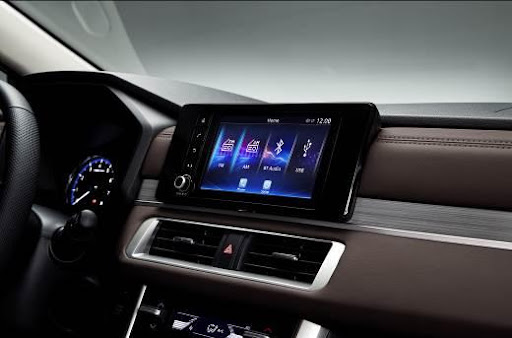 Down the center is the new floor console with armrests that can hold a tissue pack on the back of its lid and four 600 ml-sized bottles in the main space. The layout of the console cupholders has been reoriented sideways and now with a larger circumference. All these offer better organization and maximization of space.
In the second row, it can be seen that the two rear USB ports now have 1 TYPE-A and 1 TYPE-C embedded on the back of the console. The rear A/C dial and louver now also have more inviting colors and cup holders have been placed on the seat armrest. All these form part of the improvements to overall ergonomics. Customer favorites such as the easy-folding seat mechanisms, front row and luggage under trays, multi-function seat-back pockets, and third-row power outlets can still be found.
With all seats up, the 7-seater New Xpander has more than enough room for full-size adults plus luggage. Configured to have more hip-width and ample room from the head to toe while being able to fit four 4-gallon water bottles or a stroller directly behind the last row. Whereas when folded, a flat cargo deck with no sticking up bits or gaps can be utilized. Versatility at its finest, making it easier to transport bikes, potted plants, or even furniture as needed.
Still the only one in the category equipped with Cruise Control, that aid in reducing fatigue on long trips. A reverse camera has also been included to help provide more visibility while backing up.
Drivability and utility
Steering and suspension settings have also been optimized in the New Xpander. The enlarged rear absorber, along with extra front and rear springs and high-performance valves, results in a flatter and more comfortable ride even on winding roads. Moreover, a steering wheel return control was integrated for better maneuverability at low speeds to relieve driver stress.
Electronic Parking Brake (EPB) and Brake Auto Hold (BAH) buttons are now part of the shift panel. For increased relaxation particularly during traffic situations, the former allows the brakes to be stepped on with less force, and the latter, if stationary, does not require a foot down on the pedal. These together with Active Stability Control (ASC), Hill Start Assist (HAS), and Traction Control (TCL) now come standard for automatic transmission variants.
The New Xpander continues to be the best in its class when it comes to ground clearance. Increased to 225-mm, this gives the driver a higher eye-point for better recognition of road conditions and added confidence, especially during floods. Under the hood is a 1.5 MIVEC DOHC 16-valve with 103 hp and 141 n-M torque. Ever-reliable with respect to fuel economy while being assured of a powerful performance.
The retail price starts at PHP1,030,000 with 5 color options which are White Pearl, Graphite Gray, Black, Red, Sunshine Orange, and the newest Blade Silver Metallic. For a more in-depth look at the variants, check out the brand's official website or view it at any Mitsubishi Motors authorized outlet.