Getting around the city can be a chore. Next to the traffic, long lines, and fuel costs, there are painfully few options to make the journey to and from school or work bearable. Unless, of course, you choose a scooter. With the convenience of being able to squeeze through gaps in traffic, a small footprint, and superb fuel efficiency, a scooter is a great solution to the problem of inter-city travel. Within the world of scooters, few brands offer the reliability and comfort of a Honda–it's the segment they built their name on–and within their stable, there remains nothing quite like the Click 125i.
The heart of the Click 125i is a 125cc, single cylinder, fuel injected, four-stroke engine. This delivers unparallelled fuel efficiency perfect for moving around in the city. Honda puts the fuel consumption of the scooter at a staggering 53 km per liter–a number that through the different models of Click, we are inclined to believe. The liquid-cooled is first in its class, delivering great power, and Honda's renowned reliability.
Impeccable styling, with sharp lines and bold decals that set it apart from other scooters in its class, are complemented by a full digital gauge cluster that offers real-time fuel consumption, a battery and change oil indicator, trip meter, and a digital clock, all in a bright, easy-to-read display. When nighttime hits, the Click's all-LED lighting system cuts through the dark, illuminating the road with clean, white light. Honda's combi brake system and park brake lock round off the feature set, and make it a great option, even for new riders. Massive underseat storage means you can store anything, including a whole helmet, with no difficulty, and a new muffler design gives the Click 125i a sporty, more aggressive look.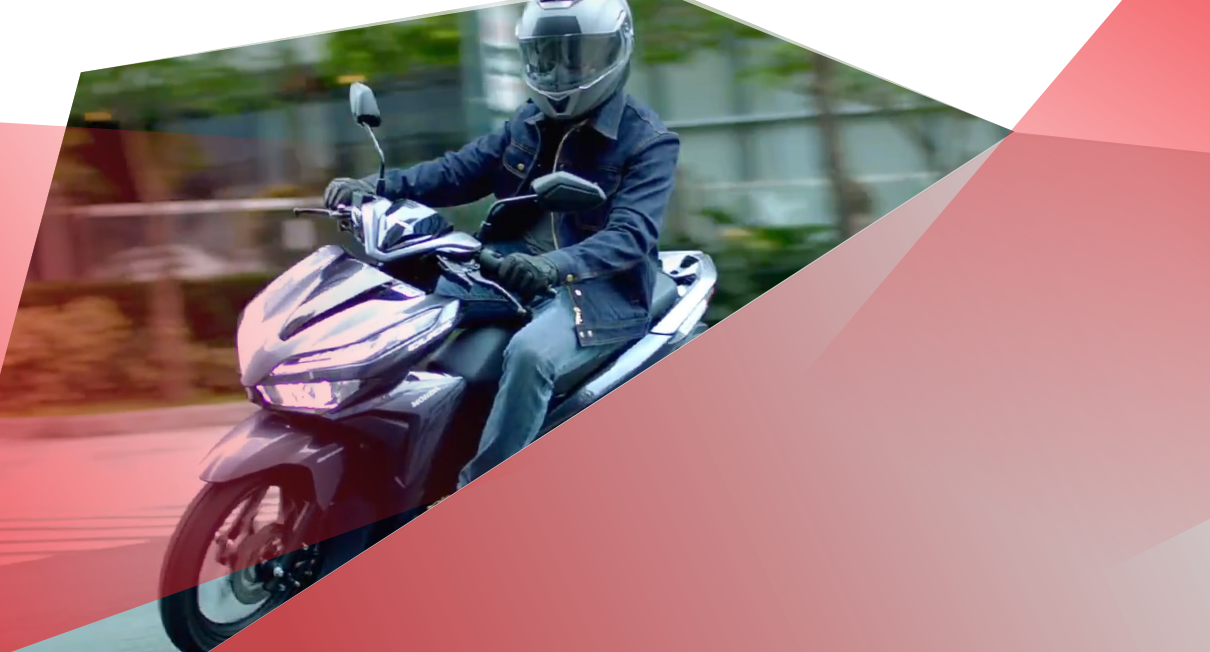 While specs on paper are one thing, nothing compares with being able to spend a little time in the seat of a new bike. We were given the opportunity to try the Click 125i ourselves, and of all the scooters we have had the pleasure to try, this came up as one of our favorites.
The roomy seat, close reach and wide stepboard delivers a comfortable riding position for even longer rides, without compromising handling. Despite being on the shorter side at 5' 4, I had no difficulty being able to set my feet down on the road once I came to a stop, and the reach from the seat to the handlebars proved to not be a problem in the least.
As advertised, the huge digital gauge cluster made checking the bike's status dead easy, and I really appreciated the real-time fuel efficiency reading, for keeping my riding in check. Of all the creature comforts though, the best one has to be the massive storage space Honda engineered into the bike. Fitting a 2XL helmet, a daily bag, or several bottles of water was no problem. I prefer to be unburdened by a bag while I ride, and once I park, being able to leave my helmet with the bike is something I will never take for granted, ever.
The engine on the Click 125i is great. Tuned for city riding, it has all the zip you need to pull fast from a stop or low speeds. Overtaking, getting out of tough spots, and accelerating away from traffic all prove to be no problem for the little powerplant. Agility is likewise a plus. Sharp handling and a profile that handles much slimmer than it looks allowed me to get in and out of right spots without having to think too much about what I was doing, and tight, responsive braking gives even new riders the confidence to ride to work or school in no time flat. If there was something I would change, it might be the combi brake system, as I like being in control of both brakes separately. I can't argue with the safety and convenience it gives to new riders though.
All in all, the Click 125i is a great commuter. Small, agile, powerful, and with massive storage space, this is a bike any city-dweller should consider.
Also published in GADGETS MAGAZINE February 2019 Issue.
Words by Ren Alcantara