Honda Philippines Inc. (HPI), the No.1 motorcycle manufacturer in the country, rolled out show-stopping surprises at the 2023 Makina Moto Show last April 14 to 16 at SMX Convention Center in Pasay City.  HPI was excited to introduce the new president, Sayaka Arai. With her extensive experience and leadership skills, Arai is poised to guide the company toward a future of innovation and growth. HPI welcomed her at the Makina Motoshow, where she made her first public appearance as President of Honda Philippines, Inc.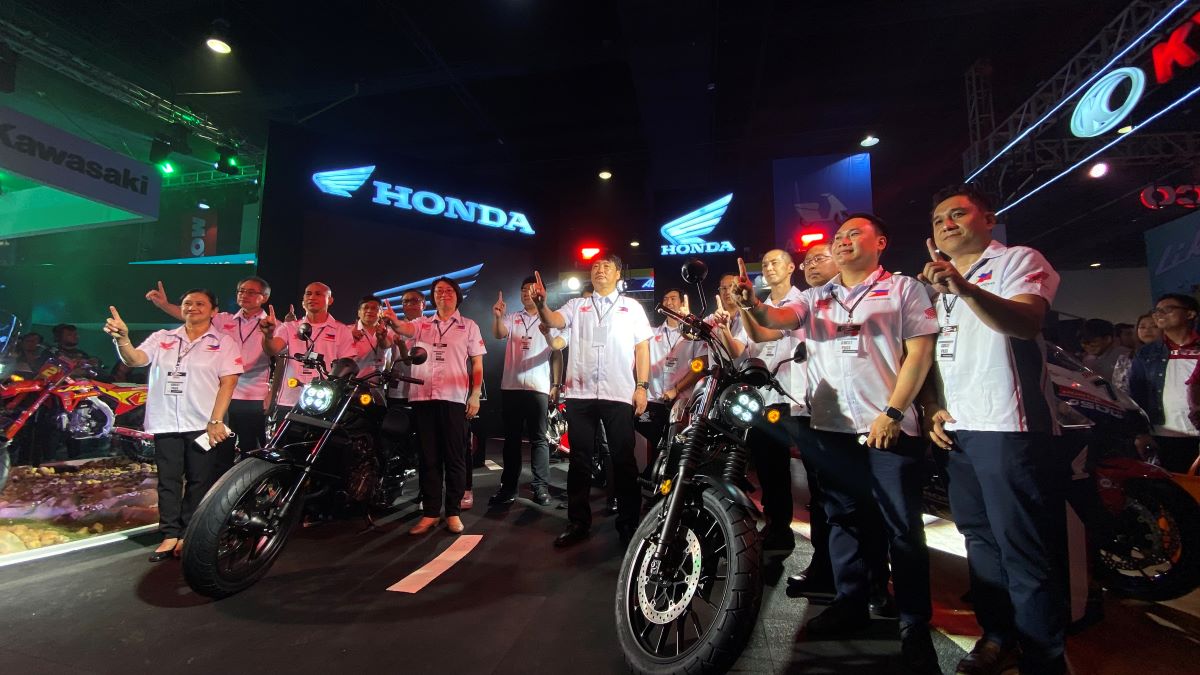 Tagged as the biggest annual gathering in the 2023 Philippine motorcycle scene, the Makina Moto Show has always served as an avenue for HPI to spotlight its existing and upcoming motorcycle models.
Since the beginning, Honda has continued to improve and develop motorcycles thru Motorsports, starting from "The Isle of Man TT" and now the "MotoGP". Improving the motorcycle products based on its history and having to offer racing enthusiasts products thru its Racing DNA that they could enjoy and experience the excitement and thrill of racing worldwide.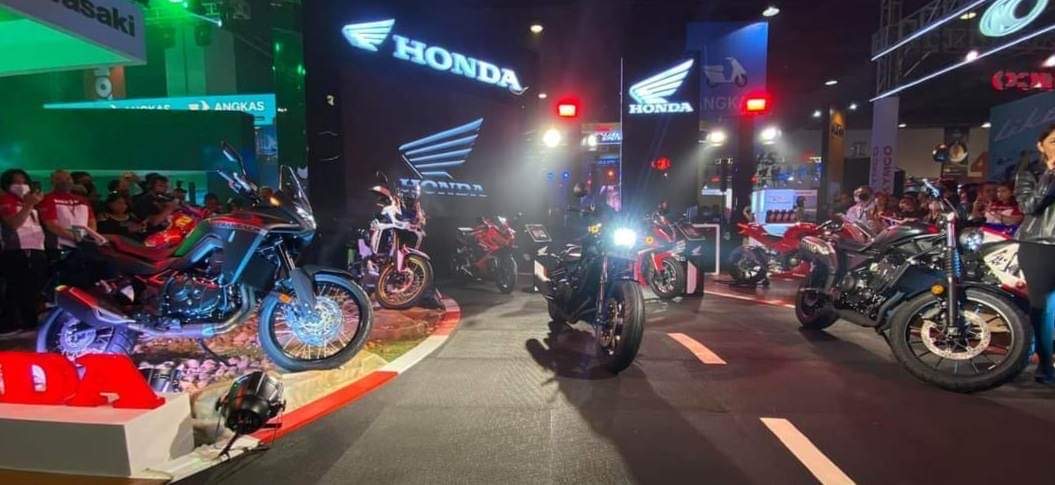 Also, this was proven with the performance of the CBR1000RR-R FireBlade SP thru racing in last year's Asia Road Racing Championship participation and winning in the ASB1000 thru Honda Asia Dream Racing with Showa and 2nd Place thru HARC-Pro Hondaph. Now with the partnership with HARC-PRO, HPI is starting to strengthen Motorsports not only in International but also in domestic racing.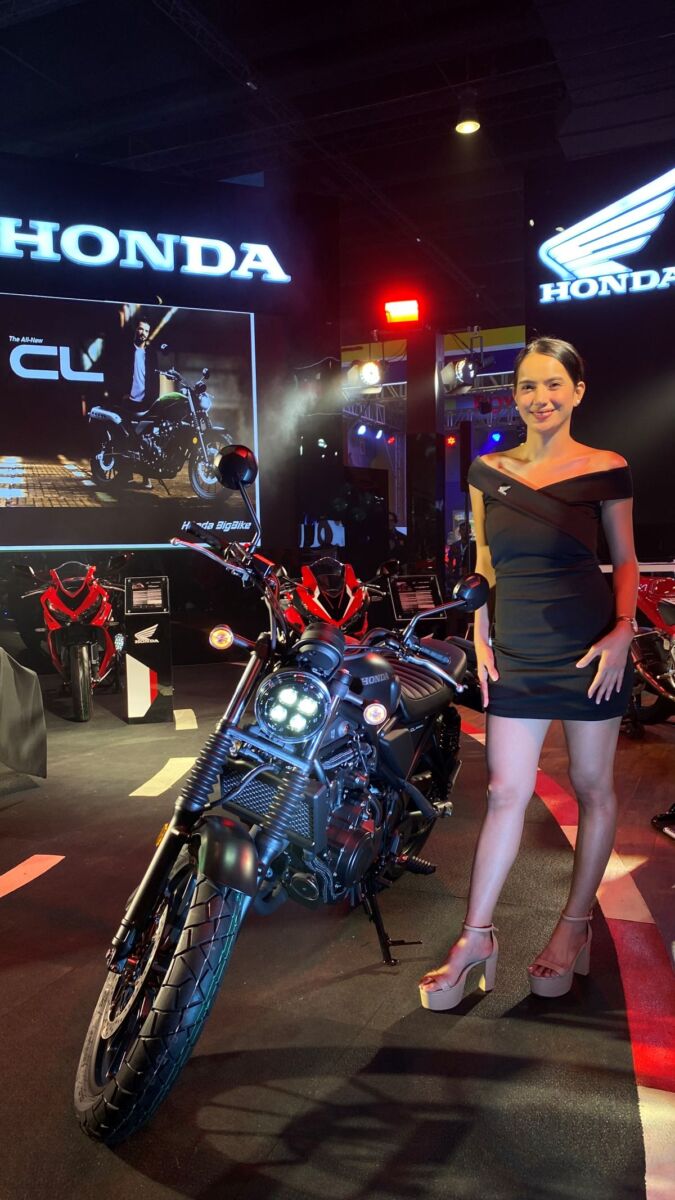 "There is simply no bigger gathering among Filipino motorcycle enthusiasts than the Makina Moto Show, that is why, we at HPI always treat it like the big event it truly is," says HPI vice president for MC Sales Jomel Jerezo. "The launches and surprises we have prepared for this year's showcase serve as our expressions of gratitude for the unwavering support of Honda enthusiasts. We promise to reciprocate that love by developing more cutting-edge Honda motorcycles that resonate with their needs and the times."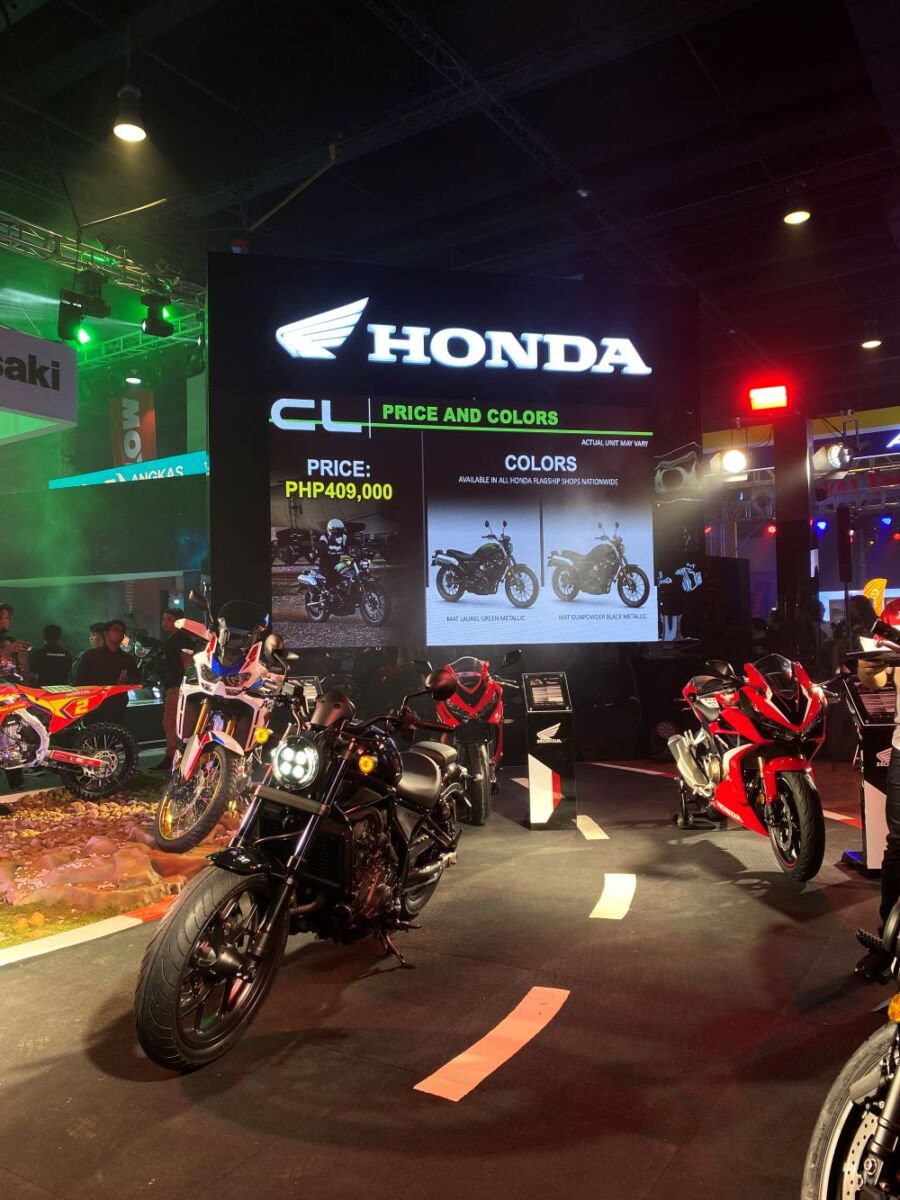 In terms of its highly anticipated motorcycle showcase, HPI pulled out all the stops with a huge collection of motorcycles, including three new launches. Here are the HPI On-Road & Off-Road motorcycles showcased at the 2023 Makina Moto Show:
Super Sports Series
A clear favorite among visitors at the Makina Moto Show was four Super Sports motorcycles from HPI.
First is The CBR300R, branded as the "lightweight champion." This motorcycle is also a race bike machine, as it presents the best sport bike experience in a size that makes it even more fun to ride. Powered by a 286cc displacement, Liquid-Cooled, single-cylinder, 4-stroke engine, you are sure to breeze through city traffic and twisty roads.
Rounding up HPI's featured Super Sports models was The CBR500R. A middleweight sports bike style motorcycle, The CBR500R goes from street to sport in a snap with its 471cc displacement, Liquid-Cooled, 4-Stroke, DOHC, Parallel Twin engine.
Lastly, The CBR1000RR-R Fireblade SP is a race bike machine. This beast embodies the essence of Honda's proud MotoGP racing lineage. It's shot straight out of a cannon with a roaring 1,000cc displacement, Liquid-Cooled, 4-stroke, DOHC, inline 4-cylinder engine that genuine speedsters would love.
Off-Road Series
The HPI Off-Road motorcycle presented at the 2023 Makina Moto Show was The CRF1100 Africa Twin, a model that truly elevates the thrill in every off-road expedition. With the heritage of dominating rally races, this iconic dual-sport endurance bike makes a comeback in earth-shaking style. Nimble as it is powerful, this tank on two-wheels now sports a 1,083cc displacement Parallel-Twin engine with 270° Crank and Uni-Cam engine that delivers torque everywhere from idle to redline, and Honda's automatic Dual Clutch Transmission (DCT) and Electronically-controlled suspension (ES).
This ride is said to be born in the desert but is ready for anywhere. An additional Off-Road motorcycle presented was The All New CRF450R. It is a direct descendant of the legendary CR250M Elsinore, launched fifty years ago and changed motocross forever. The All New CRF450R carries the proud tradition with a modern build and a 450cc liquid-cooled Unicam single-cylinder engine, perfect for today's tracks.  This motorcycle is a masterpiece of engineering efficiency and performance, and after winning the MXGP World Championship on their 2019 bike, they then completely redesigned the entire machine and repeated the success as Tim Gajser won his fourth world title in 2020 on the new CRF450R, with a fifth championship following a couple of years later in 2022. The All New CRF450R, which is being used by the Legendary Rider and Coach for Off-Road Racing Jovie Saulog of  JMS- MOS (Man of Steel)  – Honda Ride Red Racing Team.
Aside from showcasing existing models, HPI also introduced three new Big Bike models that captured the fancy of everyone.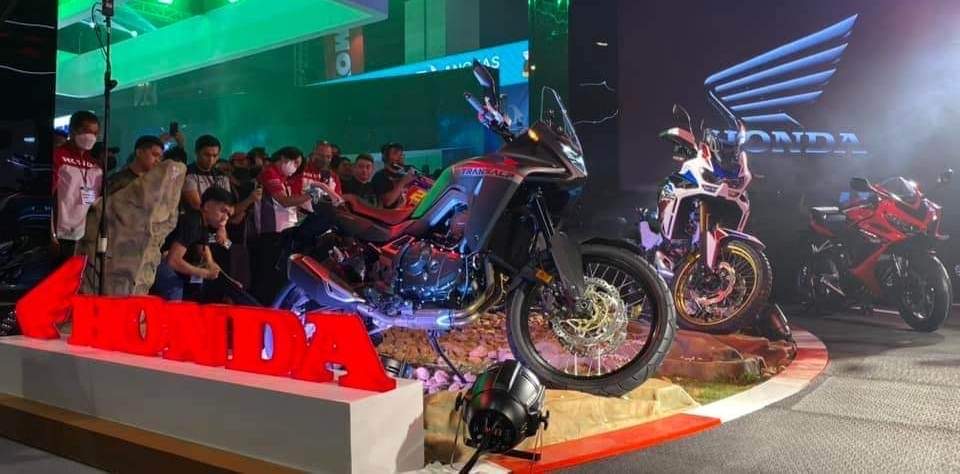 Adventure Series
Fans of the HPI Adventure category also got to celebrate a new model launch with The All-New XL750 Transalp. Designed with the traits of simple, sleek, and tough in mind, the XL750 Transalp features a class-leading steel diamond body frame and a signature functional windscreen. In terms of performance, it's powered by a 755cc displacement, Liquid-Cooled, 4-Stroke, OHC, 8-Valve Parallel-Twin with 270° Crank and Unicam engine.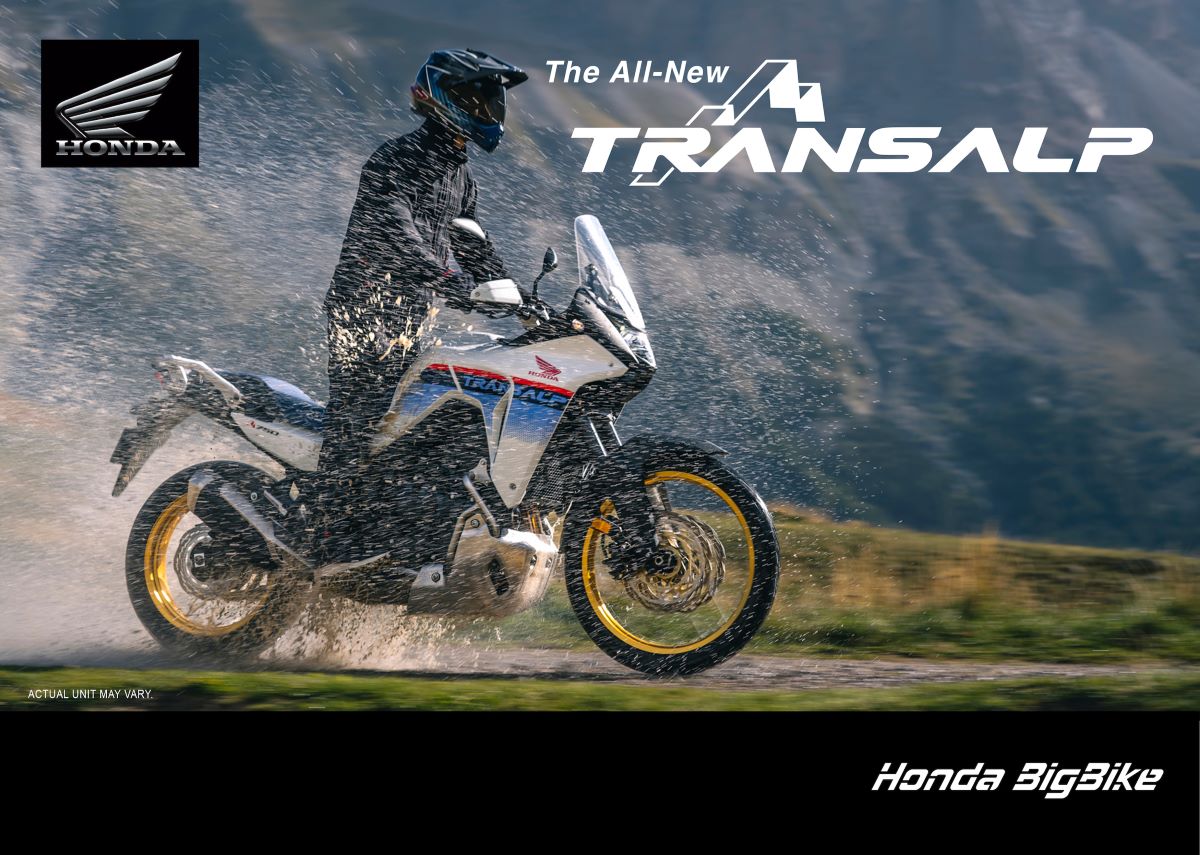 The All-New XL750 Transalp is available in two color variants: Ross White and Matte Ballistic Black Metallic.
Tourer Series
The All-New CL500 under the Tourer category *Scrambler. Featuring a head-turning street scrambler style, this new model presents a smooth and rounded 12L fuel tank with a tubular diamond-structure steel frame and a scrambler seat design. It's a masculine look that performs with a 471cc displacement, Liquid-Cooled, DOHC, 4-Stroke,4-Valve, Two-Cylinder engine with 6-speed manual transmission.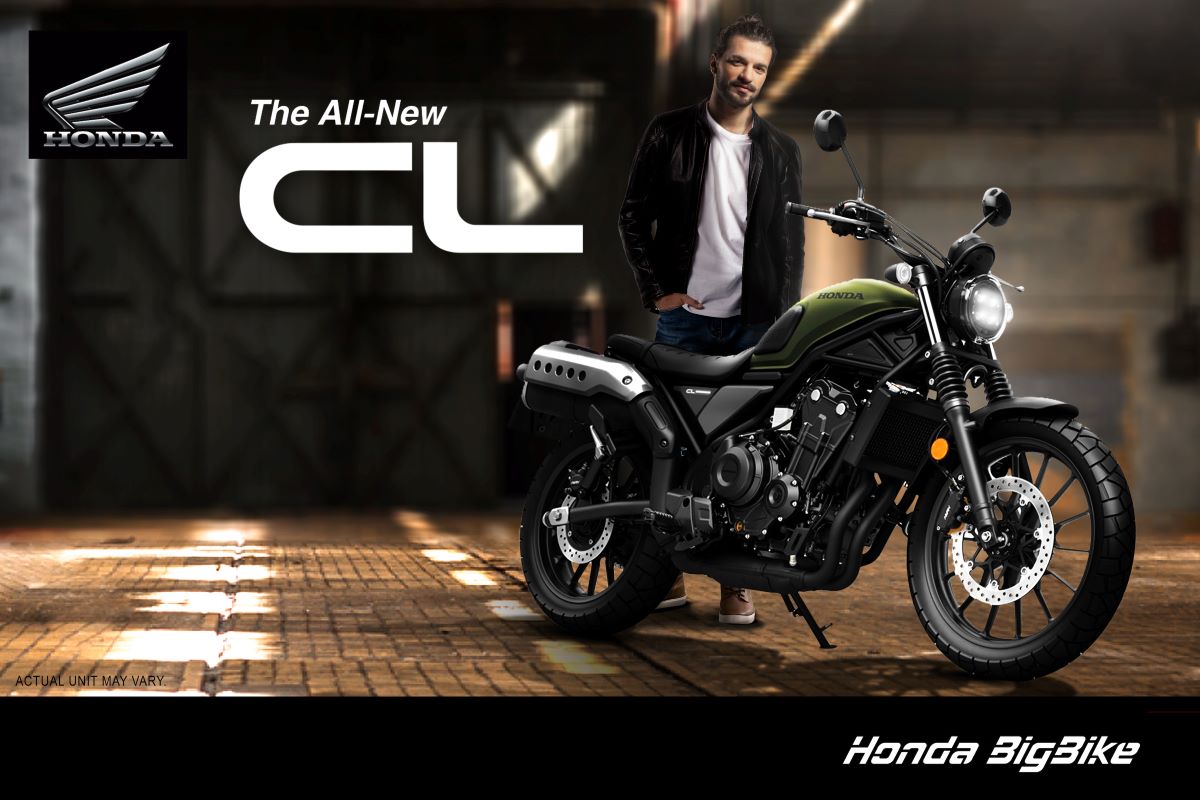 The All-New CL500 comes available in two color variants: Matte Laurel Green Metallic and Matte Gunpowder Black Metallic.
HPI launched another surprise new model, The All-New Rebel1100. A certified Tourer motorcycle, it offers a modern-day custom style and riding comfort that comes across as classic, cool, and tough. It absolutely roars as well with a 1,083cc displacement, Liquid-Cooled, 4-Stroke, SOHC, 8-Valve, -Twin with 270° Crank and Unicam engine.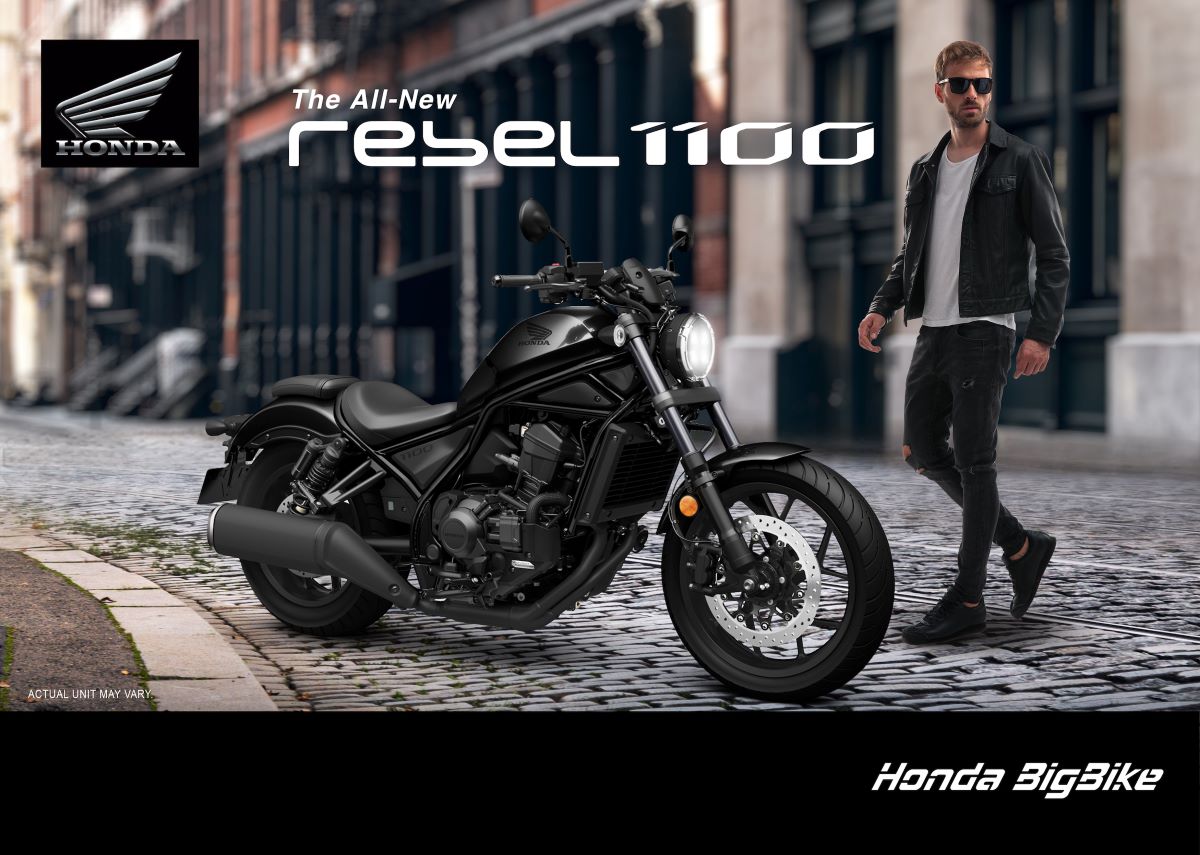 The All-New Rebel1100 is available in two color variants. There's Gun Metal Black Metallic and Iridium Gray Metallic.
These 3 new Big Bikes are exclusively available at Honda Flagship Shops nationwide.
For more information about HPI, visit www.hondaph.com. Stay updated on Honda's newest products and promos by following Honda Philippines, Inc. on Facebook and Instagram (@hondaph_mc), or contact (02)-8581-6700 to 6799, and 0917-884-6632.