Coming from Suzuki's range of high-performance sport adventure tourers is the lightweight versatile crossover, the all-new Suzuki V-STROM 250 SX, Master of Adventure.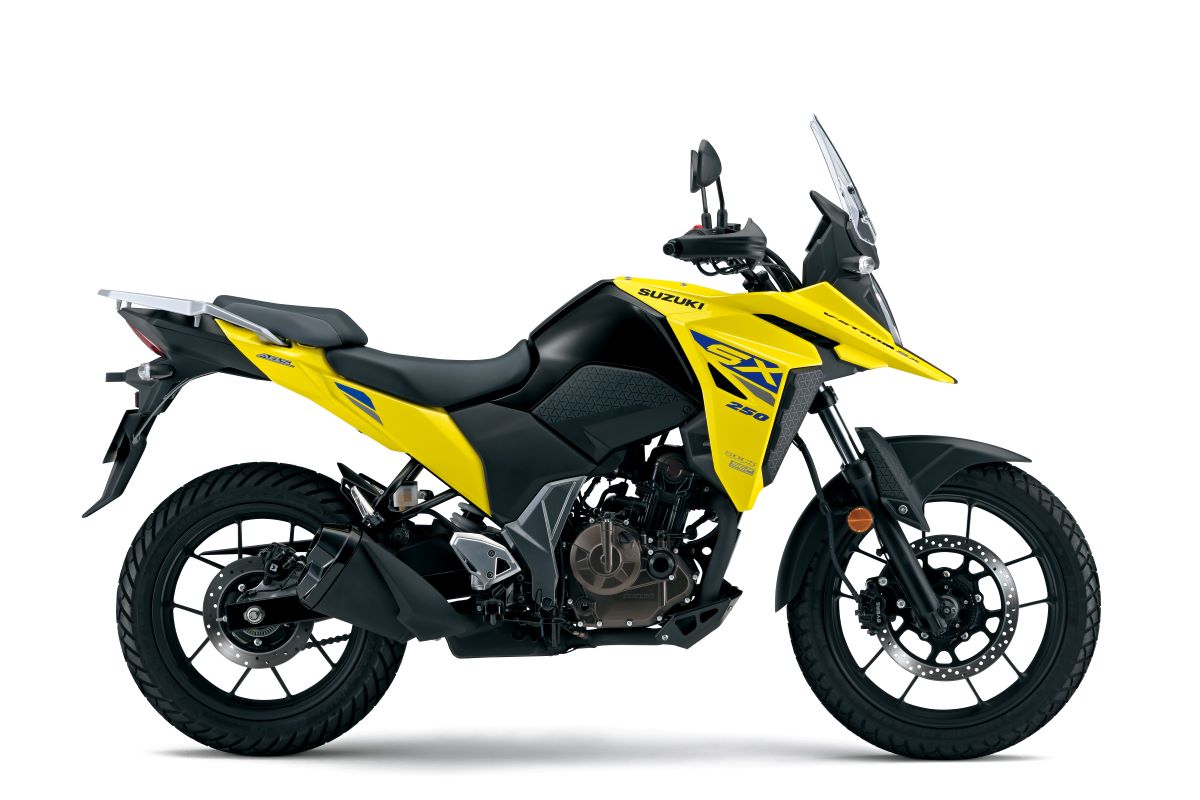 For over two decades, riders have chosen Suzuki V-STROM motorcycles for their commuting, sport touring, or long-distance adventures. Now, Suzuki brings to the Philippines the mid-range V-STROM 250 SX! Choose your daily adventure. Take on the streets, wander the open roads, and conquer the rough courses with its powerful engine, lightweight design, and signature eye-catching looks.
Advanced technology
At the heart of the V-STROM 250 SX is Suzuki's Advanced Technology. It is powered by the highly reliable Suzuki Eco Performance, Fuel Injected (SEP FI) 250cc, 4-stroke, single-cylinder, 4-valve, Single Overhead Cam engine that saves fuel yet offers brisk, smooth performance, making it an excellent partner for various kinds of riding. The engine is lightweight, taken from the design of Suzuki's MotoGP machine resulting in an overall weight reduction—giving it a quick, easy-handling ride characteristic, alongside fuel economy. The SEP Fi engine also features a weight-saving and friction-reducing technology to allow for both fuel consumption and excellent power characteristics, resulting in brisk acceleration; even with minimal use of fuel in the process. The V-STROM 250 SX uses the Suzuki Oil Cooling System (SOCS) which warms up the engine quickly and keeps it at the optimum temperature for ideal temperature management. It also consists of few parts for easy maintenance.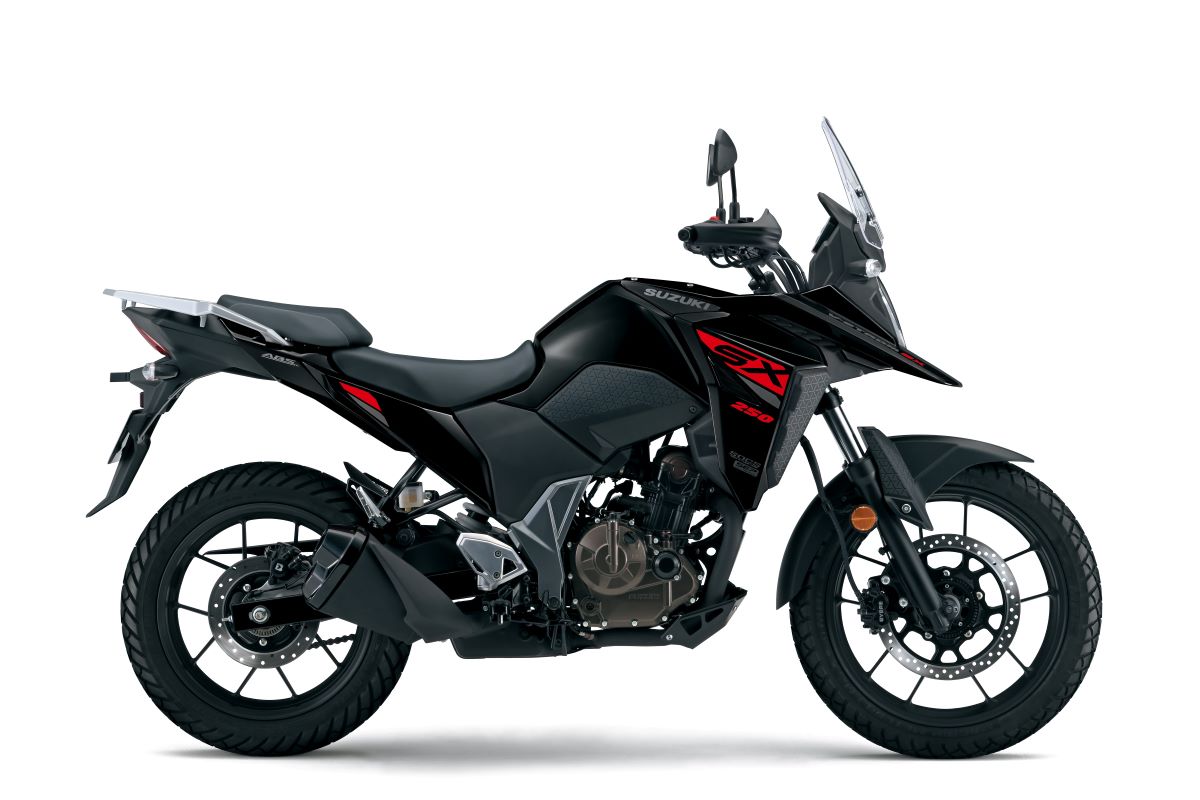 It has a Dual Channel Antilock Brake System (ABS) that monitors front and rear wheel speeds individually. This matches stopping power to available traction, providing more confidence and control. It has a large, outer diameter of 310mm, a single front disc brake with an axial master cylinder, and a 240mm outer diameter, rear disc brake that provides ample braking power.
The V-STROM 250 SX features a Full Digital Inverted Instrument Panel for better visibility that also provides comprehensive ride information. It is equipped with the Suzuki Easy Start System for easy starting of the engine. It also sports a USB Charger outlet for added convenience during your ride.
Sport touring design
It features a beak-like design — inspired by the legendary DR-Z racer and DR-BIG off-road models —brought back and remade specifically for the V-STROM lineage. Its fairing is designed with sport-inspired bold graphics and textured patterns on both side panels, improving on the V-STROM 250 SX's overall look and feel.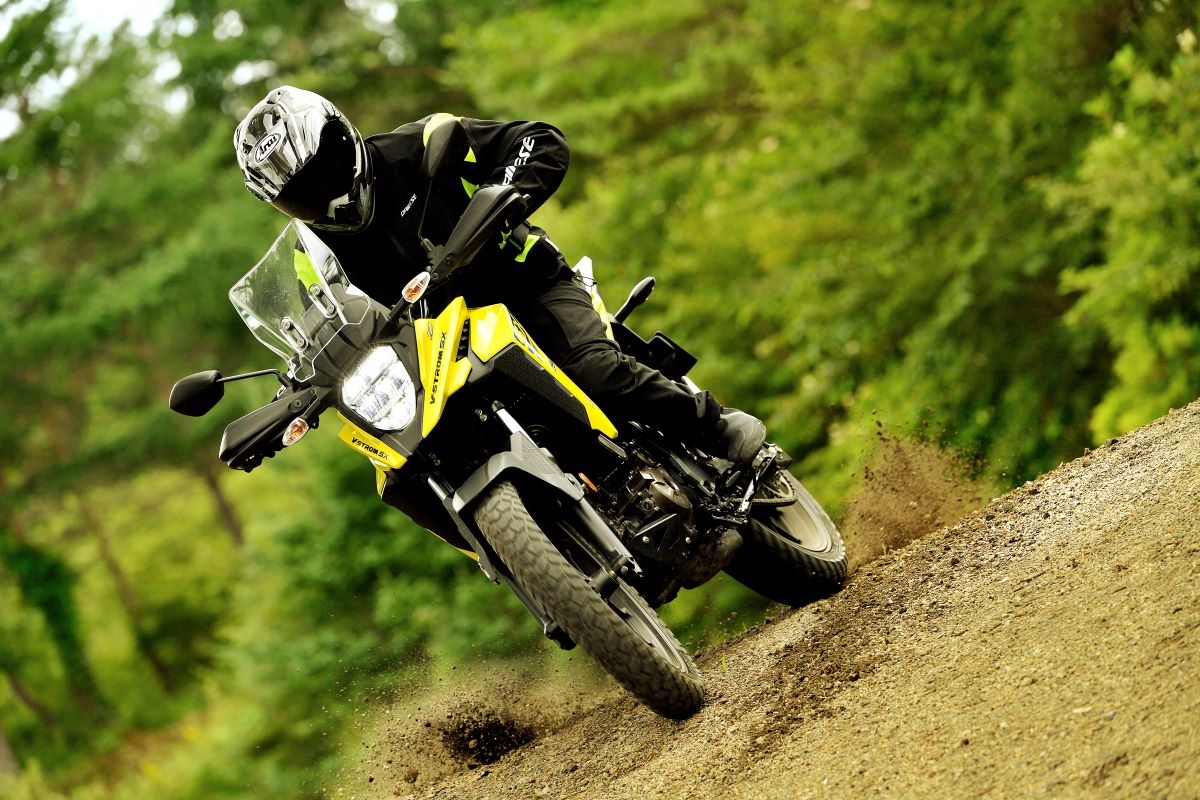 It is ruggedly compact with a well-rounded chassis that forms the backbone of the V-STROM 250 SX. It brings together a feature set, suited for riding both paved and unpaved roads. The sub-frame also has a new design for added durability to accommodate the carrying of both passenger and gear. The result is a compact and slim design that makes the bike feel stable, provides confidence while handling the V-STROM 250 SX at lower speeds, and allows for ease in parking.
It provides a comfortable riding position that seats high, giving a clear view of the road ahead and better visibility in the city, and comfort on long journeys. The Dual Exhaust Muffler has a sporty and tough design with a rugged-looking muffler cap specially tuned to give a satisfying sound to the ears.
It features a stylish, Sporty LED headlight, with a unique, high and low beam setup, and highly visible, Rear Combination Lights that provide impressive road presence. It sports a compact, yet highly functional Windscreen that shields well, to help reduce fatigue on long rides.
Safe and convenient for your adventure ride
The V-STROM 250 SX features a full line-up of safety and convenient features making every ride a breeze. It has Knuckle Covers that reduce the effects of wind, rain, and small rocks on the rider's hands; it keeps them warmer and drier too on long rides for added comfort and less fatigue. The Engine Under Cowling protects from the effect of rocks and dirt on the chassis and adds to the tough, adventure-inspired look.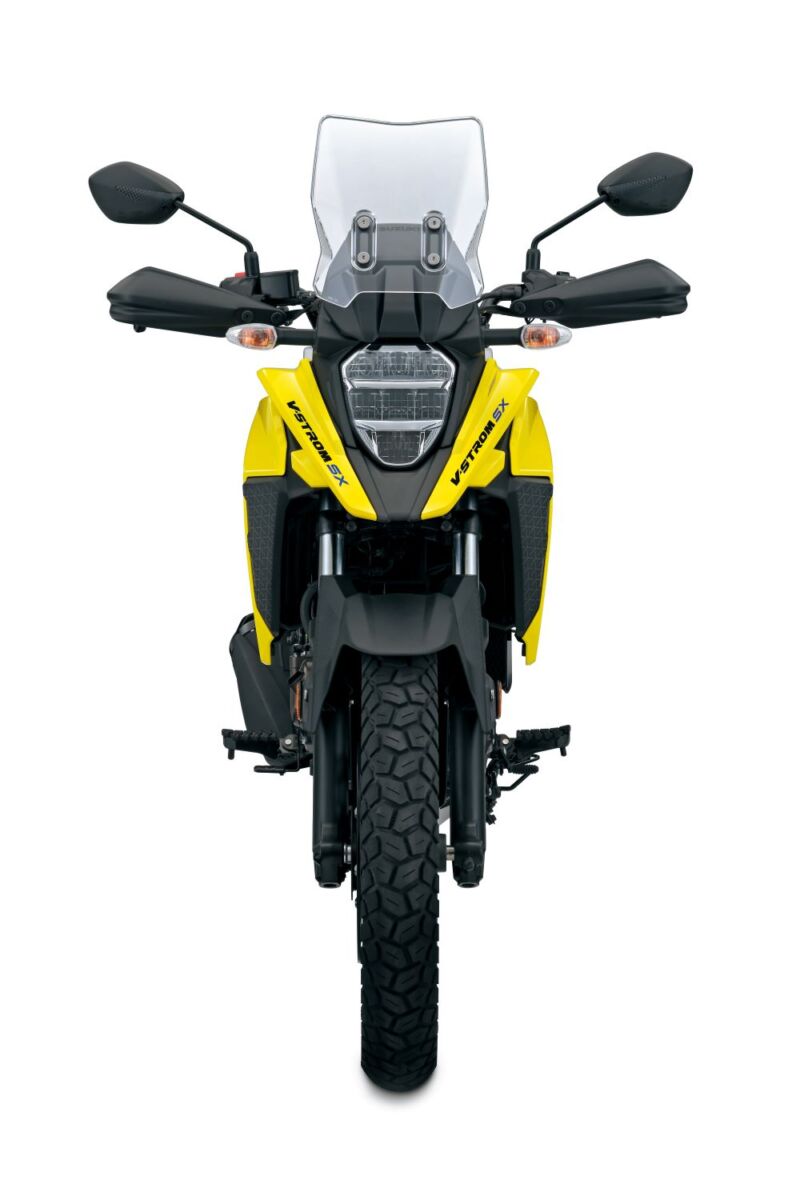 The Large Diameter Front Fork provides a generous 120mm of suspension stroke to absorb bumps and keep the ride smooth. The 7-step adjustable rear suspension can be customized to suit the needs of each ride, whether it be riding alone, with a passenger, or carrying a heavy load. The V-STROM 250 SX is a stable, comfortable ride every time.
It sports a 19-inch front wheel and 17-inch rear Spoke Cast Aluminum Wheels with a semi-block style pattern that offers stability and excellent control over various kinds of road surfaces. The V-STROM 250 SX has a high ground clearance of 205mm adding confidence while traversing through obstacles — helpful both in the city and on unpaved roads.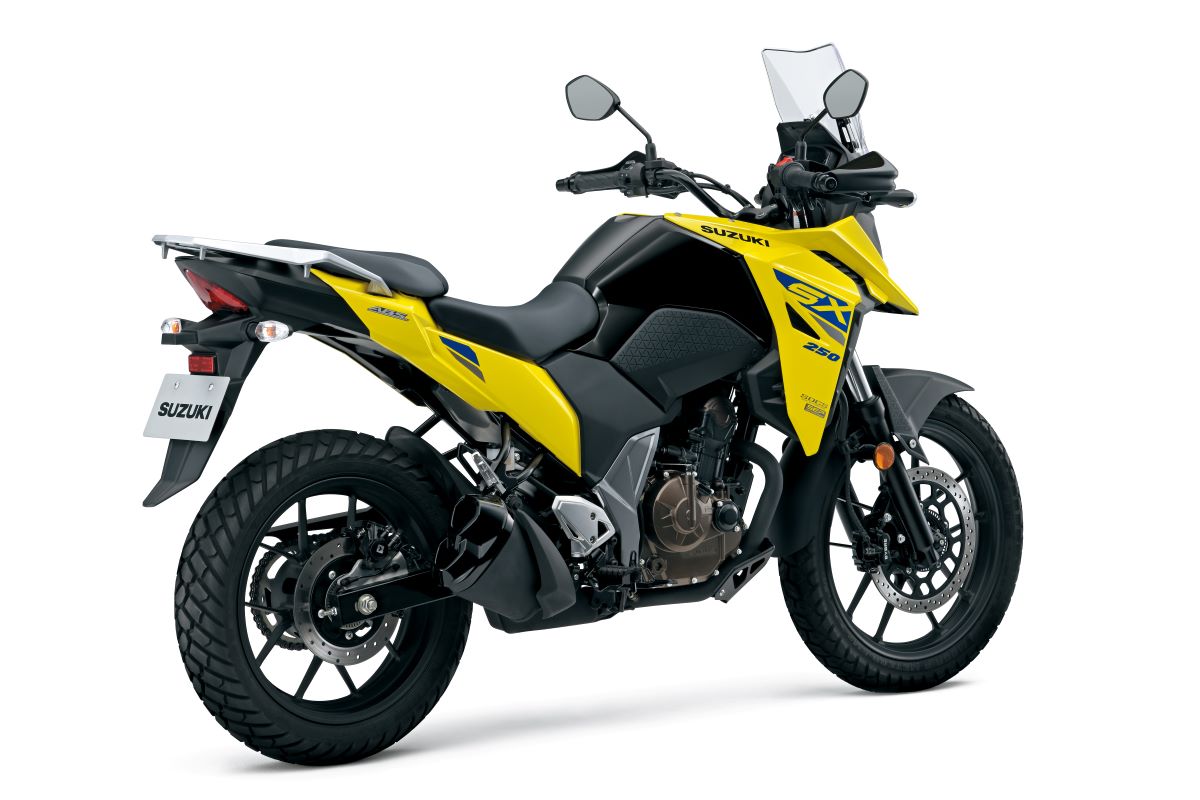 The bike's aluminum Grab Bar and Rear Carrier is the perfect feature for rider and passenger, since it gives a solid place to hold on to. The two-tone split-seat has a sporty look that also provides comfort to both the rider and the passenger. Its Rear Carrier has a 6kg carrying capacity that has four convenient hooks to secure extra baggage.
The V-STROM 250 SX comes in two awe-inspiring colors — Champion Yellow and Glass Sparkle Black — and is priced at PHP229,000. It will be available in January 2023, but Suzuki Philippines is accepting online reservations.