The Yamaha Racing Arena concluded its 7th and final leg and crowned the digital tournament's first-ever champions. With official competitions suspended worldwide, Yamaha Motor Philippines went out of the circuit and onto a virtual platform. The tournament replaced the throttle with a controller, as it took place in front of a screen playing a video game. 
The top riders in the Philippines who formed the Yamaha National Team for the ARRC, namely: McKinley Kyle Paz, Masato Fernando, and Kerwin Chang, were designated as captains of competing teams. They had all started their careers on the Sniper 150, which they used to claim victories in local and international competitions. Using the YZF-R6, Paz had taken the next step by joining the SS 600 category in the ARRC.
But at the Yamaha Racing Arena, they were a long way from the track, facing a new challenge to steer their teams to victory. Their teams were made up of fellow racers and special guests. 
Team Kyle – Kyle Paz (captain), Andrei Reyes, Motodeck
Team Masato – Masato Fernando (captain), Dustin Esguerra, Kaisaya
Team Kerwin – Kerwin Chang (captain), Leeandro Paredes, Ella Cruz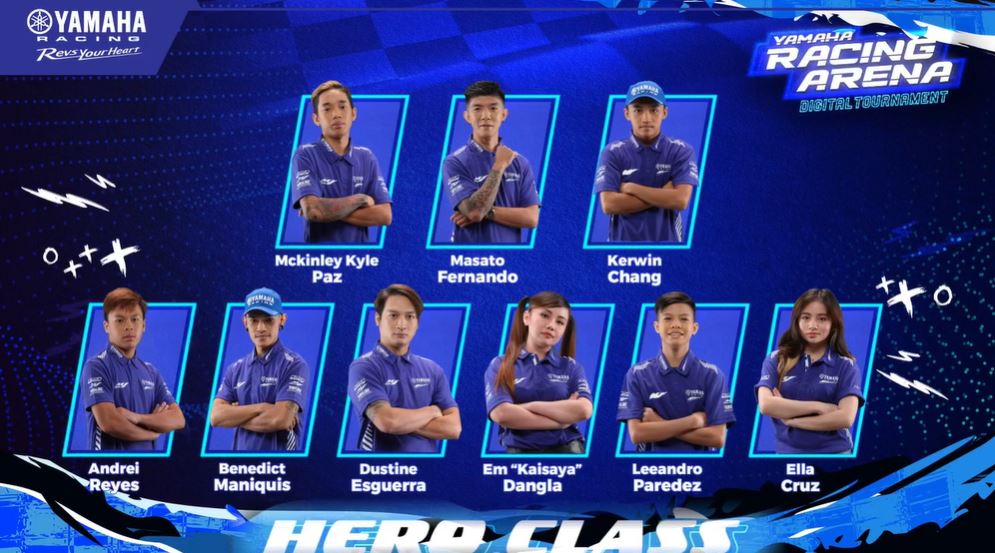 The games were shown live on the Yamaha Facebook page, where viewers could enjoy the race and win prizes along the way. The Teams weren't just fighting for bragging rights but also for a cause. Each race and its purse went to the H.E.R.O. Foundation. After 7 rounds and donations from the sponsors, the total amount raised reached PHP 1-million.
The Yamaha Racing Arena had its share of action, drama, blowouts, and photo finishes. Kyle once again dominated like he had the entire tournament with a first-place finish in the final round. He was followed by Kerwin Chang and Dustin Esguerra. Team Kyle finished on top with 303 pts. Team Kerwin followed with 278 pts and Team Sato with 252 points. The first every digital tournament for Yamaha had a wild finish, and if a 2nd tournament is in the cards, the players are sure to give it their best once again. 
The digital tournament bought to close a very challenging year but one filled with hope for the future. Whether or not the racetracks open in the coming season, Yamaha will always strive to keep moving forward for the passion of racing.