Industry leader Petron Corporation once again proved its commitment to Philippine motorsports as it sends off the country's representatives to the Rainforest Challenge (RFC), considered as the most extreme off-road competition and the ultimate challenge for 4×4 enthusiasts. The Philippine team will be contending against 30 country teams from Asia, Europe, and the Americas in the RFC Grand Finals to be held from November 23 to December 5, 2018 in Kelantan, Malaysia.
Representing Team Philippines are Eduardo 'Randy' Sobrepeña and Ronnie 'Boxy' Malonzo from the Pampanga Off-Roaders Club Inc (PORCI). They were the winners of the RFC Global Series Philippines Championship Race last August 24 to 27 in Pampanga. The grueling competition tested off-road driving, vehicle winching and recovery, bushcraft, camping, mechanical skill, and survival. Sobrepeña and Malonzo will be driving a Land Cruiser FJ40 in the RFC Grand Finals.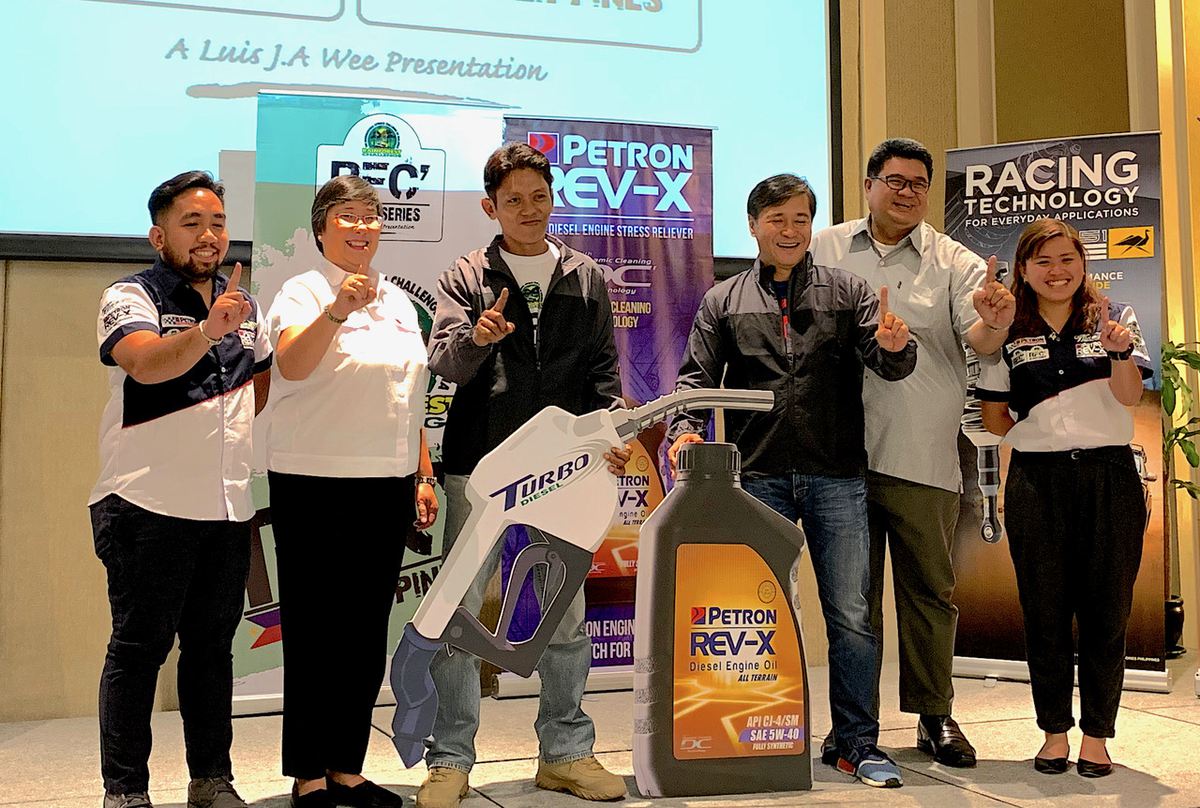 Petron is the official fuel and engine oil partner of the RFC Grand Finals Malaysia, as well as the Philippine Championship Race. The demands of extreme off-roading will put Petron's world-class products, particularly its Petron Turbo Diesel and Petron Rev-X Turbo HTP, to the ultimate test.
Petron Turbo Diesel is a high-performance, technologically-advanced fuel that delivers quicker engine response, smoother acceleration, and better power. With robust multi-functional additives, this superior diesel fuel delivers exceptional protection and rapidly cleans the engine to unleash the full power and optimum performance of diesel engines.
Meanwhile, Petron Rev-X Turbo HTP (High Temperature Protection) is a high-premium, PAO-based fully synthetic 5W-40 engine oil. It is highly recommended for naturally aspirated and turbo-charged or supercharged high-performance heavy-duty diesel engines. It prevents soot and piston deposits to maintain superior engine cleanliness and efficiency; prolongs the life of emission control systems like diesel particulate filters and exhaust gas recirculation; and provides extended engine protection due to outstanding thermal and oxidation resistance, thus preventing wear and corrosion for longer engine life.
At the RFC Grand Finals Malaysia from November 23 to December 5, international competitors from over 30 countries will field test the exceptional performance of Petron Turbo Diesel and Petron Rev-X Turbo HTP as the official fuel and engine oil for the 10-day off-road jungle adventure competition. Under the most extreme conditions of mud, rain-soaked jungle, swollen river beds, monsoon, humidity, insects, and physical hardship, the competitors from 30 countries worldwide can be certain that Petron Turbo Diesel and Petron Rev-X HTP are the best match to optimize the performance of their vehicles.