I like big cars, but I've avoided driving pick-ups and large vans, considering them too difficult to maneuver, too heavy for long drives, and just too workman-like for me. Driving the Ford Ranger 2.2 Wildtrak 4×2 AT was a liberating experience, as I loved how the truck's exterior brawn was perfectly complemented by its interior refinement.
First, let's talk about the brawn. The Ford Ranger's tag line is "Built Tough" and, indeed, this is embodied in its aggressively muscular design, heightened by the Wildtrak accent grille. It rides high on 18-inch alloy wheels, and with a ground clearance of 237 mm and a wading depth of 800 mm, this is a ride that's not easily intimidated by whatever challenges it meets on the road, whether it's other trucks and buses, rough terrain, or even some river crossing.
The 2.2-liter TDCi turbo diesel engine is capable of producing 160 PS of power and 385 Nm of torque. Mated to a 6-speed automatic transmission and with an electronic power-assisted steering for effortless maneuverability, it's very tempting to just ignore the speed limit and let the Ranger run free on the expressway. Luckily, an adjustable speed limiter can be preset to ensure you don't run afoul of the highway cops. Front double wishbone and rear leaf spring suspensions make for a comfortable ride, while front disc and rear drum brakes ensure sufficient stopping power when needed.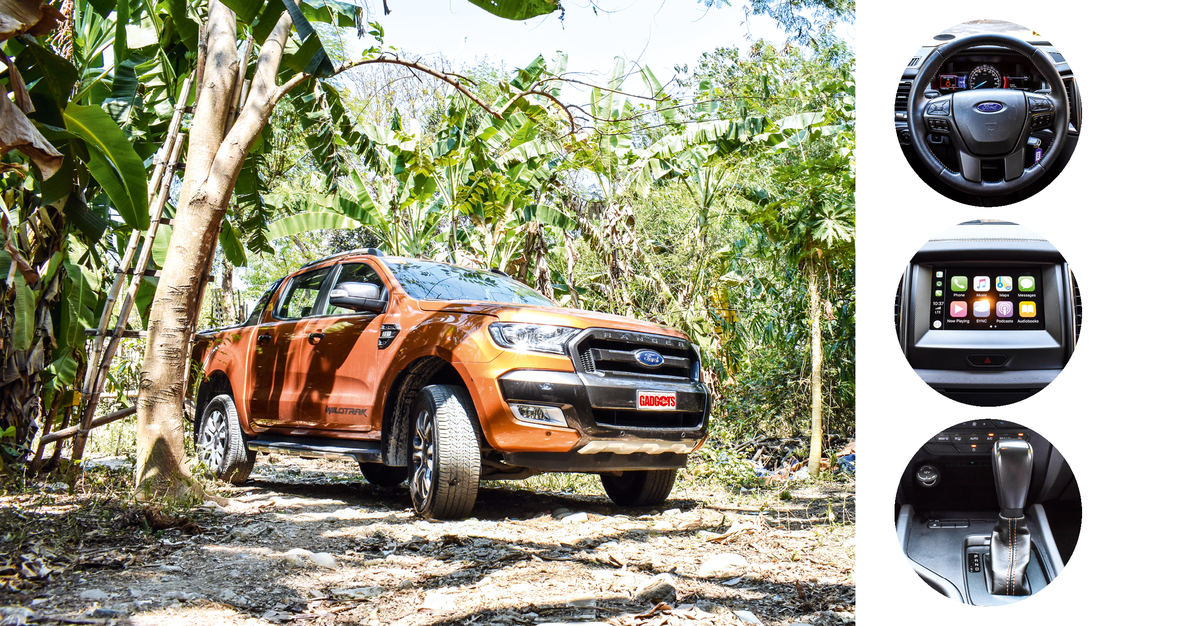 You literally need to step up into the driver's seat of the Ranger which, on the 2.2 Wildtrak variant, is a plush two-tone black leather with brown Wildtrak accents. Once positioned behind the wheel, you're transported into a truck built for geeks, starting off with 12V sockets for both front and rear as well as two USB ports—more than enough outlets to power your mobile devices while on the move.
Vehicle information, multimedia entertainment, and navigation are all accessible via the 8-inch touchscreen display and the dual TFT instrument cluster. Ford's SYNC technology lets you use your phone for calls, play music, and access your apps. The 6-speaker audio system delivers superior sound quality, with excellent stereo separation.
In addition to in-cabin creature comforts, the Ford Ranger is also packed with the usual alphabet soup of safety features including front driver and passenger as well as side and curtain airbags, 3-point ELR seatbelts, and ISOFIX child seat anchors, among others. For me, though, the most notable is its electronic stability program with hill start assist and trailer sway control.
On the Ford Ranger 2.2 Wildtrak 4×2 AT, driving over 230 kilometers to San Fernando, La Union, with only brief pit stops on the way was unexpectedly fun and exhilarating.
Also published in Gadgets Magazine April 2018 issue
Words by Maribelle Alba
Photos by Theresa Eloriaga