Global customer experience (CX) provider Alorica recently expanded its presence in Davao City with the unveiling of its newest facility, Alorica Davao 3, inside the bustling Matina IT Park. Spanning over 3,000 square meter of operational floor space, the building showcases the company's impressive growth in the area, where it already employs over 4,500 people. With the site's opening, Alorica is poised to hire even more and contribute further to Davao's economic development.
Alorica Davao 3 can house an additional 5,000 new employees, making it a key office location for attracting top talent. Boasting its own recruitment hub with the capacity to process 150 on-site job applications, the site would enable the company to meet the surging demand for its digitally-charged CX solutions.
Creating new opportunities with its continuous growth prospects
Alorica's regional president of Asia-Pacific, Mirei Magallona, hosted the site launch event, which included a mass followed by a ribbon-cutting ceremony attended by Alorica Davao leadership.
"This launch is a celebration of Alorica's successful growth and continued commitment to Davao City. It adds to our existing presence here with two contact centers already in operation," said Magallona. "I am proud of our local team's exceptional performance, enabling us to serve more clients in various industries including in high-growth sectors, such as technology and e-commerce. With the grand opening of Alorica Davao 3, we are looking forward to providing residents with opportunities to grow their careers with us. This new site holds great potential, not only for Alorica, but also for the many locals who choose to pursue their professional aspirations with our organization."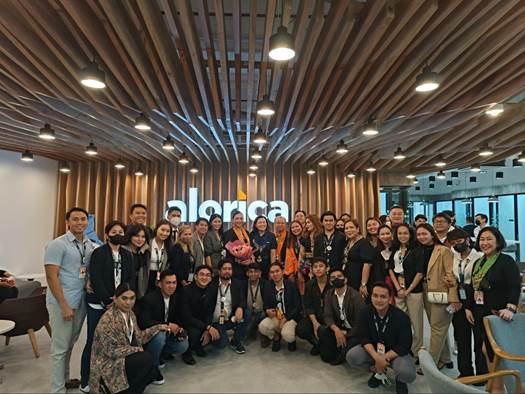 Alorica has seen substantial growth across its workforce in the region, with employee numbers rising from 2,474 at the height of the pandemic in December 2020 to 4,538 CX representatives less than a year later.
In keeping with its commitment to support employee welfare and financial security, Alorica offers a robust benefits package that encompasses a range of perks. This includes night shift pay, a rice stipend, a 13th-month salary, paid leave, holiday and overtime pay, a mental health program, and free medical insurance upon full-time hire. Probationary employees can also look forward to having more options for HMO coverage for themselves and their dependents upon regularization.
Showcasing Mindanao's culture, ethnicity, and work ethic
Developed with the employees' well-being in mind, Alorica's new facility strives to create an inclusive and engaging work environment for its people, emphasizing the company's award-winning culture of connection and empowerment. The uniquely built lobby was designed by Kublai Milan, a renowned Mindanao artist, highlighting the Mindanao style.