Cisco unveiled new purpose-built Webex artificial intelligence (AI) capabilities that deliver unrivaled hybrid work experience as the new normal continues to evolve. In a world where people demand exceptional, personalized work experiences, organizations must meet both employees and customers on their terms – while driving real value.
"AI presents the next evolution of hybrid work, holding the key to unlocking a materially enhanced hybrid work and customer experience," said Jeetu Patel, EVP and GM, Security and Collaboration, Cisco. "Cisco has decades of experience in AI with its industry-leading natural language understanding, and audio and video intelligence in Webex, which I'm thrilled is extending into even more innovations across our collaboration portfolio. As we double down on our AI investment, we're empowering our customers to deliver exceptional hybrid work and customer experience outcomes based on their datasets, while relentlessly protecting their confidentiality and privacy."
To deliver remarkable experiences for hybrid workers and customers, Webex's innovations span three categories built on the Webex Platform, which has a track record of hundreds of AI and machine learning features already embedded in Cisco products.
As employees increasingly come back to the office, great hybrid work experiences require innovative use of video intelligence to ensure everyone is able to participate equally when they collaborate. Building on advanced AI capabilities already available in Cisco Collaboration devices today, Webex is expanding its video intelligence in its devices through the conference room operating system Cisco Room OS. Users will benefit from the ability to automatically provide the most optimal views in any meeting, at any moment, in any space with new capabilities that deliver: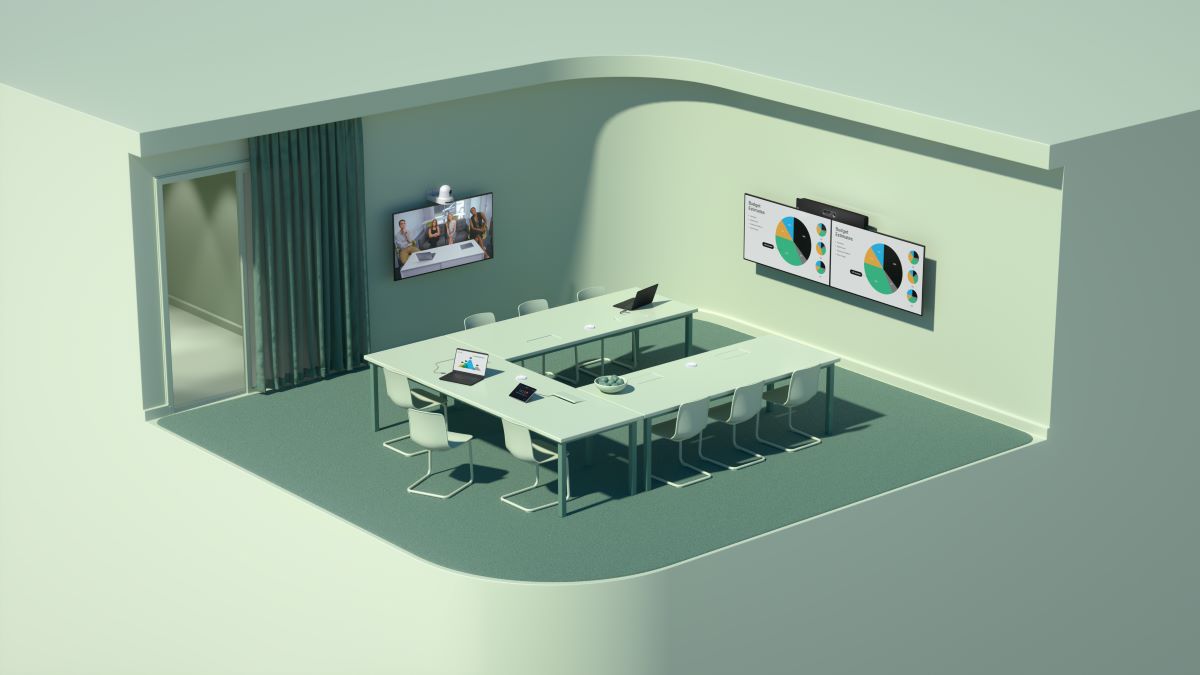 Cinematic meeting experiences: With cinematic meetings on Cisco Collaboration devices, cameras follow individuals through voice and facial recognition, automatically switching views to capture the best angle of the active speaker. This benefits people in the room with immaculate focus on the speaker, and hybrid workers not in the meeting room will feel included even if they are not physically in the room.
Meeting zones: With this capability, IT admins can set virtual boundaries for any collaboration space in the office, turning it into a meeting zone. With meeting zones, people are individually framed in a condensed view – leaving any blank space out of view. Only people that are inside defined boundaries are included in the meeting. This is critical in busy open spaces and in conference rooms with glass walls, to eliminate the distraction of people outside the meeting. 
In today's hybrid world, organizations must provide employees with flexibility in when, where, and how they work — which requires technology that best optimizes collaboration. As a testament to Webex Calling's ability to deliver the flexible hybrid work technologies organizations need, it's reached a new milestone of connecting over 10 million users, nearly doubling year-over-year growth. To further optimize collaboration, Cisco is introducing new AI capabilities in the Webex Suite, including:  
High-definition (HD) meetings that don't require HD bandwidth: Webex's Super Resolution ensures crystal clear video in Webex meetings, even with low-quality cameras or low bandwidth conditions.
Smart re-lighting: To ensure people look their best in any environment, smart re-lighting automatically improves poor lighting when it's too dim or bright. For example, when working outside on a sunny day, the appearance of underexposed video is adjusted so the person appears more clearly.
Automatic "be right back" update: This capability automatically puts up a BRB message, blurs the background and mutes audio when a user steps away from a Webex meeting. For example, if your doorbell rings and you leave a meeting to pick up a delivery. The BRB message is automatically removed once the user returns.
Maximizing Customer Experience
Customer expectations are at an all-time high, and organizations have billions of interactions with customers daily. It's become impossible for agents and legacy systems to keep up with the volume, velocity, and disparity of interactions and the personalization required to address this. Cisco leverages its same market-leading technology required for Hybrid Work to fuel its Webex customer experience solutions.
Today, Cisco is unveiling its vision of the self-learning contact center. Cisco also introduced new AI capabilities for its customer experience solutions, spanning Webex Contact Center and its cloud communications platform, Webex Connect. These new capabilities include:
Actionable insights for improved CX: Topic Analysis in Webex Contact Center surfaces key reasons customers are calling the contact center. It aggregates call transcript data from the contact center and models trends succinctly for business analysts, so they can proactively adapt to meet the needs of customers. This capability is self-learning, constantly getting smarter from customer interactions.
Agent Answers as a real-time agent coach: With this capability, learnings from both self-service and automated customer interactions are fed back into the self-learning contact center to increase human agents' effectiveness. Agent Answers listens and acts as a real-time coach for the human agent, surfacing knowledge base articles and helpful information the agent can instantly provide the customer.
Automated chat summaries for agents: AI-powered chat summaries eliminate the need for agents to read lengthy digital chat histories with customers to determine issues and resolutions already explored. Agents will benefit from a faster, automated way to consume long-form text from customer chats and provide key takeaways in a quickly digestible format.
Automated code for rapid customization of customer journeys: Today, Webex's low-code flow builder capability in Webex Connect already helps businesses orchestrate and automate end-to-end customer journeys. Now, users will be able to simply describe the function they want to perform, such as "validate an email address," and AI will generate and return the appropriate code instantly. This makes it easier to create and iterate customer journeys quickly.
New Webex AI capabilities are expected to roll out over the course of 2023. For more information, please visit www.webex.com.