The social impact incubation network Impact Hub Manila closed its Impact Hackathon Online 2020 with its culminating event 2050fest on August 25, 2020, crowning ECES-1 as the grand winner. Impact Hackathon, held from August 17-21, is part of Impact 2050, a multi-year program designed to equip, enable, and empower innovative individuals who want to affect change through technology, and catalyze home grown impact-driven startups by 2050. This 2020, Impact Hackathon focused on helping the country reboot its economy given the ongoing COVID-19 health crisis through digital solutions.
After months of planning and days of running the hackathon, innovators, aspiring changemakers, and entrepreneurs gathered in one virtual room to witness the crowning of the Impact Hackathon 2020 Grand Winner. Culminating in the event dubbed 2050Fest, the programme kicked off with back-to-back panel discussions on the hackathon verticals with speakers from the startup, as well as private and government sectors. The six verticals include Agriculture, Good Governance, Climate Change, FinTech, Health, and Education.
To end the 2050fest, both the Vice President of the Philippines Leni Robredo and Senator Francis Pangilinan gave inspirational words to all the finalists.
VP Leni Robredo ended by emphasizing the importance of private-public collaboration: "Magkarugtong ang problema kaya magkarugtong din ang solusyon kaya tayo'y mag-ambagan at magtulungan. Collaboration with the private and public sector is vital as we would not succeed without the help of our private partners. To this year's winners and who would receive funding and incubation, I hope you remain sensitive to collaboration."
Senator Francis Pangilinan shared the importance of the agricultural sector as well as building collaborative solutions to the other verticals of Impact Hackathon 2020 by saying "While you are making your solutions and while I was working on legislative policies, it was food from the Filipino farmer that has been sustaining us during this pandemic. I am looking forward to all the solutions that you have built and working with those especially, from the agriculture vertical. The only way we can move forward is to be able to collaborate with all sectors in hopes of building solutions that impact the lives of all Filipinos, especially those that need the most support."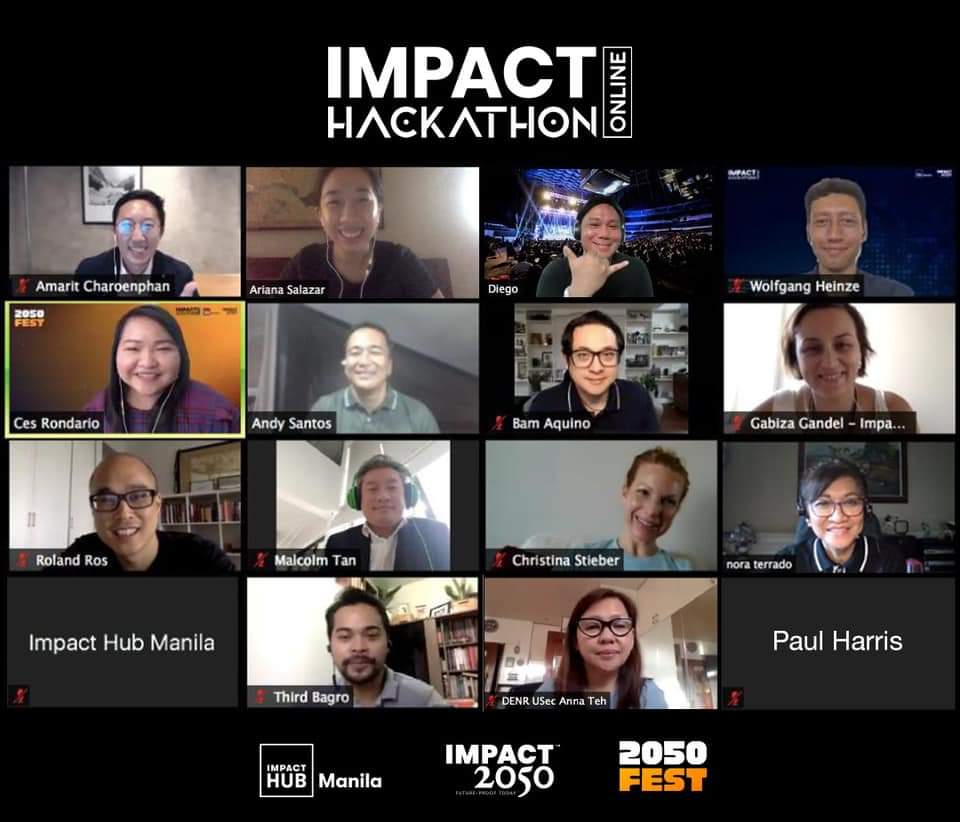 Impact Hackathon Winners
Believing that collaboration and unity plays a big part in the success of helping the Philippines reboot its economy as it dives deep into the brink of a recession, Impact Hackathon crowned nine winners:
Vertical Winners will each be receiving 1 year incubation from Impact Hub Manila and membership to IHM, PHP 35,000 in cash, and PHP 5,000 worth of Lalamove credits.

Agriculture: CaveMen
Good Governance: Gone With The Win
Climate Change: Green Team
FinTech: Bayan Cash
Health: Collective Clinic
Education: ECES-1
Top Three winners will be receiving incubation from Impact Hub Manila and membership to IHM.'
Grand Winner: ECES-1
In a surprising turn of events, Kumu matched IHM's grand prize of PHP 100,000 totalling the grand prize to PHP 200,000 in cash. Thus, the winner gets PHP 200,000 and PHP 30,000 worth of Lalamove credits. They also receive five PHP 4,000 worth of Smart prepaid load, five Smart Pocket Wifis, five JBL Speakers, and five JBL earphones.
1st Runner-Up: Agro Modern
The 1st Runner-Up receives PHP 50,000 cash and PHP 20,000 worth of Lalamove credits. They also be get five PHP 3,000 worth of Smart prepaid load, five wireless powerbanks, and five JBL earphones.
2nd Runners-Up: Collective Clinic | CaveMen
The two 2nd Runners-Up each have PHP 35,000 cash and PHP 10,000 worth of Lalamove credits. They also get five PHP 2,000 worth of Smart prepaid load and five JBL earphones.

What's next for them?
In addition to the cash prizes, winners of Impact Hackathon Online 2020 get to be part of the Impact Hub Manila Incubation Program where they receive more valuable rewards by way of seed funding, workspace perks, expert coaching and a wide network that will enable them to scale up.
Impact Hub Manila's partners include the Department of Environment and Natural Resources, the Quezon City Local Government Unit, the Office of Senator Kiko Pangilinan, the Asian Development Bank, the Friedrich Naumann Foundation Philippines, PLDT, Smart, Multisys Technologies Corporation, Insular Life, Technicorum Holding Pte Ltd., Aexon, True Digital, Unifinity, Salesforce, iProcure, Lalamove, KMC, Kumu. They, along with other community partners, will be onboard during the incubation period, ensuring continued support and mentoring the winning teams to identify how their solutions can create lasting impact and be useful to local conditions.
Learn more about the program through: http://www.impact2050.com
New project: Registration campaign launched
With social impact as a main advocacy of Impact Hub Manila founder and CEO Ces Rondario,  a novel project will also be launched at 2050Fest. Dubbed  Vote Pilipinas, its goal is to increase the number of registered voters for the 2022 elections, through the use of innovative initiatives centered on voters' information. Vote Pilipinas was created by a team of like-minded individuals driven by the desire to contribute to impacting change in the country. This passion project aims to target first-time voters and the 10 million unregistered voters from the last election period.

To learn more about Vote Pilipinas, visit https://votepilipinas.com/