Sprout Solutions, a leading provider of HR tech solutions in the Philippines, recently unveiled a model that can help check the effectiveness of the tech tools used by companies and efficiently suggest and provide solutions with notable features from its game-changing ecosystem of solutions.
As the hybrid workplace becomes the norm, moving operations to the digital world is no longer just a trend, but a need. Many companies have already invested in tech for different functions within the organization, including human resources and development, however, it may be a challenge to see if they have been allocating their resources correctly.
Evolution of HR in the Philippines
Historically, HR functions in the Philippines called "Administration" its home. Eventually, HR functions evolved and transferred to a department called "Personnel Management," and then it became "Human Resources," and more recently, "Talent Development" and "Human Capital".
Capability Maturity Models (CMM) were initially developed by the Software Engineering Institute (SEI) of Carnegie Mellon University to help the US Department of Defense analyze any organization's software development processes on methodologies and techniques. By the late 1980s, more sophisticated models were proposed to address the needs of other industries. The Human Resource Maturity Model (HRMM) eventually took shape and allowed organizations to analyze their ability to manage human capital.
Goal setting and growth
With observable trends in client interactions, Atty. Lester Ople, a seasoned HR practitioner, professor of labor law, and Sprout HR evangelist, was able to draft and propose the Digital HR Maturity Model (DMM). Inspired by the Civil Service Commission's Program to Institute Meritocracy and Excellence in HR Management (PRIME HRM), this framework was developed through numerous interactions with various clients and companies at different stages of their respective digital transformation experiences.  With the DMM, HR organizations now have a tool to assess their current maturity level, identify the next stage in their evolution, and craft a way forward to address gaps within their company.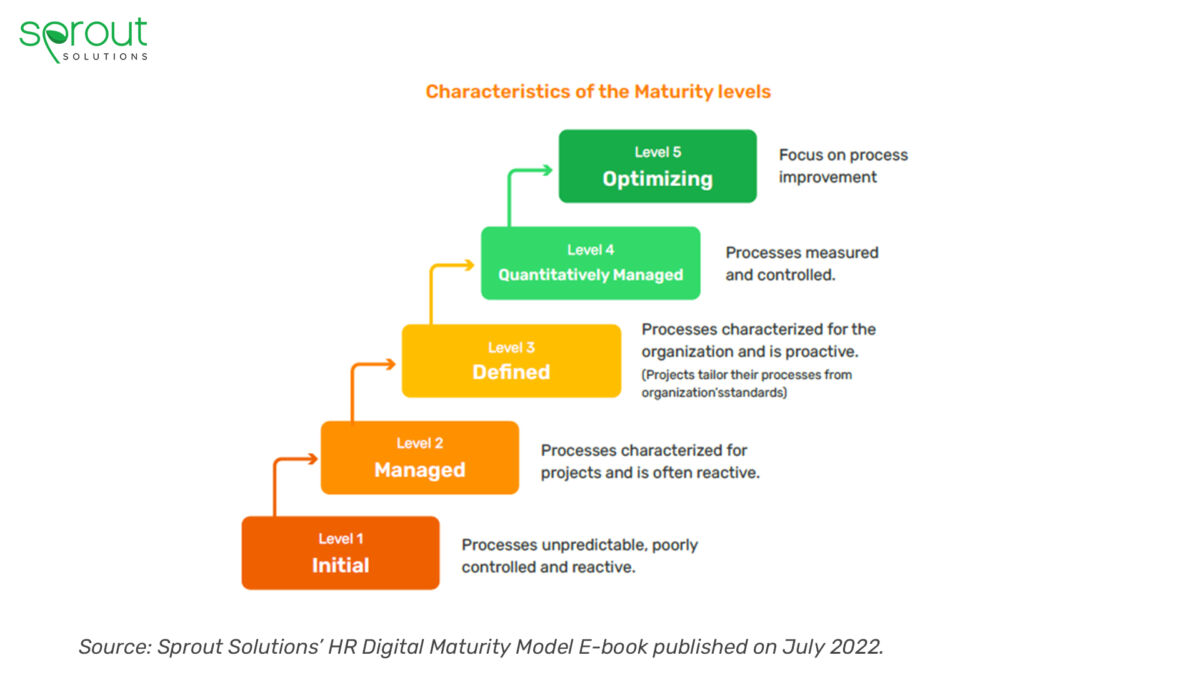 The model serves as a comprehensive mechanism through which human resources leaders can analyze their department's evolving functions, methodologies, and technologies in particular areas of their business, namely HR Operations, Employee Experience and Engagement, and HR Business Strategy to enable business outcomes that their respective organizations desire.
Rapid digital transformation for required businesses to keep up and cope with the changing times. The Sprout DMM provides a set of lenses for evaluating specific facets of human resources management with the inclusion of technology-based processes. It is a tool for HR leaders to view their organization's progress and assess the maturity of its processes.
The Model takes into account the Core HR Measurement Areas to evaluate an organization's HR Digital Maturity at every level according to three distinct indicators: Organization, which refers to the People aspect of the business encompassing training, culture, and other intangibles that affect the people who handle HR work; Methodology, which pertains to the Philosophies, Policies, and Processes that inform HR business strategies; and Technology, that relates to the technology stack and other digital tools used to deliver the HR work. These values reveal how effectively the organization utilizes internal processes and technology to achieve transformational change.
To find out how Sprout Solutions can help your company optimize HR functions for the Future of Work, visit www.sprout.ph.