With the resumption of travel, international business, and major sports events in China, Mastercard announced that its cardholders can link their cards to WeChat Pay, or as it's locally called, Weixin Pay, a mobile payment service within the Weixin app, as a new payments option that further improves the digital payment experience of international travelers when visiting the country.
Expanding on a partnership established in 2019 to offer enhanced digital payment solutions to both consumers and merchants, the latest development gives Mastercard full access to Weixin Pay's merchant network in China and provides another safe and convenient way for international travelers to pay like a local when traveling around the Chinese Mainland.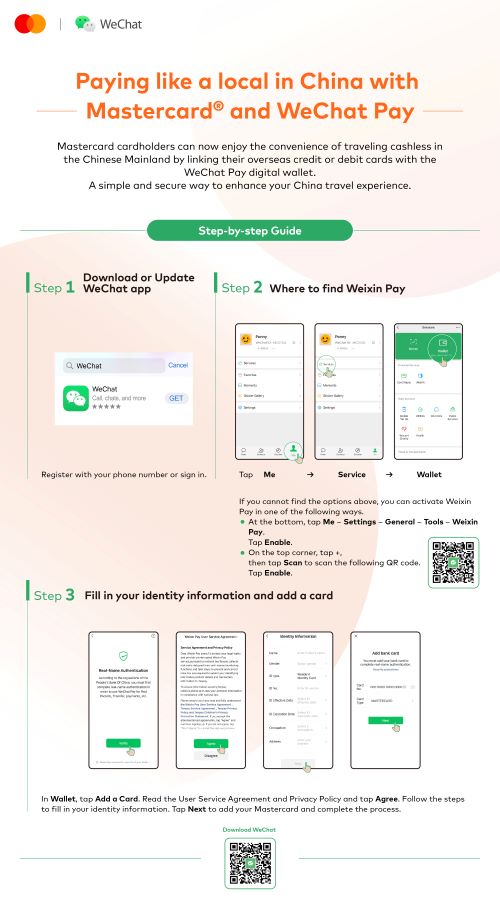 The extended merchant network includes categories such as dining, transportation, shopping, accommodation, and more. International travelers with Mastercard cards can now utilize multiple payment methods through Weixin app, such as scanning QR codes, presenting payment codes, Mini Programs, and in-app payments, enriching their payment experience online and offline.
For merchants, especially small and medium-sized enterprises (SMEs), the Weixin Pay-Mastercard tie-up gives them more opportunities to transact with international travelers who now have access to one of the most widely accepted payment methods in China, allowing them to get around easily, without hassle. According to the latest Mastercard data insights, consumer spending has shown resilience with a continued focus on experiences and travel. During the 2nd Quarter of 2023, cross-border travel was robust, reaching 154% of 2019 levels, up 6% from the previous quarter. Moreover, China's improvement in inbound cross-border travel reached approximately 50% of the levels seen in 2019. As China anticipates major international sporting events, such as the Asian Games, the country embraces the prospect of welcoming more international travelers.