Keeping your home neat and tidy isn't child's play, it's endless work. No matter how big your crib, dirt will always find a place to settle. We've relied on various tools to aid us in our battle against dust and debris, each promising to get the job done in a matter of minutes. A trusted brand, Dyson has become one of the biggest names in the home appliance market. The brand sent over their latest cordless vacuum, the V11 Absolute for us to test, and we were more than happy to take it for a spin.
Design: 4.5/5
Dyson products are known to be extraordinary, and this holds true for the V11 Absolute. It has a polycarbonate chassis and a transparent shell that exposes the inner parts of the cordless vacuum. Weighing in at almost 3 kg, it boasts a design that looks like a futuristic pistol. It is slightly heavier than its predecessor, so you're going to want to use both hands to carry it. Up front, it still has the dust canister and a lever for emptying dust and debris. The cyclone unit however, is at the back, together with the vacuum's filter, a small LCD display, and a mode button. A soft-touch trigger is built into the handle.
Hardware: 5/5
An engineering marvel, the Dyson V11 Absolute is powered by the brand's most powerful digital motor, the new V11 engine, which spins at an amazing 125,000 rpm. Just like the previous models, this vacuum is designed to absorb vibrations, keeping distracting noise down. Its motor, bin, and cyclone are horizontally aligned to better capture large items and fine dust particles as small as 0.3 micron. The machine's central axis is composed of its fully-sealed filtration system which also expels cleaner air, an acoustically engineered motor, and 14 cyclones.
Giving life to the unit is a non-removable, seven-cell nickel cobalt-aluminum battery that allows the vacuum to run up to an hour on a single charge. Replacing the old LED indicator is the LCD display that intelligently reports the status of the vacuum, such as battery level and maintenance messages in real-time.
One of the iconic features of Dyson vacuums are the accessories that come with the main unit. It is loaded with several attachments that correspond to specific cleaning needs. The motorized, high-torque cleaning head optimizes its performance to adapt to the surface it detects. For hard floors, there is the soft roller head. Meanwhile, the mini motorized tool is perfect for deep cleaning small areas and upholstery. Small-sized dusting brushes are also available in the package. There's the mini soft dusting brush, stubborn dirt brush, and combination nozzle for hard-to-reach nooks, as well as a crevice tool for small corners in the sofa, and car interiors. These tools are best when used with the nickel blue metal extension tube.
User Experience: 5/5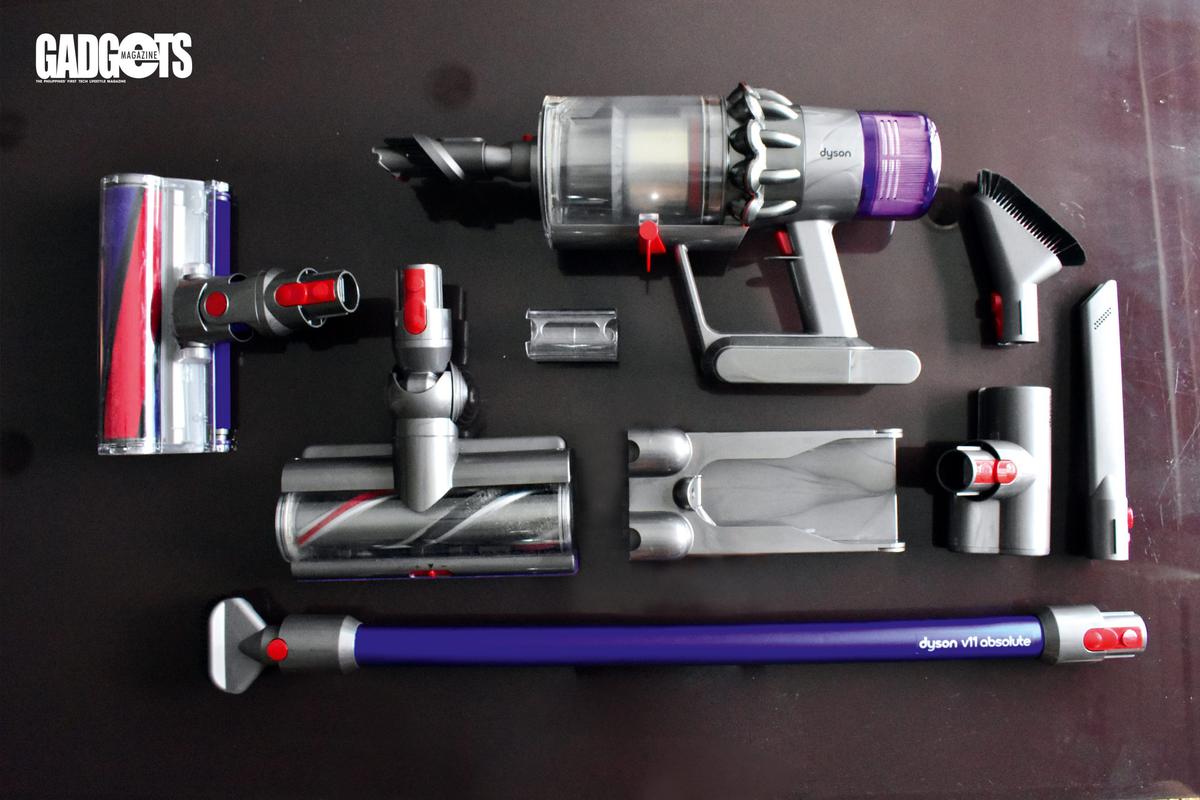 It might look overwhelming with its load of accessories but the V11 Absolute is very easy to operate. Just choose a cleaning tool to attach, lock it in, and you're ready to go. Inside, it has a slightly bigger battery which makes it a bit heavy compared to previous V-series models. It has three new suction modes which can be monitored through its built-in LCD display: Eco for better battery life, Medium for general use, and Boost for an extra burst of power to pick up fine dust particles, as well as pet and human hair. In Boost mode, you get at least 12 minutes of fade-free runtime.
Another significant upgrade that the V11 Absolute showcases is the additional digital motor in its high torque cleaner. When it is attached to the tube, it activates Auto mode which automatically adjusts the suction power for carpets or hard floors. At its top are two front gates which allow picking up bigger clumps of dust that would normally just be missed. This is made possible through the vacuum's Dynamic Load Sensor which monitors brush bar resistance up to 60 times per second. You may also need to better schedule your cleaning time because it usually takes four and a half hours to fully charge the V11 Absolute.
As discussed previously, it has an LCD display at the back for better monitoring of system performance. Users may now check notifications, battery status, and the remaining run time of the vacuum, and switch modes by pushing the single toggle below the display. Discharging collected dirt is also made easy through its lever. Just slide the bin forward and push the lever outwards to open the flap and release the captured debris. Stowing and charging of the V11 Absolute is convenient through its wall dock. For storing small accessories, there's the wand storage clip that can be attached to the docking station.
Value: 4/5
Upping the ante further on cleaning, the new Dyson V11 Absolute is a reliable cleaning tool perfect for any home. It has an improved battery life, a built-in digital LCD display that enhances user experience, and unparalleled performance which justifies its golden price tag. If you're in for something fancy yet efficient, then this vacuum is a good investment.
Specifications:
Weight: 2.97 kg
Engine: Dyson digital motor V11
Cyclone technology: 14 concentric array cyclones
Filtration: Advanced whole machine filtration system
Bin volume: 0.76 L
Suction power: Up to 185 AW
Battery: Seven-cell, nickel cobalt-aluminum battery
Runtime: Up to 60 minutes
Charge time: 4.5 hours
Design: Cordless
Tools: high torque cleaner head, soft roller cleaner head, mini soft dusting brush, stubborn dirt brush, combination nozzle, crevice tool, mini motorized tool, docking station, wand storage clip, and charger
What's Hot:
Better battery life
Its LCD display upgrade
Super suction power
What's Not:
Heavier than the V10
Hefty price tag
Bottomline:
A high-end vacuum that magically solves your cleaning woes in just one click.
Also published in GADGETS MAGAZINE October 2019 Issue
Reviewed by Jewel Sta. Ana