The market for heavy-hitting budget gaming laptops has risen these past few years. The recent release of Nvidia's mobile GTX 1600s series GPUs makes sure that these types of laptops can run some of the latest games with ease. The Lenovo Ideapad L340 Gaming is one of the first laptops from the brand to integrate these new GPUs. Does it live up to its promises?
DESIGN: 4/5
The Lenovo IdeaPad L340 Gaming shares the aesthetics of Lenovo's other Ideapad laptops, with a sleek metallic finish on the cover and durable plastic in the interior.
This laptop isn't exactly slim, yet is not heavy despite its bulk. Opening the laptop, you'll be greeted by the 15.6-inch FHD IPS display. You'll immediately notice the webcam with Lenovo's webcam cover, a nice touch in my opinion.
You'll also see the backlit keyboard. I like how Lenovo used blue LEDs instead of white, or RGB. It is easy on the eyes but bright enough to be able to work in the dark.
If you're the type of gamer who prioritizes peripherals, you might be disappointed with this laptop. I/O ports are extremely limited. There are two USB 3.1 Type-As, a USB Type-C, the power dock, the RJ45, an audio port, and the HDMI 2.0 port on the left side of the laptop. A lone Kensington lock is found on the right side.
HARDWARE: 4/5
The Lenovo IdeaPad L340 is powered by an Intel Core i5-9300H CPU paired with an Nvidia GTX 1650 with 4 GB of VRAM. The processor duo is perfect for someone who wants to game but can't commit to heavy gaming. The GTX 1650 can handle any current triple-A title albeit not at max resolution. If, like me, you're not a picky gamer, then you'll want this laptop.
Our demo unit had 8 GB of DDR4 RAM—not the most in a laptop, but will get you by in most games. Storage-wise, it has 1 TB of HDD which is plenty of space for all the games you'll want to run on it. If you find memory lacking, the laptop has an extra RAM slot and an M.2 bay for your SSD.
USER EXPERIENCE: 4/5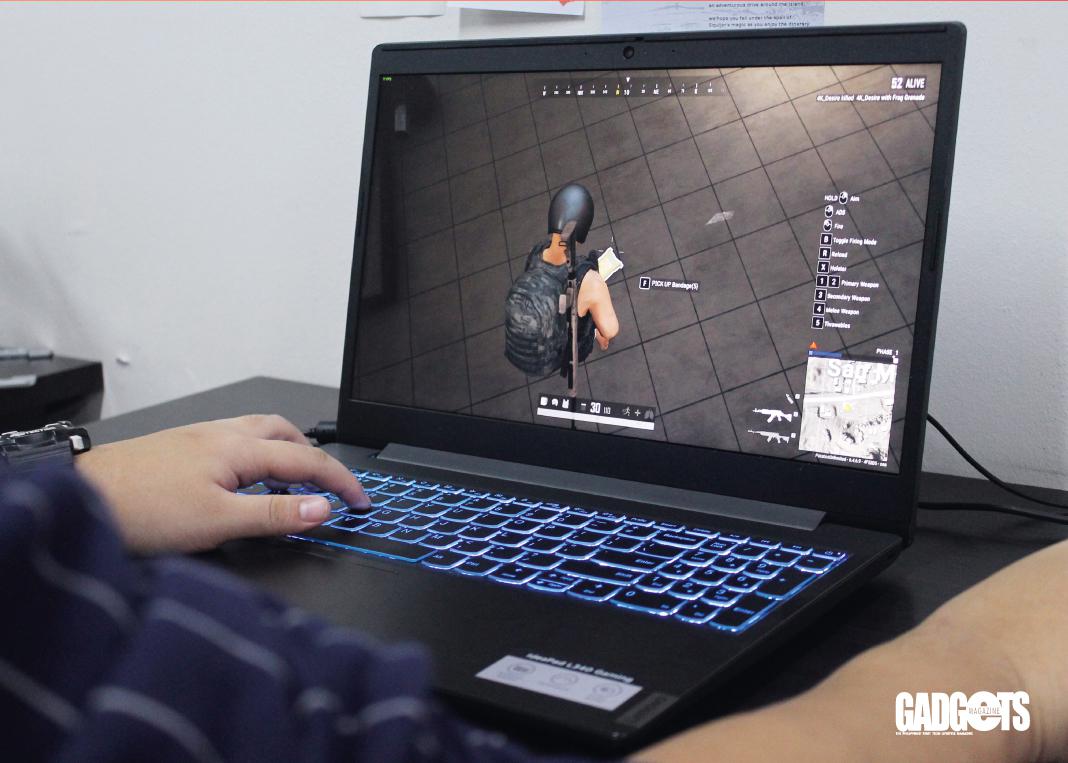 Right off the bat, the number one thing I liked most about this laptop was the keyboard. It was hands-down one of the best keyboards I've used in my life. I was reviewing the laptop during magazine crunch time, yet I still breezed through all my deadlines with ease, not needing any time to get accustomed to it.
Thanks to the 2.2 kg weight, I found the laptop portable despite its slightly bulky build. Unlike dedicated gaming laptops, you won't need to torture yourself with huge power bricks since the 45 Wh battery lasted me half a day of continuous use.
This laptop shines particularly in gaming. The duo of the 9th gen Intel Core i5 and Nvidia GTX 1650 gives this machine enough power to run some difficult triple-A titles; though not at the highest resolution. It only managed to average 38 FPS in Assassin's Creed Odyssey with high resolutions and 31-37 FPS in Witcher 3 with max settings. Other games such as NBA 2K and PlayersUnknown Battleground, meanwhile, had a blast churning out 60 FPS during testing.
The best way to experience this laptop is using headphones since the built-in 1.5 W speakers are a bit lacking. You might also need to invest in a USB extender as the L340 only has two USB Type-As. It does have a USB Type-C port in case you want to add Type-C storage.
One thing I didn't like about the L340 was its thermals. The laptop gets noticeably hot during long gaming sessions. If you're using the laptop in a cool environment such as a freezing office, you won't notice any performance drop. However, using it in my scorching bedroom gave me FPS drops and thermal throttles like no other.
VALUE: 4/5
Coming in at around PHP 50,000, the Lenovo Ideapad L340 Gaming is perfect for individuals looking for a versatile all-around laptop that could game.
SPECIFICATIONS:
Processor: Intel Core i5-9300H @ 2.40 GHz
OS: Windows 10 Home Premium Edition
Graphics: Nvidia GTX 1650 (4 GB DDR5)
RAM: 8 GB DDR4
Internal Storage: 1 TB HDD
Display: 15.6-inch FHD (1920 x 1080) IPS Panel
Audio: 2×1.5 W speakers with Dolby Audio
Weight: 2.2 kg
Dimension: 14.3" x 10.0" x 0.9"
Ports: DC Power dock, RJ45, HDMI 2.0, 2x USB 3.1 (Gen 1), Audio port, USB Type-C, Kensington lock
What's Hot:
Great keyboard
Great battery life
Good graphics
Portable
What's Not:
Bad thermals
Lackluster audio
Few ports
Bottomline:
This laptop is perfect for students who want gaming power yet is versatile enough for other tasks.
Also published in GADGETS MAGAZINE FEBRUARY 2020 ISSUE
Reviewed by Gabriel Pe