It was a roller coaster year for the players from PLDT-Smart Omega's Mobile Legends team. Just last January they were all playing in teams under different names, now all of them are under one roof and he team has just won the first conference of The National's Mobile Legends tournament, taking home PHP 500,000 of prize money in the process.
The Nationals is the country's first franchise-based eSports tournament. Announced just last year and launched in March, it was an opportunity to legitimize eSports in the country. Companies such as PLDT-Smart, and sister company Cignal took this chance to sponsor teams to play under their banner for the tournament. The Nationals features three different gaming titles: DoTA 2, Mobile Legends: Bang Bang, and Tekken 7.
When The Nationals was announced, PLDT-Smart had to field a talented squad to
represent the country's largest telco brand. The brand had previously sponsored international eSports tournaments in the country such ESL One Manila and The Manila Major. The company partnered with the Sterling Global Dragons to field teams that will compete in the Nationals under the banner of PLDT-Smart Omega.
SGD/ PLDT-Smart Omega's Mobile Legends roster is composed of Adrian Jay "Toshinu" Bacallo, Kenneth Jiane "Kenji" Villa. Jahaziel Jay "Crypzu" Villanueva, Earvin John "Heath" Esperanza, and Kyle Gabriel "Karltzy" Nepomuceno. The team is coached by Steve Dale "Daledalus" Vitug.
"On behalf of the team I can really say that we are proud. Fulfilling yung ganoong feeling na mapakita namin sa mundo na ang paglalaro ay hindi lang yung parang old school way na tinitingnan na laro lang. So there is also a career na for playing that. Siguro I can say din na it's something priceless na mairepresent yung biggest telco brand sa country as PLDT-Smart Omega, we're very proud and happy," said Patrick Cruz, one of the team's managers.
(On behalf of the team, i can really say that we are proud. It was fulfilling, the feeling of letting the world see that you can make out of a profession from eSports. Maybe, i can also say that it's something priceless to represent the biggest telco brand in the country as PLDT-Smart Omega. We're very proud and happy.)
Like most other ML players, all of the players from SGD/PLDT-Smart Omega were already MOBA players prior to playing ML. It was an easy and obvious choice on why they switched to ML.
"Mas madali po dito eh, tsaka mabilis yung game, and pwede sa bahay lang," said Nepomuceno. (The game is easier, faster, and you can play it at home.)
"Ako nagsimula ako beginning ng season 2, so mga 2017 around September nun. Sinubukan ko lang, nanghihiram pa nga ako ng cellphone nun eh. Nageenjoy ako so tinuloy tuloy ko lang," said Bacallo.
(I started playing in the beginning of season 2 it was around September 2017. I just tried it, I still remember borrowing cellphone just to play ML that time. I really enjoyed it so I just continued.)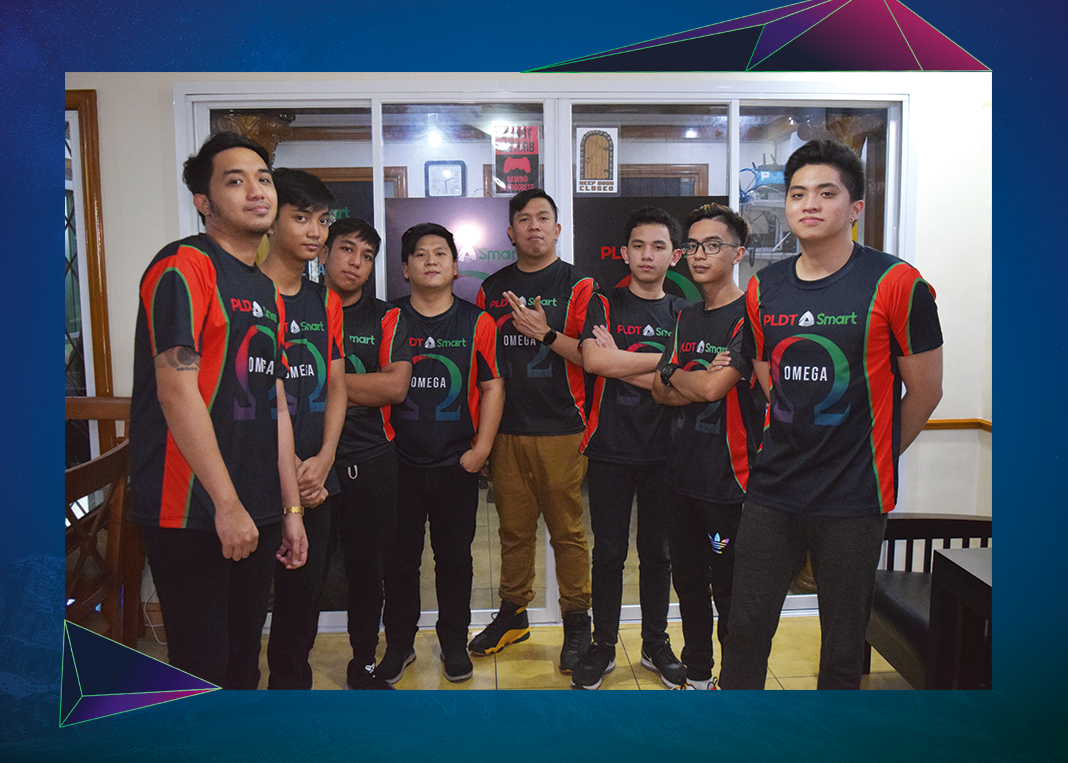 The team was dominant in the finals of Nationals, sweeping archrival Cignal Ultra
Warriors (3-0). According to coach Vitug, the team was extra motivated in the finals.
"Pinaghandaan talaga namin, pinag-usapan namin anong mangyayari, tapos madaming struggle kasi sa team nun eh kasi gusto talaga naming manalo. Nung game one kabado pa yung mga players eh. Sinabi ko na pigilan lang nila yung kaba nila, tapos ayun nga paglabas ng game one, 'Ok na ako' sabi nila game two laro na ito, dito na simula ng laro, ayun hanggang nagtuloy tuloy na," said Vitug.
(We really prepared for it. We talked about what will happen. During that time, there were a lot of struggles within the team since we really wanted to win. Game one was close since the players were still nervous. I told them to just calm their nerves. After game, one they told me they were fine they only got serious when the second game started, and then the rest is history.)
According to Cruz, there's nothing different from their preparation to other teams. But one advantage, he says, was that they learned how to prep the team from the first round of The National which was the DoTA 2 tournament. He adds that he and bootcamp manager Arnold "Lei" Rodriguez handles the physical exercises for the players while Vitug does his own thing with coaching and strategies.
Apart from winning The Nationals, members of the team have also qualified to be part of the eSports national team for the South East Asian Games this coming December. The team promises to push themselves to be picked as the official representative of the country for Mobile Legends.
As for other tournaments, the team credits their success to fans that supported them. The
promise to continue doing better in tournaments but hopes that the fans would also continue to support them even through losses.
Words by Gabriel Pe | Photo by Jerico Lutrania | Art by Jezeil Romero
Also published in GADGETS MAGAZINE September 2019 Issue