I'm going to be honest here. I dread printers. These machines are a hassle setting up, and based on my previous experiences, printer setups usually mean ink spills and a lot of software installations on my laptop. WIth its non-spill ink refills and Ecotank system, the EPSON ET-M3170 is a 4-in-1 Multi-Function Printer (MFP) capable of printing, copying, scanning, and fax with an automatic document feeder. But does it fix my printer issues?
Design: 4.5/5
The Epson M3170 is pretty straightforward in terms of design. It has two levels. The top houses the flatbed scanner, LCD controls, and the auto-document feeder. The bottom has the main printer, cassette/paper tray, and the ink system. At the rear are the power input, the USB input, and the ethernet port.
Despite having so many functions and features, the Epson M3170 is surprisingly compact. It has dimensions of 375 mm x 347 mm x 346 mm (or 14.8-inch x 13.7-inch x 13.6-inch if you're wondering), just slightly bigger than your average microwave oven, and compact enough to be placed on an office desk. If your office is somehow always moving stuff around, the M3170 won't be a problem. It only weighs about 7.3 kg, light enough for most adults to carry.
HARDWARE: 4.5/5
The Epson M3170 has EPSON's PrecisionCore technology which allows ultrafast printing of up to 20 images per minute, or up to 39 pages per minute. The technology also allows for clear and crisp prints (1200 x 2400 dpi) almost as if you were printing on a laser printer. In addition, this MFP has the brand's Ecotank system which allows an easy and no-spill ink refill.
The flatbed scanner on top can produce a scanned image with a maximum optical resolution of 1200 x 2400 dpi and scales that down to 600 x 600 dpi when copying documents. Copying speed is at 17 ipm for ISO A4. Scanning takes about 12 seconds for monochrome and 27 seconds for colored images.
The M3170 has a maximum paper size of 215.9 x 1200 mm or 8.5-inch x 47.24-inch, enough for most office use. The paper tray on the base of the printer has a capacity of 250 sheets for A4 at 80 g/m2. The ADF on top has a maximum capacity of 35 A4 size sheets.
USER EXPERIENCE: 4.5/5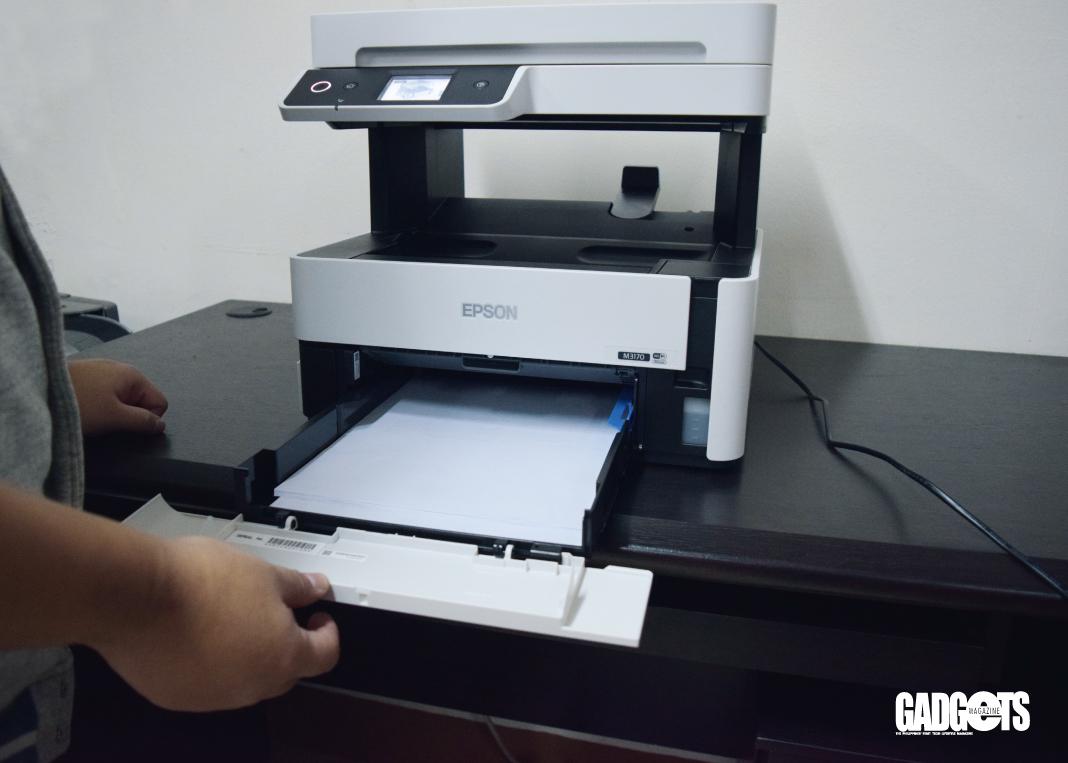 The Epson M3170 might be the cure for my printer problems. Even without the manual, I was able to successfully set it up to my laptop via USB. Thanks to plug-and-play technology, there was no need to download additional software or drivers to make the printer work. The 2.4-inch LCD control was heaven, displaying the setup steps one-by-one.
Now for the fun part, using the printer was extremely satisfying, especially the copy function. Copying documents was easy. Just set the printer to copy and press the start button, and within a couple of seconds, you got a print-out. Printing, on the other hand, was pretty straight forward. Select the document you want to print and press the print button on your computer.
If you're wondering about print quality, I can attest that the M3170 is superb. As advertised, the M3170 produces laser-printer quality print. There was no smudging even if the print was immediately taken out of the printer. The same can be said about the copy results, even when copying images.
Epson also includes a high capacity bottle of Epson Ink for each printer. These bottles are rated for 6000 pages. After printing about a hundred documents (the calibration included), we didn't even halve the tank. I am also happy to note that during our testing there were no instances of paper jamming and other print errors. But if you encounter one, jams can easily be accessed via the second opening above the paper tray.
What disappointed me though was the need for the Epson app to scan and fax documents. I know that this is nitpicking, but the standard scan app from Windows should have been sufficient.
VALUE: 3.5/5
The price is where the M3170 has a bit of a concern. Currently, the printer is priced above PHP 16,000, which is asking a lot. But if you have the budget, I'm sure that this printer is worth every peso.
Specifications:
Functions: Print, Scan, Copy, Fax with ADF
Print Speed: draft text up to 39 ppm, ISO up to 20 ipm, duplex up to 9 ipm
Ink colors: Monochrome
Print Technology: Epson PrecisionCore Printhead
Print Resolution: 1200 x 2400 dpi
Copy Speed: ISO up to 17 ipm
Copy Resolution: Max 600 x 600 dpi
Copy Size: Max A4, Letter; Legal (ADF)
Scan Resolution: up to 1200 x 2400 dpi (optical)
Scan Speed (at 200 dpi): Monochrome 7 ipm/ 12 sec., Color 7 ipm/ 27 sec.
Scan Size: 216 mm x 297 mm (max)
ADF Supported Paper Thickness: 64 to 95 g/m2
ADF Paper Capacity: Up to 35 sheets (A4)
Paper handling input: Cassette 1: 250 sheets A4/ Letter 80 g/m2; 10 sheets envelope; Rear slot: 1 Sheet A4 paper
Paper handling output: Up to 100 sheets
Maximum Paper size: 215.9 x 1200 mm (8.5 x 47.24")
Control Panel: 2.4-inch LCD Touchscreen
Connectivity: WiFi, USB 2.0, Ethernet, WiFi Direct, Epson Connect, Apple Airplay, Google Cloud Print, Morpria Print Service
Dimension: 375 mm x 347 mm x 346 mm
Weight: 7.3 kg
What's Hot:
Compact
Wi-Fi capable
User-friendly
Easy setup
Easy refill
What's Not:
Pricey
Need Epson Connect to scan and fax via USB connection
Prints only in monochrome
BOTTOMLINE:
The Epson M3170 is a perfect multi-function printer for an office that needs a heavy-duty yet compact printer.
Also published in GADGETS MAGAZINE February 2020 Issue
Reviewed by Gabriel Pe