In the recently concluded W.Media Philippines Cloud & Datacenter Convention 2022, Schneider Electric urges the importance of data center sustainability goals, especially with rapid market growth.
The Philippines has been recognized as one of the fastest-growing data center markets with the potential to become one of the top data center hubs in Asia. The recent surge in digitization topped off with a market value of USD298 million in 2021 only proves that the data center landscape is intensifying, with new players keen to invest in the market. However, it is crucial to note that with such a rapidly growing market comes a unique set of challenges.
The global specialist in energy management and automation delved into the lack of a standardized approach for implementing, measuring, and reporting on environmental impact despite the growing demand of sustainability reporting for data center operators. In a keynote speech presented by Schneider Electric Philippines secure power director Abraham Lim, he introduces the framework with standardized metrics to guide operators and the industry at large, improve benchmarking, and progress toward environmental sustainability to protect natural resources for future generations.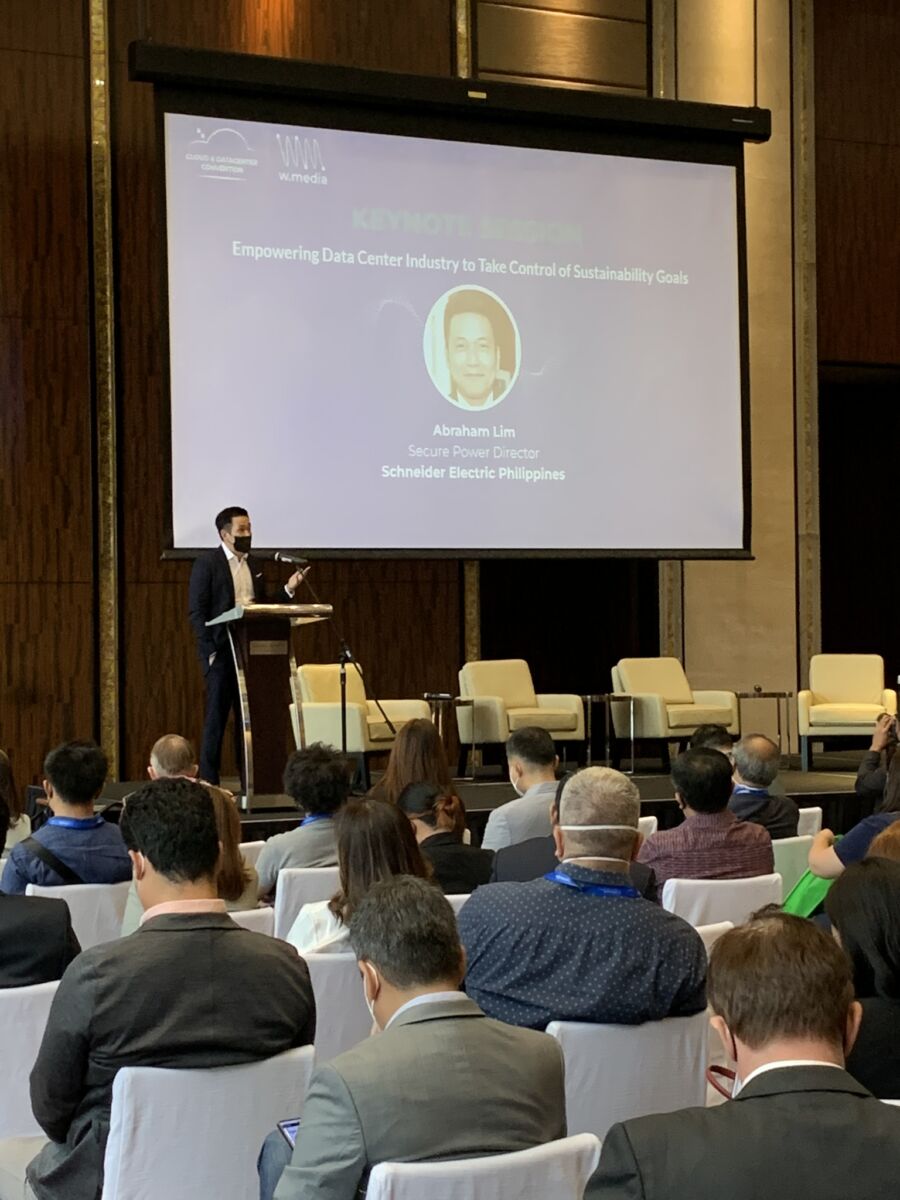 "At Schneider Electric, sustainability has been at the core of our business strategy. We create technologies and solutions to advance a more efficient, sustainable, resilient, and inclusive world for all," said Lim. "Of course, resiliency remains crucial for all of us, but we also need to prioritize sustainability throughout the design, build, operate and maintain lifecycle. One cannot and does not come at the expense of the other."
Over the past decade, there has been increasing pressure on corporations to prioritize sustainability in their data centers.
Schneider Electric pinpoints four key drivers of sustainability:
The end users, wherein 97% of respondents from a Schneider Electric-commissioned study require contractually binding efficiency or sustainability commitments.
Government regulations, such as the 2020 moratorium on coal and the 2021 target to cut greenhouse gas emissions from 70% to 75% by 2030, under the Philippines' commitment to the Paris Agreement on Climate Change.
Business value, wherein investing in sustainable innovation can help reduce costs, improve competitiveness, attract new customers, and retain talent.
Investment in environmental, social, and governance (ESG), with investors using sustainability and ESG as the new standard for investing.
"Now that we've established the need for sustainability goals, how can data centers formulate a plan that works for them?" said Lim. "The good news is that there are many different approaches data center operators could take to making sustainability a priority."
Setting a bold, actionable strategy
For the data center industry to be able to take charge of their sustainability goals, players must first recognize the impact that data centers have on global energy consumption, as well as have the knowledge and expertise to take better sustainable action moving forward.
"One approach is to have standardized sustainability metrics to guide data center players," said Lim. "Without appropriate metrics for benchmarking, it will be a challenge to know where to improve, what to prioritize, and how to show progress year over year."
Implementing efficient data center designs and driving efficiency in operations
Given the expectation for the energy requirement of data centers in the Philippines to more than double in the medium term, various measures can be taken to improve the efficiency of data centers. First, HVAC system settings can be optimized in response to occupancy sensors, ensuring that heating or cooling takes place only in the areas being used. Second, high-performance power distribution units and uninterruptible power supplies have been proven to successfully increase energy asset efficiency. Third, liquid cooling technology allows data centers to manage higher power density and lower energy consumption, all while maintaining operational reliability. Finally, information technology through eliminating periods of low utilization, running servers closer to rated capacity, activating energy-saving server features, and enforcing other efficient data storage measures.
Buying renewable energy
Through the demand for and emergence of renewable energy technologies, data center operators now have access to various sources green power. In addition, the rising compute capacity per kWh is reducing overall carbon footprints and technologies are evolving to further reduce natural resource and water consumption.
"All these factors will make digital infrastructure more environmentally friendly than ever," said Lim. "Whether it's through renewable energy credits, a green energy purchase agreement or an onsite building that features renewable sources such as solar panels, implementing a renewable energy strategy, developing a roadmap for the future is as simple as connecting with the right partner."
Decarbonizing supply chain
Digital transformation and automation coupled with the need for more IT compute capacity have pushed the electricity consumption of data centers upwards.
"As we speak, data centers represent 1 to 2% of total global electricity consumption," said Lim.
"Given the current and projected rapid growth of data centers, greater emphasis has been placed on energy consumption and efficiency when it comes to a data center's sustainability journey."
Tenants are choosing providers who are proactively finding ways to reduce their greenhouse gas (GHG) emissions, therefore industry players need to work harder and more strategically towards reducing their Scope 1, 2 and 3 emissions—with the last making up the largest portion of data centers' GHG footprints.
Finding the right partner for sustainable action
For data center operators to effectively start their sustainability journey, it is crucial to build the right team or find the preferred partner that can guide them.
Schneider Electric acknowledges that there are seemingly endless data center industry pain points and while there may be temporary solutions to these challenges, Schneider Electric is more than willing to assist players in the long run.
"For a growing data center industry like the Philippines, Schneider Electric's innovative and sustainable solutions can help address its pain points and make for a more sustainable and efficient landscape," concluded Lim. "We can help data centers strategize for effective, reliable, and sustainable action, as well as overcome challenges by digitally transforming energy management and automation. Schneider Electric provides businesses with a climate-positive partnership when it comes to data centers of the future."