Conversations about entertainment triggered Filipinos to be on Twitter. In 2018; movies, teleseryes, and celebritylove teams emerged as the most talked about topics. Maine Mendoza (@mainedcm) continued to be the mosttalked about celebrity for this year, while the movie of the love team of Kathryn Bernardo (@bernardokath) and Daniel Padilla (@imdanielpadilla), The Hows Of Us, gained much conversation on Twitter.
Teleseryes have always been part of the Pinoy lifestyle. Bagani (@OfficialBagani), the fantaserye with the love team LizQuen as major cast, became the Most Talked About Teleserye on primetime television. While for the top love teams, the Guinness title holder couple AlDub, composed of Alden Richards (@aldenrichards02) and Maine Mendoza (@mainedcm), maintained their topmost position, with the MayWard tandem consisting of Maymay Entrata (@maymayentrata07) and Edward Barber (@Barber_Edward_), a close second.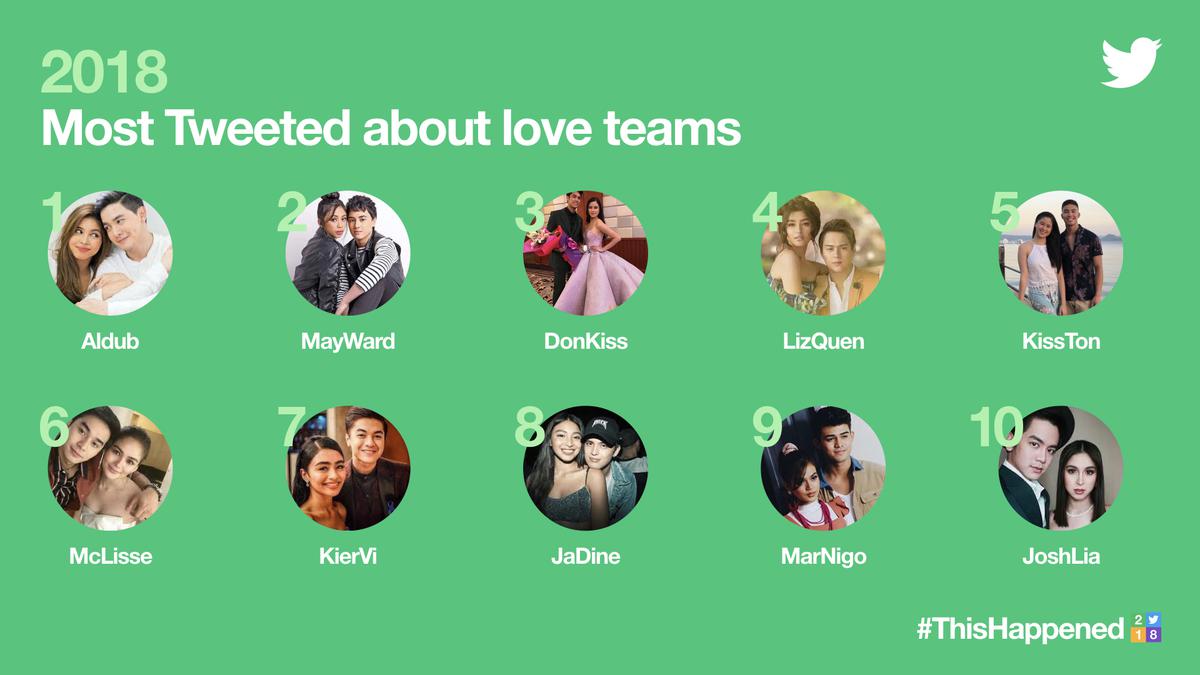 Sports also plays a big role in Philippine culture. The most awaited events are that of boxing matches, volleyball and basketball games. This notion is evident with #UAAPSeason80Volleyball placing first in the most tweeted sports-related hashtags.
Meanwhile, Ricci Rivero (@_ricciiirivero), a basketball player from the UP Fighting Maroons and Gilas Pilipinas Cadets, remains the most tweeted about athlete this 2018. Ricci currently has more than 6430,000 followers on Twitter and has been the most talked about athlete throughout the 80th season of the UAAP.
The KPop fever has bitten the Filipinos, with fans feverishly Tweeting about their favorite groups. World-renowned Korean boy band, Bangtan Sonyeondan, or more famously known as BTS (@BTS_twt) is one of the most sought-after K-pop group today, and their #BTS is the most Tweeted.
Twitter is not only the platform where people connect with their favorite artists, it is also the preferred platform for brands to reach out to their audience. Twitter campaigns by brands from different industries, like food, retail, fashion and telecommunication, have been popping up here and there to forge closer ties and cultivate a better relationship with their audiences. From viral videos to online content, and relatable and witty community management or online customer service, this year's most engaged brands have successfully made their voices heard.
Known for its quirky and relatable advertisements, and with their roster of the most sought-after endorsers to boot, world-famous fast food restaurant McDonald's Philippines heads this year's top 10 brands who enjoy the most engagement thru their promos and gimmicks.