LG OLED celebrates its 10th anniversary — a monumental achievement that owes much to LG's tenacity and innovative spirit. It was in 2013 that the company first introduced OLED TV to the world, overcoming a variety of technical difficulties and much skepticism from industry experts. When others turned to other technologies, LG saw an opportunity to usher in a new era for television by investing heavily in this unchartered territory, and the rest is history. LG OLED has evolved into a mainstay of the premium TV market in just 10 years through its unmatched contrast which enables perfect blacks and true-to-life colors, as well as its unprecedented flexibility and thinness.
During its decade at the top, LG OLED has time and again been recognized as the best. The plaudits started even before the official release of the company's first OLED TV model, as evidenced by the 11 consecutive years that LG OLED has been honored at the annually-held CES Innovation Award and the numerous accolades it has received from major publications, including several "Best TV of the Year" titles and countless claims of being "the best TV I've ever reviewed," "a true Marvel" and "the king of TVs." LG's OLED TVs account for 60 percent of all OLED TVs sold worldwide and exceeded 15 million units in terms of cumulative shipments at the end of last year.
After successfully mass producing its (and the world's) first 55-inch Full HD OLED TV in 2013, LG has continued to push boundaries with its OLED-optimized hardware and software innovations. Among the company's many groundbreaking OLED products are the paper-thin Wallpaper TV from 2017, and 2020's unprecedented Rollable TV, which features a display that can roll down and disappear into the TV's base. This year, the company introduced the world's largest OLED TV — the new 97-inch wireless model — and, back in 2019, it was the first to release an 88-inch 8K OLED TV. Additionally, LG has delivered TV software innovations that have further strengthened the capabilities and user experience offered by LG OLED, including its image- and sound-enhancing α (Alpha) 9 AI Processors, and the usability- and convenience-boosting webOS platform.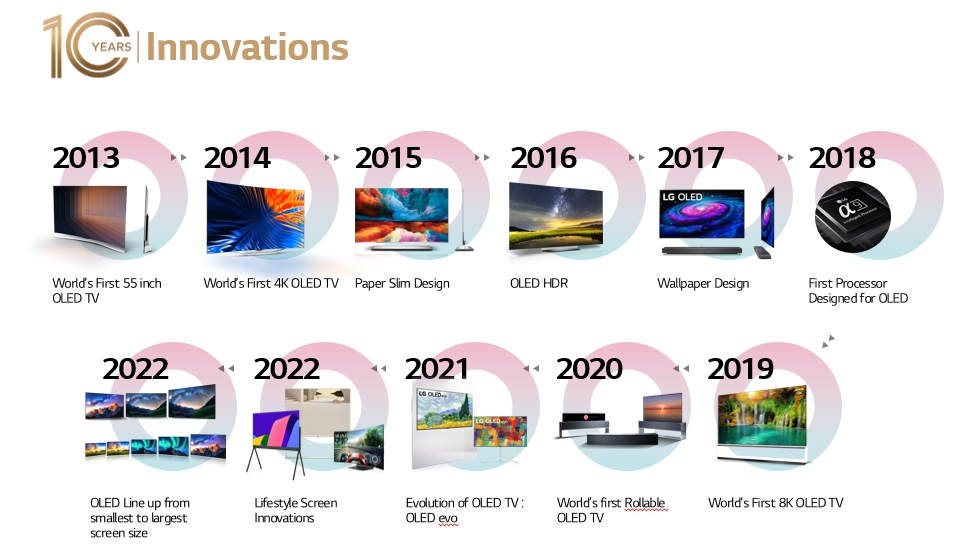 The premium TV market leader for the past 10 years, LG has improved public awareness of OLED through continuous and progressive marketing activities centering on the uniqueness of OLED and the development and refinement of its self-lit display technology. LG has been carrying out engaging campaigns focusing on a range of different arenas – from movies and sports to gaming and the world of art – and highlighting elements that are unique to OLED, such as self-emissive pixels, perfect blacks, vivid colors, slim design, and diverse form factors.
In the visually stunning and emotionally moving "Aurora" campaign (2016), the accurate image reproduction of LG's 4K OLED TVs brings the incomparable beauty of the Northern Lights to life, expressing the full range of colors and the depth of the night sky with incredible realism. Also in 2021, LG's "Light Up Your World" campaign, which included a TV commercial and four accompanying online videos, highlighted the memorable, emotionally impactful user experience that only LG OLED and its self-lit pixels can provide. On top of that, the company has been showcasing the incredible image quality of its OLED TVs, and the exciting new possibilities for artistic expression they offer, with the global LG OLED ART project, established in 2021.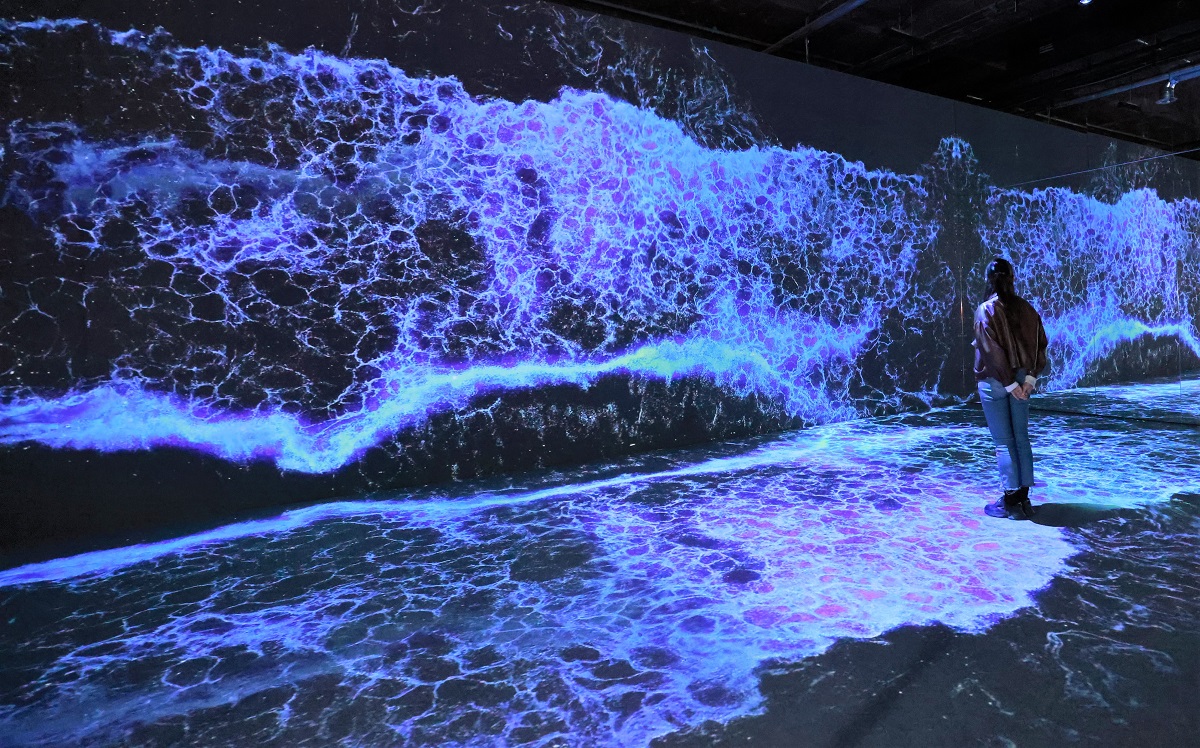 LG has also teamed up with diverse lifestyle brands to deliver the unique ways LG OLED TVs better everyday life, like its CES 2023 showcase in collaboration with Moooi which presented a high-end experience highlighting its commitment to addressing consumers' diverse needs and priorities. At 2022 London Craft Week, LG and leading lifestyle retailer, The Conran Shop, delivered visual magic to its Chelsea and Marylebone locations through the artistry inspired by LG OLED evo TV.
In recent years, LG has been on a journey to provide next-level lifestyle value through introducing new OLED innovations under the Lifestyle Screen umbrella to offer a diverse user experience catered to segmented user needs. For example, LG OLED FLEX, a bendable gaming TV, delivers a one-screen-fits-all solution – one that is able to change from flat to curved whenever the user wants. The unique, distinctive TVs from the LG OLED Objet Collection, meanwhile, add beauty and style to any interior.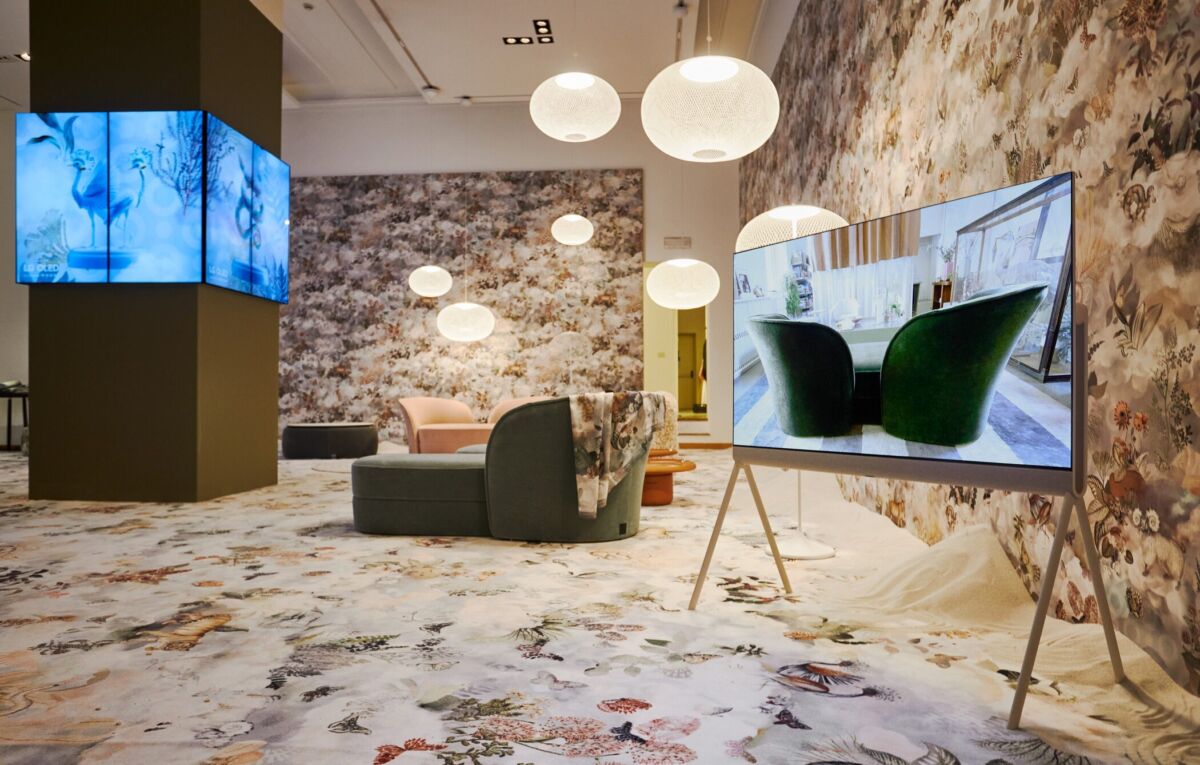 Never content to rest on its laurels, LG continues to defy convention and break new ground to drive the evolution of OLED and unlock new lifestyle experiences based on customer value. Among the LG OLED products unveiled at CES 2023 are the 97-inch LG SIGNATURE OLED M, which is the world's first OLED TV capable of displaying a wirelessly transmitted AV signal at 4K 120Hz that allows users to freely design their living spaces, and the OLED T with its transparent screen that brings users a whole new level of spatial freedom. In addition, LG continues to provide advanced TV technologies such as the α 9 Gen 6 AI Processor and Brightness Booster Max, both of which improve the image quality and performance of LG OLED evo. And then there is webOS 23, which serves up the most personalized user experience of any webOS version yet.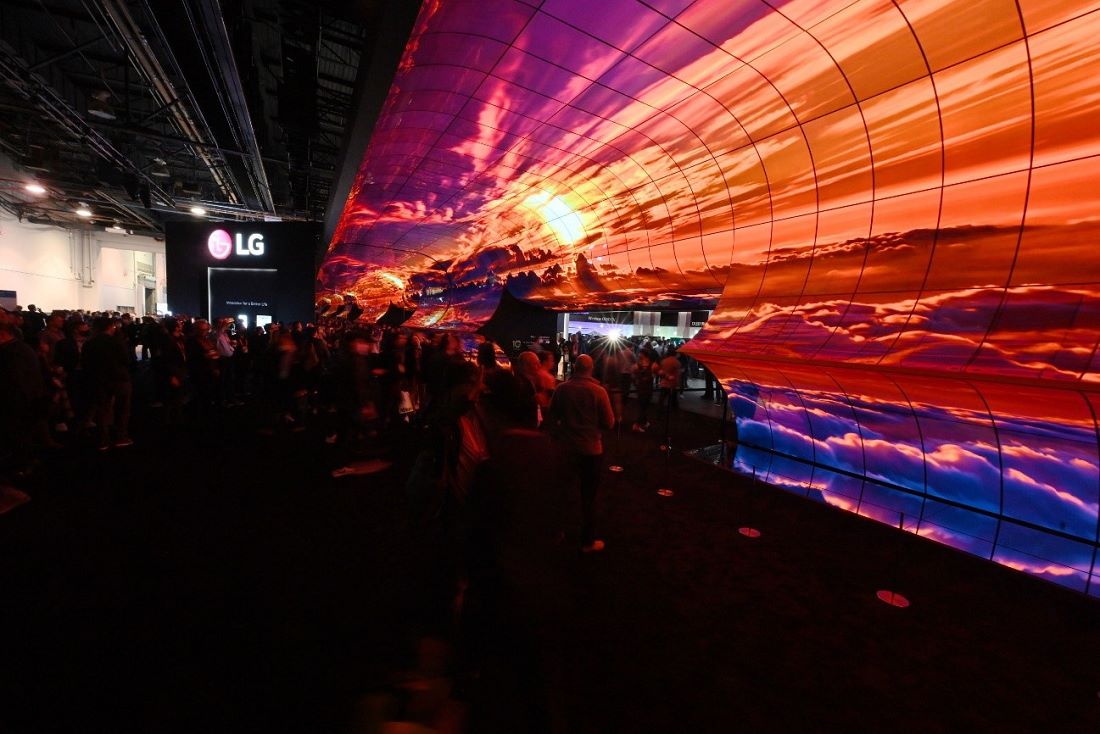 LG has been working tirelessly for the past decade to realize the immense potential of OLED. Building on what it has achieved so far, the company will continue to create and innovate over the next decade, exploring more of the near-limitless possibilities presented by its self-lit technology to deliver ever-greater customer value.