Chroneering is a Scandinavian brand that incorporates an innovative information filter into classic watch designs, thus "reengineering time" with its AI-based vision for timekeeping.
People receive an average of 64 push notifications per day. Over half of the notifications are considered distracting, irritating, and inconvenient, and one of four are deemed entirely irrelevant to the user, leading to stress, anxiety, and loss of focus.
'Startup of the Year' finalist Nord A1 has developed Chroneering, AI-powered quartz watch that interprets and filters information to only notify of what is essential to the user: enabling a digital gatekeeper against information overload. 
"Today, everyone is approachable about anything, anywhere, and at any time, regardless of the needs and wants of the recipient. Regular notifications are based on sources and the only way to avoid them is to turn them off, but that leaves the risk of missing something important. Instead, we notify based on content and the actual context of the information, which ensures there is enough substance worth telling the users about before interrupting them in their activities," says Nord A1 CEO & founder Robin Schultz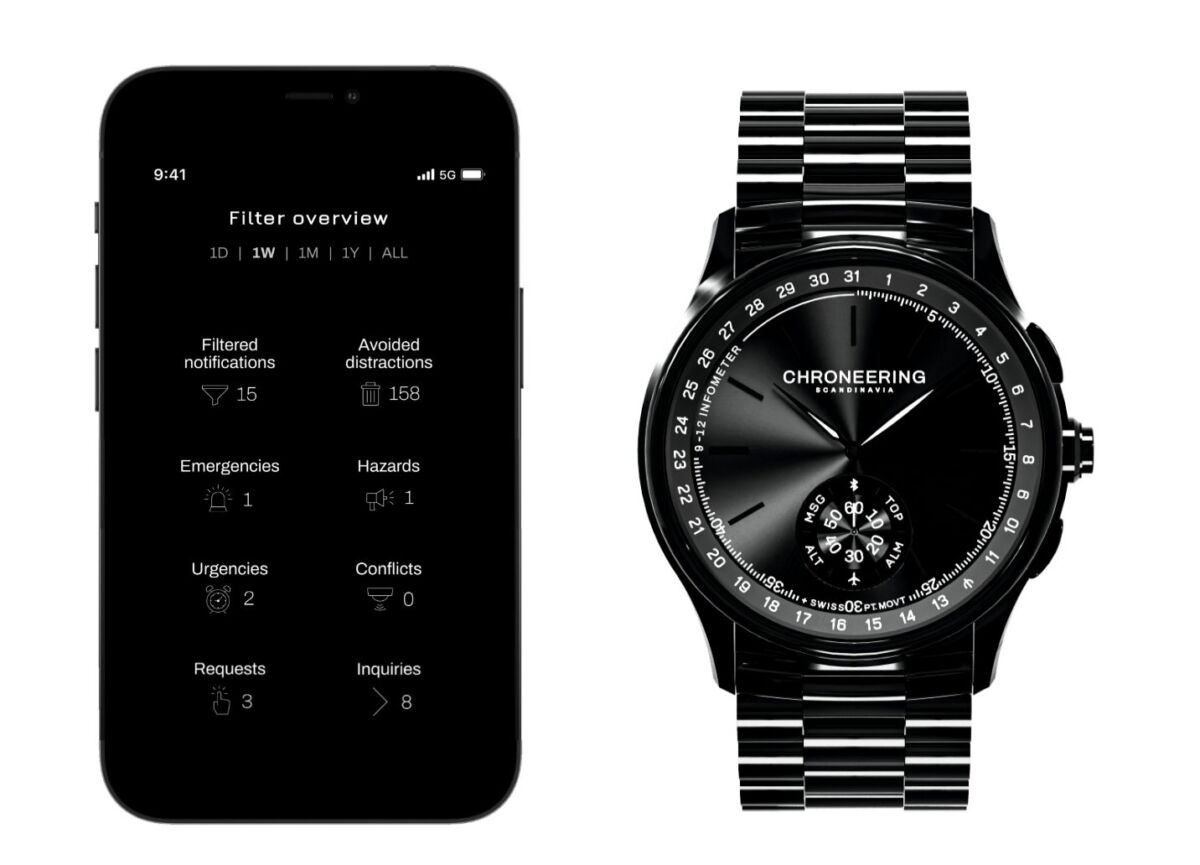 Creating digital sustainability
The common notification model used in today's smart devices is called "random reinforcement", which rewards the user with dopamine at irregular intervals. This system is highly addictive and plays a major role in how much time people spend with their online devices. With Nord A1's focus on mental well-being and natural language processing, the team has challenged Big Tech's efforts to maximize user engagement, which has changed the fundamentals of digital communication to give power back to the individual.
By developing a framework consisting of different types of emergencies, hazards, urgencies, requests, conflicts, and more, each notification is automatically categorized and given a certain value, which provides the user with insight into the substance of the notification before interacting with it. This allows the user to ignore the vibrations from the smartphone, and instead use the Chroneering smartwatch as a guiding mechanism of whether they should engage with the notification or not. In that sense, the watch becomes the first line of defense to the user, which decreases screen time and increases quality time, all with 100% data privacy through minimization and non-human interference. 
The future of wristwear
Chroneering offers the world's first AI-integrated watch that focuses on optimization rather than maximization. With in-house movements and analog appearances, the technology is incorporated without compromising on the watch industry's fundamental values of craftsmanship and design. The AI wristwear contains Nordic and Swiss components, 316L grade stainless steel, AR-coated sapphire crystal, 100 meters of water resistance, and a low- energy design with up to two years of smart battery life.
The official '101' launching series includes several models with customizable designs and features, such as activity tracking, time management, reminders, and remote controls. The AI filtration is expressed through theinnovative Infometer®, with the main hands moving on a severity scale related to the importance of the information, similar to a thermometer reacting to heat. The subdials also point to different slots to communicate specific topics, channels, and apps, along with three pushers on the side for customizable actions.
The highly anticipated launch of Chroneering's AI wristwear takes place on Kickstarter in Q4 of 2022, where the watches will be sold at a 30% launch-day discount ranging between 345€ and 415€. The company is also planning to launch an exclusive NFT of the first gold model, which will give the buyer 5% of eternal profits.