Holcim Philippines, Inc. has just launched the Young Builders Challenge (YBC), which is a design competition that is aimed at encouraging the next generation of building professionals to have a stronger sustainability mindset.
YBC is now accepting entries and is open until April 2019. Participating engineering and architecture students must be currently enrolled and at least in third year college.
Projects that have commenced prior to December 2018 and have been entered in other competitions may still be entered in the YBC, provided these have not won any local or regional competitions of the same nature.
The proposed projects will be evaluated not just on their aesthetic elements and financial feasibility but also on their envisioned environmental and social benefits. YBC will have three winners who will each receive a cash prize of up to PHP 80,000, and PHP 20,000 to their schools.
Holcim Philippines vice president for Communications Cara Ramirez: "We believe it is important to instill a sustainability mindset during the formative stage of aspiring industry professionals, and this is one way our company is contributing to this goal. We are excited to receive entries from students from across the country and see their ideas that can address the sustainability challenges we are facing."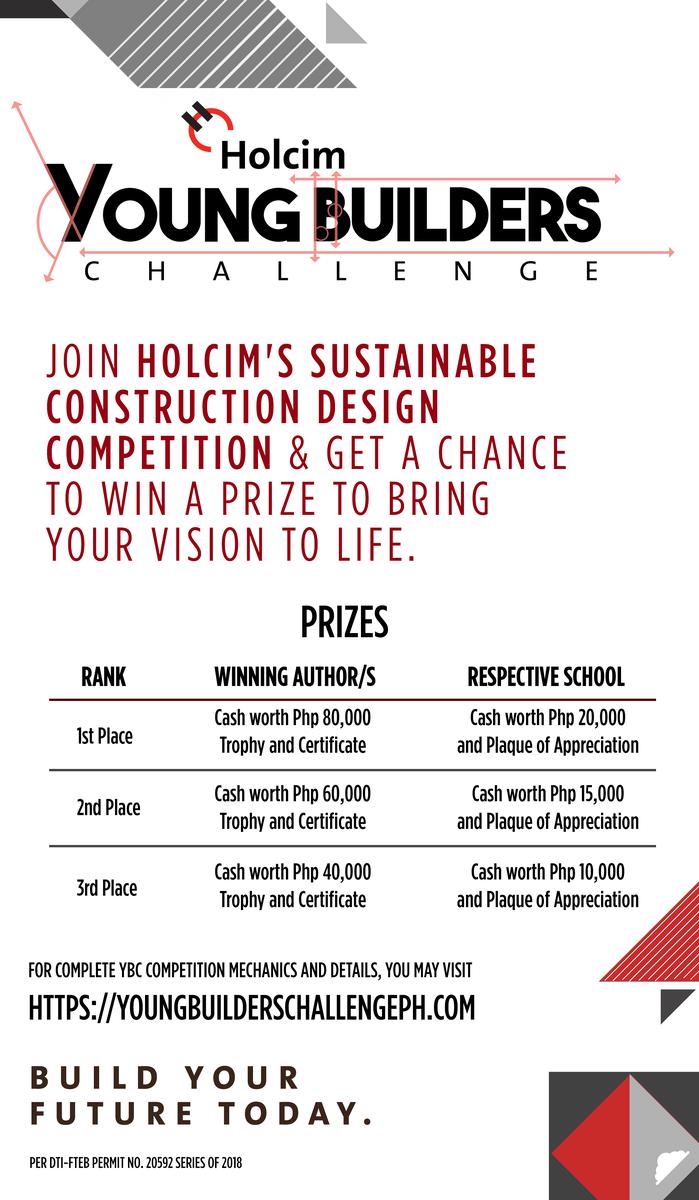 The YBC is inspired by the LafargeHolcim Foundation's Sustainable Construction Awards, a global design contest that encourages construction industry professionals and students to put forward visionary projects and bold ideas for a sustainable future.  For interested participants and for the complete mechanics and guidelines, visit the YBC microsite website at youngbuilderschallengeph.com.